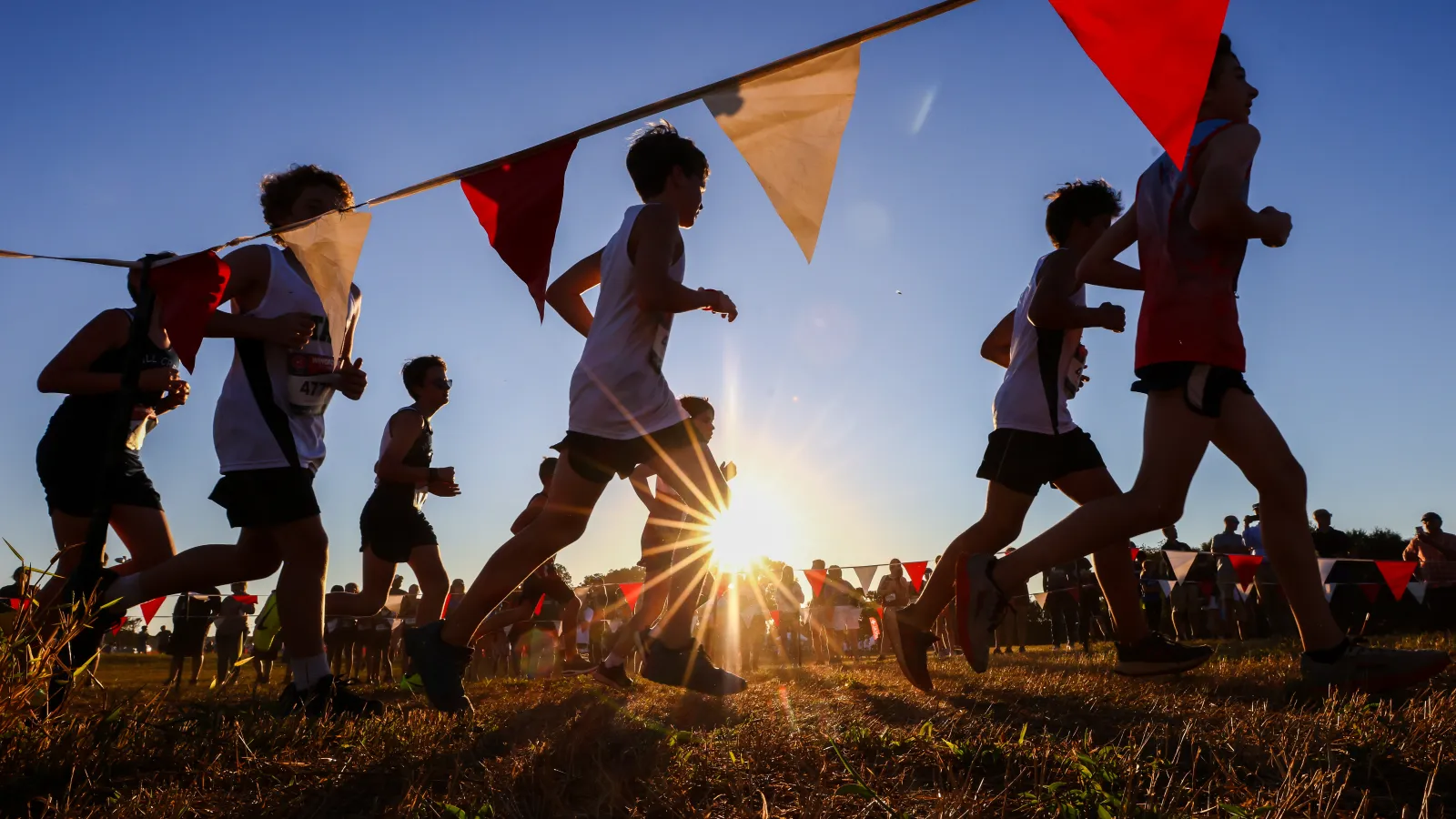 Wingfoot XC Classic presented by Publix: Youth Race Preview
The Youth races (grades 4-8) at this year's Wingfoot XC Classic Presented by Publix in Cartersville will feature defending champions, fast newcomers and top-ranked club and middle school teams attacking the rolling hills and iconic hay bales of the single loop course at Sam Smith Park.

Friday evening kicks off with the Youth Boys 3K. Dominated in 2022 by Riley Comstock of Edge Running Club, this year's race will crown a new champion after the top three finishers moved on to high school competition.

The heir apparent looks to be last year's fourth-place finisher, Dash Brackin of Fairplay Middle School (Carrollton District), who brings both experience and fitness to the starting line. Ranked #1 in the state for middle schools over every distance, Brackin has run 9:18 for 3000 meters, 10:20 for 2 miles and 16:57 for 5K on the difficult Carrollton course. Put Comstock's course record on alert, as Brackin is undefeated this year and aims to keep it that way.

Brackin isn't the only undefeated athlete toeing the line. Fideles Christian's Nick Bignon hasn't lost a race in 2023, while being ranked #3 in Georgia over 3K (10:22) and #4 over 2 miles (10:54). He was seventh at Wingfoot in 2022. Joining the conversation is Camp Jennings, Brackin's teammate in Carrollton, who's been runner-up in every race he has contested this year and is a shoo-in to make the podium given his 9:50 (3K) and 17:50 (5K) run earlier this year.

Other names to look for in the top five include Arian Sharma of Great Strides, the #10-ranked runner in the state (10:35 for 3K); #18-ranked Alex Bove of Fideles Christian (10:50 for 3K); and Connor James of Great Strides. who has finished in the top 15 of every race he has started. Two wildcards are Gwinnett County champion Joseph Lee of the Mill Creek Junior Hawks and Cobb County champion Charles Weiner of the Walker School, both of whom know how to win when it counts.

The team race will be closely contested as Great Strides, a club based out of Forsyth County, has four athletes ranked in the state's top 30. The defending champions may have lost top runner Vincent Pifer, who is now running for Collins Hill, but they've improved their pack and aim to repeat.

Led by Brackin, Carrollton will also be fighting for the team crown. Their top five, including Jennings and the brothers Woznicki (Steven and Drew), is the best in Georgia and they've beaten Great Strides once this year already. Local favorites Cartersville Middle School, led by Ethan Empie and Kyle Camper, won the 4th Annual General Assembly and were third at Hurricane Alley. They were third here in 2022 and look to improve. Finally, the Junior Hoyas, 2023 Cobb County champions, finished second last year and are ready to move up to the top of the podium thanks to a tight pack and well-executed race plans.

The Youth Girls 3K is just as competitive but features a very different storyline. Defending champion Paige Comstock of Edge Running Club looks to do something rare in Wingfoot history - repeat as individual champion. Comstock is ranked #1 at both 3K (10:32) and 2 miles and is undefeated in 2023. She can lead from the front or sit and kick, as she was the middle school state champion in both the 1600 meters and 3200 meters as a 7th grader in addition to being the middle cross country state champion.

Comstock's teammate Elizabeth Cole looks to contend for the podium. Ranked #8 over 3K and #7 over 2 miles, Cole has finished in the top six of every race she's run. Violet Loughman of Great Strides, last year's sixth-place finisher, is ranked second in the state in both distances and has two individual victories this fall, so hopes to move up. Loughman is joined by Audrey Cadeau, ranked #6 at 3K and #4 at 2 miles, who has five top 5 finishes and has previously competed at Wingfoot. Alpha Crush's Ella Alberici brings some excitement to the discussion, as last year's runner-up dominated the field of 4K (15:50) in a club race at the difficult Milton High School course and hasn't been challenged over 3K or 2 miles. Finally, look for Sofia Burns of Cartersville Middle, #3-ranked over 2 miles and the winner of five races in 2023, to be on the podium. Call it home field advantage or just plain toughness, but she will likely finish higher than 2022's seventh place.

The team race mirrors the boys' competition, with Great Strides leading the way and Cartersville Middle challenging. Great Strides has four girls ranked in the top 30 and is a juggernaut this fall under the tutelage of coach Greg Patterson. Only Edge Running can match their 1-2 punch, but Edge lacks the depth of Great Strides, which has won the Pickens Preview, the Panther Invite and the North Georgia Invitational. Burns combines with Cartersville Middle teammates Samantha Porter (three runner-up performances) and Adalin Empie (three top-10 finishes) as favorites for second place. They lost to Great Strides a month ago at Pickens but have followed that with two wins at Hurricane Alley and General Assembly.

Cobb County Champions again, the Junior Hoyas dominated their last competition and they beat Cartersville at Ridge Ferry. The Junior Hoyas's pack is legendary, and they look to counter the top individuals of other teams with their tight 1-5 spread. Finally, Alpha Crush is the defending champion. Having had their athletes compete in age groups at the last meet over different distances, it will be interesting to see if Alberici can lead the Crush back to the top of the podium.

Because of high demand, there will be a second section of youth competition for the first time in Wingfoot history - and the Saturday fields look to be more unpredictable than Friday's.

Individually in the Youth Boys 3K, James Strange of Heritage Prep hopes to be the inaugural winner of the Saturday boys' race. Ranked #10 in Georgia over 2 miles (11:08), he won the Mill Springs Meet #1 and has 2:15 800-meter and 4:56 1600-meter speed. He finished 13th at Wingfoot as a seventh grader and knows this course as well as anyone.

Nolen Gritz leads a strong Taylor Road Middle School team. Gritz hasn't finished worse than third in any race this year, and his 11:08 over 2 miles was good enough for third in the stacked Pickens Preview. He followed that up with a win at the Bill Woods Pridelands Invitational. Atlanta Neighborhood Charter School teammates Zachary Griffin and Sam Sickeler have traded victories in the APS XC Series.The challenging courses didn't permit them to drop state-leading times, but their fitness and ability are certainly there. Look for the boys in blue to be shoulder to shoulder.

Finally, Atlanta Track Club's Declan Schuette and Alex Marcus should put the Winged A near the front of the pack. Schuette won his age division at Alpha Crush's USATF Developmental Meet held at Milton High School, where he ran 15:03 for 4K.

The team race looks to be a battle between Taylor Road Middle School and Atlanta Neighborhood Charter School (ANCS). While Taylor Road has traveled the state taking on the best teams around, they have largely lived up to the hype, beating a top-ranked Carrollton squad at Ridge Ferry and winning the Warpath Invitational. Their 1-2 punch of Gritz and Ryan Boggs is as good as any team. ANCS has stayed close to home, running all of their meets less than two miles from their school and twice scoring just 16 points en route to victory. Other contenders include Lovett School, which finished second at the Etowah River Rumble; Heritage Prep, which bested Lovett at Warpath; and Atlanta Track Club.

The Youth Girls 3K individual race on paper appears to be an intrasquad meet for Taylor Road Middle School. Claire Bevilacqua has four top-10 finishes in 2023, including a strong runner-up finish at Bill Woods Pridelands Invitational. Teammate Phoebe Distin finished just one spot behind her at Bill Woods and also has four top-10 finishes to her name this fall. Potentially the best runner on the loaded team is Riley Shinn, who was runner-up at Warpath with a strong 12:30 for 2 miles against a strong field. Hoping to break up the Taylor Road show is Ellie Grace Sauer, the Heritage Prep runner who had a good showing at Warpath.

With more firepower up front than most of the field combined, Taylor Road put three runners in the top five at Warpath, so expect to see a low score for the team from Johns Creek.

After Taylor Road, the team competition is wide open. The Lions of Lovett hope to make the podium to build on their strong second-place showing at the Etowah River Rumble. Beyond these two, it is whoever has the best day in what looks to be optimal racing conditions on a hard-packed, fast course. Atlanta Track Club and Heritage Prep could be taking home trophies.

You can track live results of the Championship races on Friday, September 22, by clicking here. Follow along on our social media channels for live coverage of the meet both days.