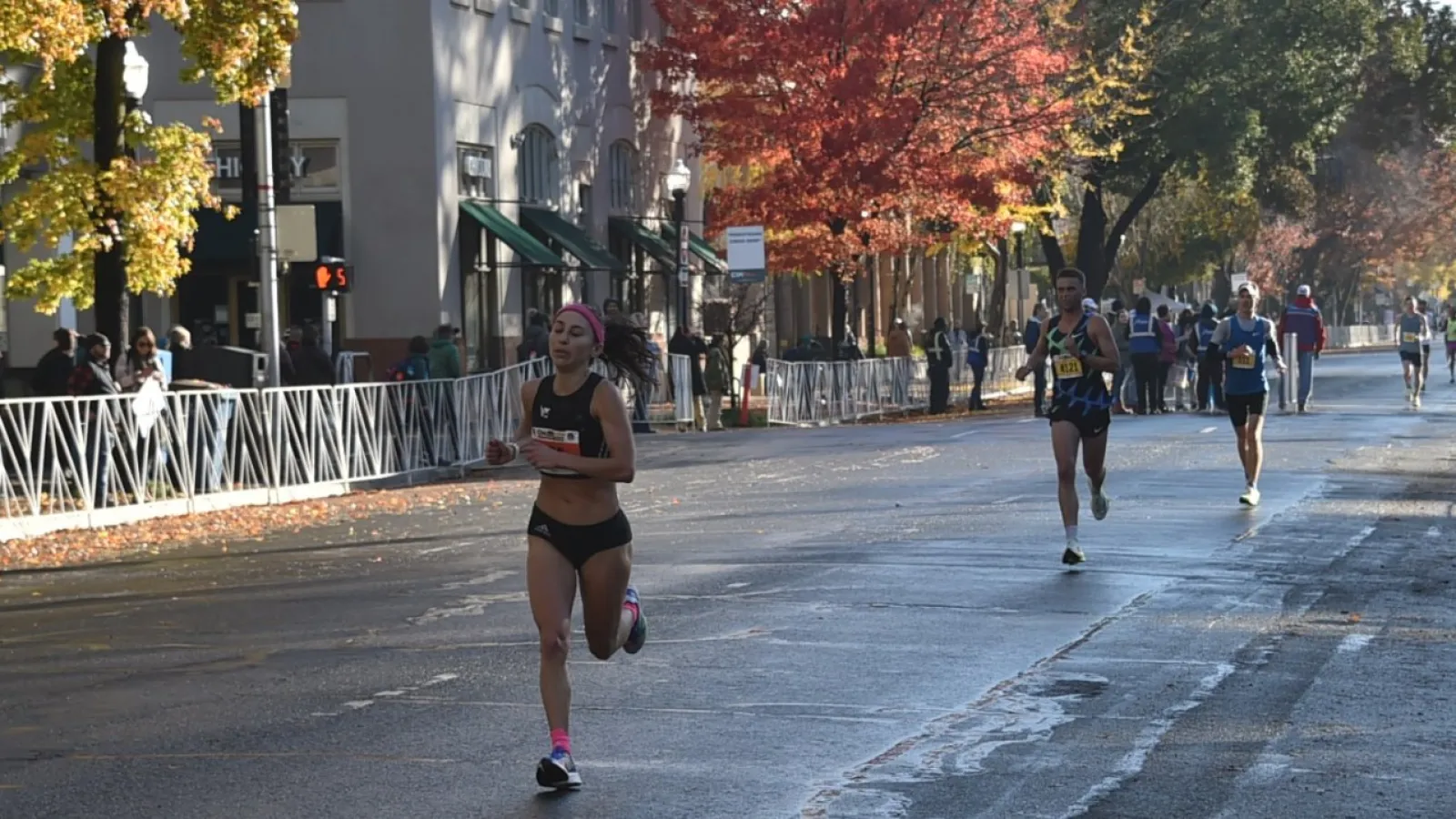 For Krifchin, Third Time a Charm, Fourth Time an Adventure
The request: Describe Maegan Krifchin in one or two words.
"Single-minded," said her high school coach.
"Ambitious, driven," said her current coach.
"Persevering, tenacious," said her fiancé.
"Determined, hard-working and humble," said Maegan Krifchin.
Unwittingly, Krifchin's answer parallels her marathon schedule the past couple of months: Where one or two words were asked of her, she gave three. Or is it four?
Since November 6, the 34-year-old member of Atlanta Track Club Elite has run marathons in New York, Philadelphia and Sacramento. On Sunday she will line up at the Chevron Houston Marathon, and earlier this week she was announced as part of the field for the Boston Marathon on April 17.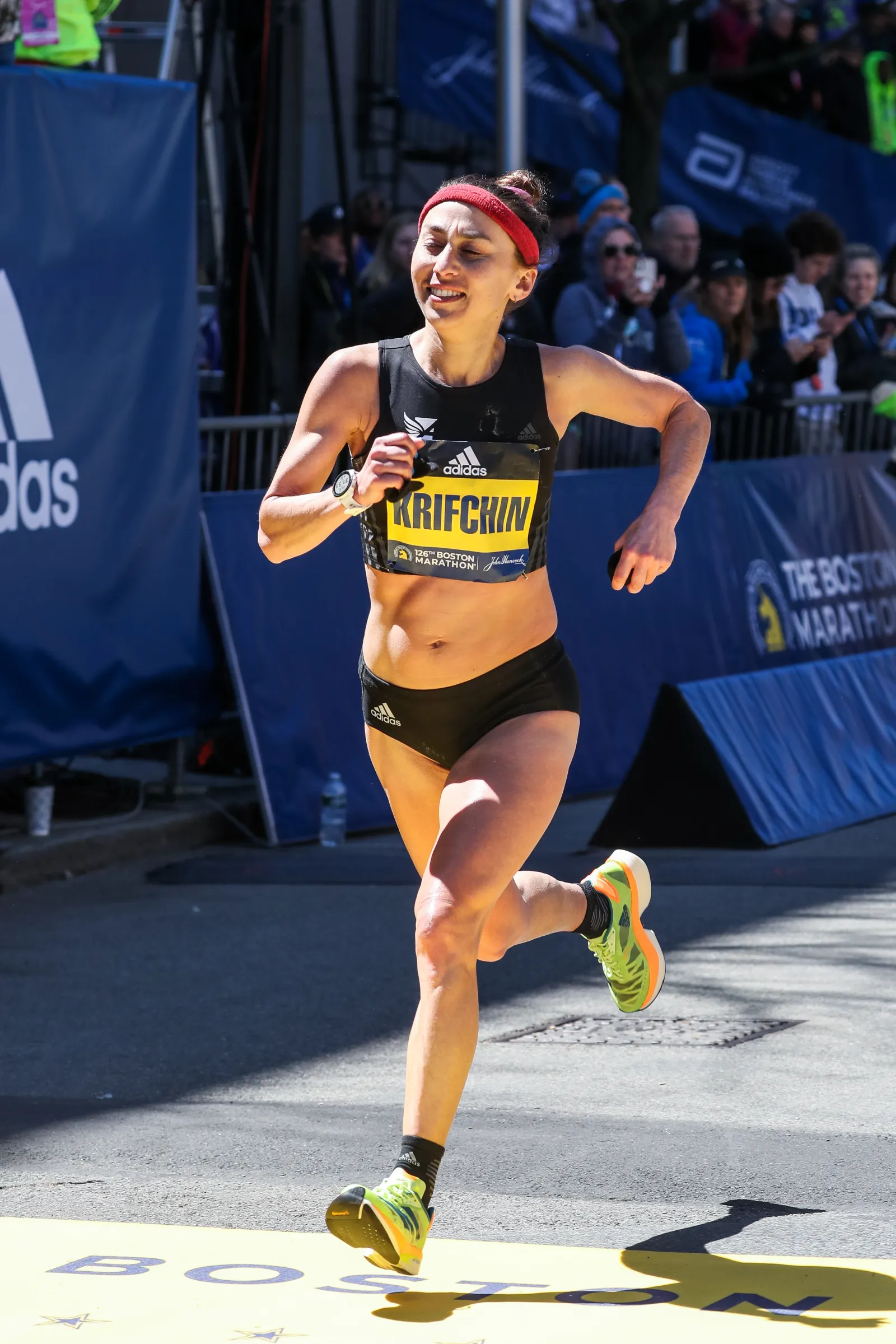 This, in a world where most professional athletes run two marathons a year.
On the first Sunday in November, Krifchin ran the TCS New York Marathon in what was supposed to be the final word on her racing season. A Long Island native, she would be competing in her hometown race, in front of family and friends, for the first time. She was focused. She was ready.
And she was off her game. "I just didn't feel good that day," she said. A 2:40:52 left her in 24th place.
She was sorely disappointed, but not sore. So, when the Philadelphia Marathon's elite athlete coordinator texted to see if she wanted to run a bounce-back race on November 20, she gave it only brief thought ("Could I do this? Should I do this?") before accepting the invitation. In Philly, she ran 2:31:42, the second-fastest marathon of her career. Not only that, but she closed hard to finish as runner-up by just six seconds and felt as if she could have kept going.
So, she did. On December 4, Krifchin ran a personal best of 2:29:21 at the California International Marathon.
That's three marathons in 29 days, culminating in a long-sought sub-2:30. "Who the heck does this?" she said on a CITIUS MAG podcast. "So, it might as well be me."
It wouldn't be fiancé Matt McDonald, a postdoctoral associate at MIT who now competes for the Boston Athletic Association.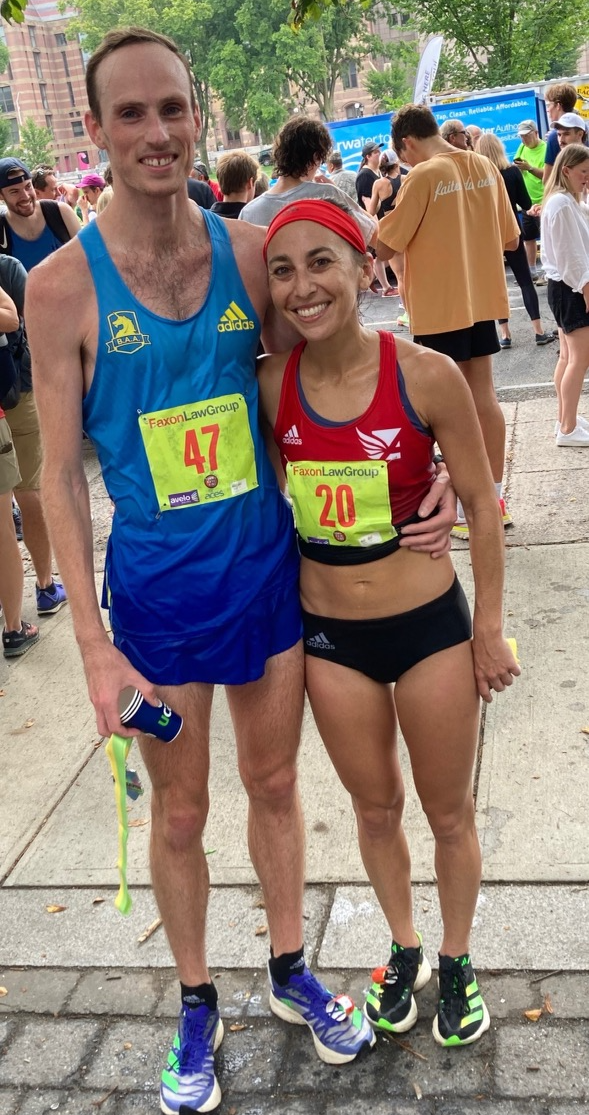 "I would have shut it down after New York," said McDonald, who finished 10th in the 2020 Olympic Team Trials - Marathon while still a teammate of Krifchin on Atlanta Track Club Elite. "There is no chance I would possibly bring myself to go for another one two weeks later and then two weeks after that and then four weeks after that. She's done all of this in spite of me. I discouraged her from doing Philadelphia. I mean, I was supportive but I didn't expect it to go well and I told her that."
"And I was like, 'Just watch me,'" said Krifchin.
The couple chatted in a Cambridge, Massachusetts, coffee shop on the last day of a holiday reunion that included visiting their families in New York and New Jersey. Krifchin nonetheless had managed a 112-mile week before flying home to Atlanta the next day.
"Then with CIM, she had already proven me wrong," McDonald continued. "So I said, 'Go for it.'"
She did, and she plans to do the same in Houston.
"Another PR?" said Krifchin. "I feel like I could do it. CIM felt, I don't want to say easy, but so controlled. I'm playing in the unknown, but this whole time has been in the unknown so maybe I like it there. It's really just the pressure I put on myself and how much grit and strength and determination I have that ill guide me. I do think I have willpower and I'm pretty stubborn."
McDonald chimed in: "Pretty stubborn? Yeah, that's accurate."
It's apparently not a trait that she's acquired any time recently. Todd Wolin, Krifchin's high school coach back at JFK Bellmore, recalled that her goals and plans were "usually" correlated with what he wanted, but not always. "She has everything set in her head what she wants to do," he recalled of the middle-distance All-American who still holds her high school records at 200, 400, 800, 1500, 3000 and 5000 meters - with the 1500, 400 and 200 set on the same day.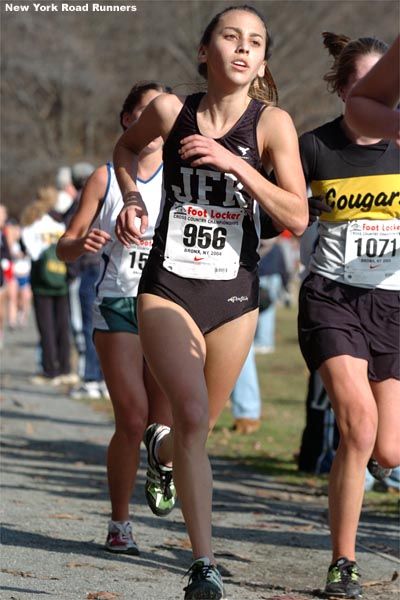 After one meet her senior year, Wolin described his star athlete's temperament to a Newsday reporter this way: "She has guts. She wants to be the best she can be. [Despite her exploits,] she's never even satisfied. She's barely ever happy."
Krifchin said she's still never satisfied with her running or racing, but that she has learned to appreciate the good moments. In high school, she said, she was fierce and competitive with everything and everyone; now, "I think I'm more competitive with myself, knowing that's the only thing I can control."
Her late-career willingness to buck the norm is at least partly a result of heartbreak. After finishing an encouraging seventh at the 2016 U.S. Olympic Team Trials - Marathon, Krifchin dumped her heart and soul into Atlanta 2020 edition, trying to do everything the right way in preparation. Disaster struck when her hamstring popped before the 10K mark, and she was forced to drop out.
"I learned a) it wasn't worth it; b) there is no right way and c) there was no need to sacrifice as much as I did. I'm not going to put all my eggs in one basket anymore. So I'll just put them in all of them."
Fortunately, Krifchin said, she has always been one to recover quickly after marathons. One example: After she finished sixth in the 2021 Bank of America Chicago Marathon, she supported McDonald in the COVID-delayed Boston Marathon by waving a cowbell and sprinting along on the sidewalk as he climbed the long, brutal hill out of Newton Lower Falls.
"I was amazed with myself," she said. "Even before the super shoes, I was doing alright." (Krifchin wore the adizero Adios Pro 3 in New York and the Adios Pro 2 in Philly and CIM.)
Amy Begley, coach of Atlanta Track Club Elite, affirmed her assessment. "Everyone else is walking backward down the stairs and she's just bounding around."
Which doesn't mean Begley was thrilled when Krifchin proclaimed her plans to run Philly just two weeks after New York. But when she saw how her athlete was responding both physically and mentally - "I hadn't heard that sense of excitement in a while" - she began to think, hey, why not? After battling injuries for a couple of years and things not going Krifchin's way, maybe trying something new wasn't the worst idea.
"She's got me thinking about a lot of things," said Begley.
Heading into Houston, Krifchin reflected on her journey into the unknown. Had New York gone decently for her, few would have taken note; perhaps not even she. Instead, her sub-par showing has led her to reconsider her approach to the sport: How do you define winning? Am I sacrificing speed? If my strength is my strength, how much does it matter? Especially if I just PR'd?
It's also shaped her approach to Houston - her fourth marathon in 10 weeks, in which she hopes to channel an ice skater who, coincidentally, was only a few years ahead of her at a Long Island high school just 20 miles from JFK Bellmore.
"I hope to have that Sarah Hughes mentality, like 'let's go for it' and see what happens," she said, of the 1992 Olympian who skated as if she had nothing to lose because she thought she had no chance, but went on to outperform all the favorites and win gold. "Go run fast and at least hold on as long as you can; if it doesn't pan out it doesn't pan out. But I don't think I need to play it conservative this time around."