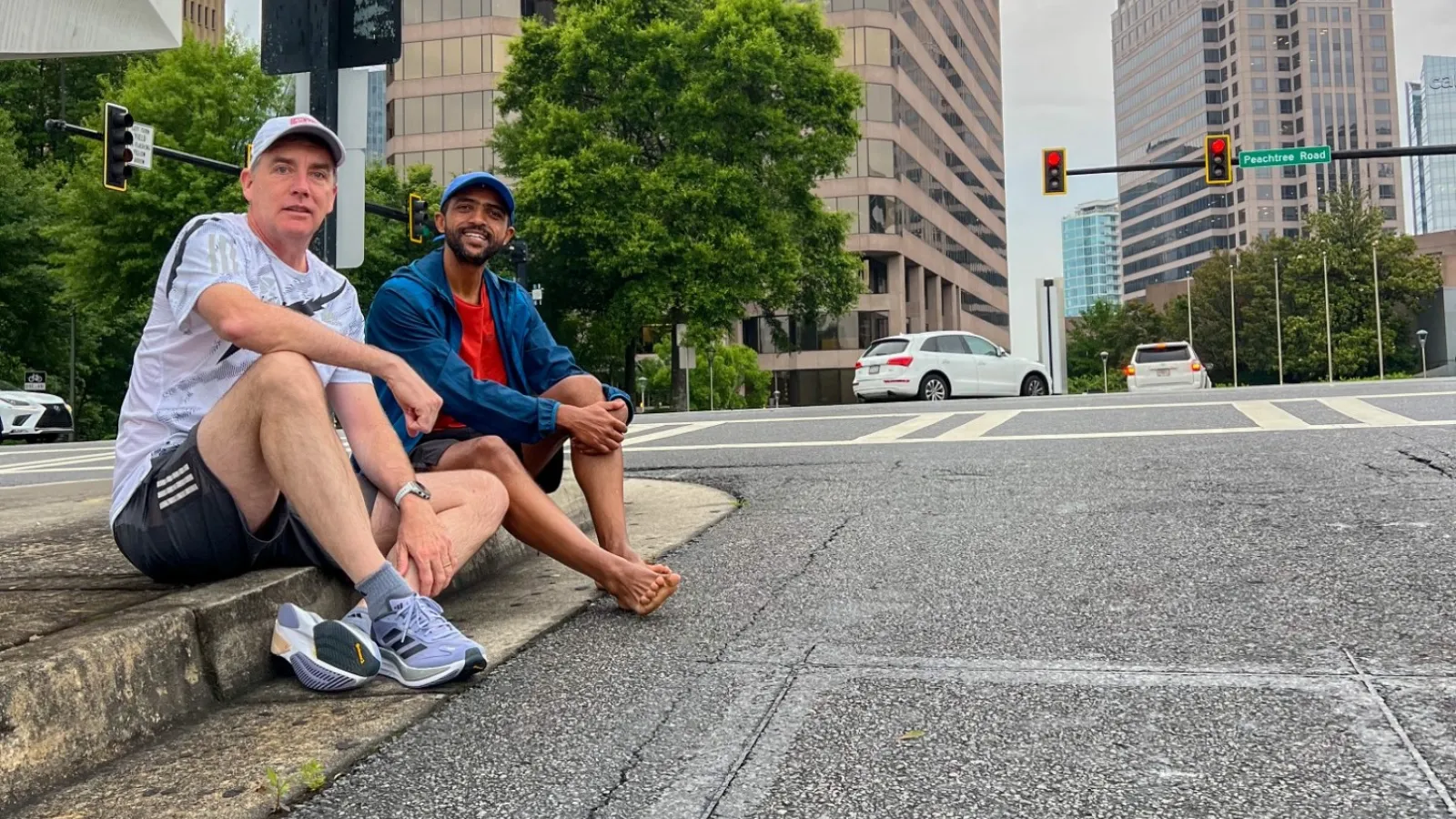 Running Barefoot to Honor Bikila
There are many ways to participate in the Peachtree; barefoot is seldom one of them. But that's how Ermias Ayele plans to cover the 6.2 miles from Lenox Square to Piedmont Park.
Ayele is a former race director of the Great Ethiopian Run 10K, held annually in the capital of Addis Ababa. The largest road race in Africa, with 45,000 participants, the run was founded in 2001 by two-time Olympic gold medalist Haile Gebrselassie, one of the greatest distance runners in history.
Another Ethiopian distance runner who was a two-time Olympic Champion is Abebe Bikila, who won the 1960 Olympic marathon and set a world record in Rome while running barefoot. As the first African to win gold, he became a national hero and the "father" of Ethiopian athletics.
"He is a great inspiration for me personally and for many of our athletes, so I want to honor him," said Ayele, 45. "I am currently working to brand our nation; athletics has a great part to play and Abebe Bikila's name and achievement come first."
A few weeks ago, he came to do a test run on the course, along with race director Rich Kenah.
"It was great," he said, "but the road surface is rough for barefoot running."
It won't be his first challenge in that regard. Last March, while running barefoot in the Rome Marathon, he stepped on a small piece of glass with his left heel just 10K into the race. (He finally stopped and pulled it out at 30K.) Even that annoyance didn't cut into his experience of being in the Italian capital, which took him back to the videos he's seen of Bikila's historic triumph in that city.
Adding to Ayele's eagerness to run Peachtree this year is the chance to line up behind countrywoman and defending champion Senbere Terferi, who has won several events he's directed, and the opportunity to connect with the large Ethiopian community in the metro Atlanta - many of whom he expects will be out cheering on July 4.
With the new direct flight on Ethiopian Airlines between Addis Ababa and Atlanta, Ayele is also hoping that Peachtree runners will visit to see for themselves how the Great Ethiopian Run's hills compare to Cardiac - at over 7,000 feet of altitude, no less - and how its thousands of dancing participants match up with Peachtree's patriotic paraders.
"I want more U.S. runners to see our special event and visit our beautiful country," he said.

Atlanta Track Club believes running and walking should be universally accessible to all. View the mission statement
here