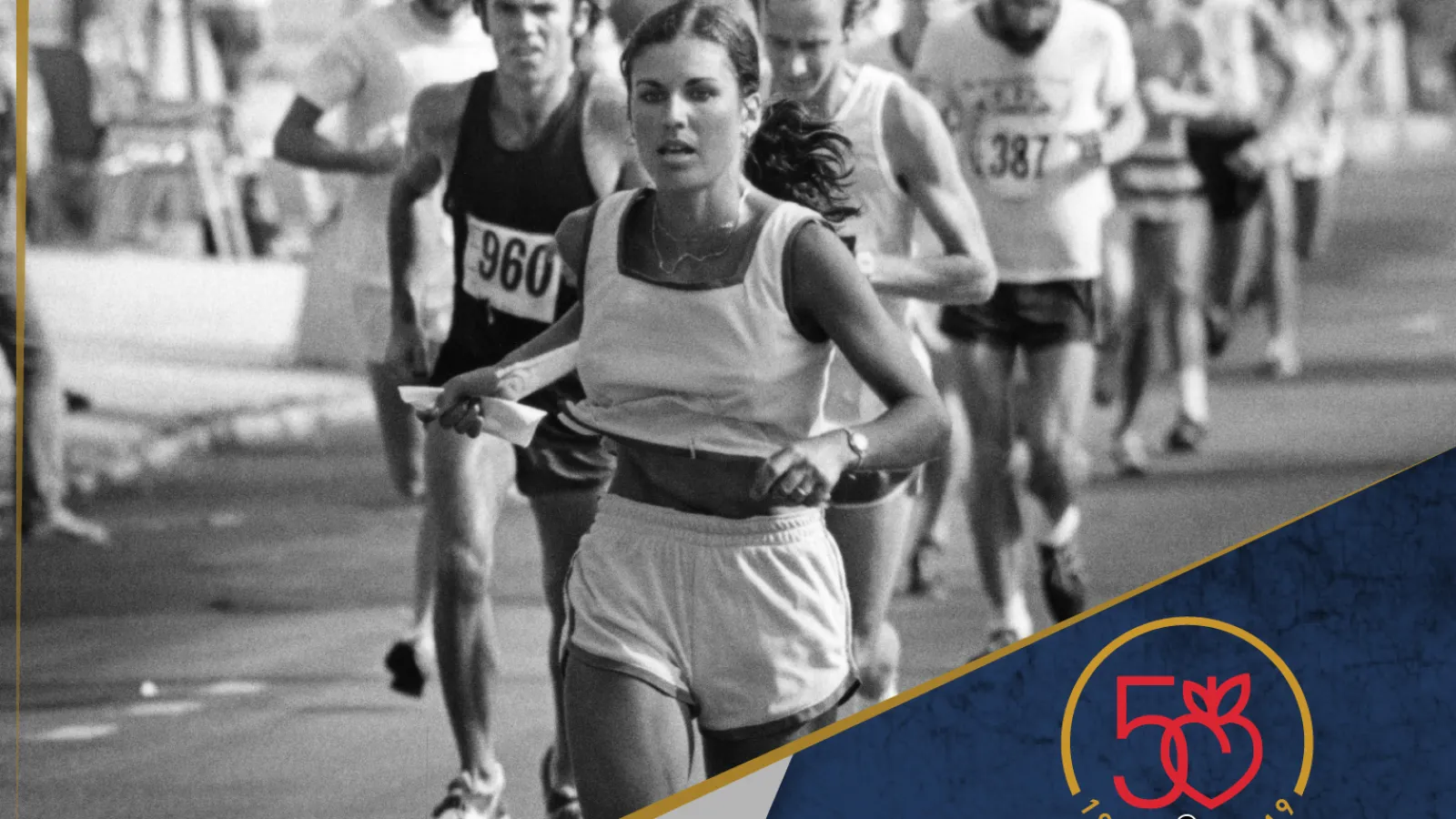 A Southern Girl with a Purpose
In a time not long ago, Southern girls were raised according to a strict code. It dictated that they should ooze charm, dress nice, smile prettily and make everyone else feel important and comfortable while standing quietly in the background. A Southern girl's world was small, constrained. She didn't set high goals, she didn't aim for the spotlight and she certainly didn't sweat.
Gayle Barron grew up in this time, learned the code and absorbed its most important lessons. Yet somehow - and who can say exactly how or why - she also broke free. She developed an energy that led her to explore new frontiers. She became a Southern girl with a purpose: to run long and fast.
Barron won the first Peachtree Road Race in 1970, and then four of the next five. She found a distance - the marathon - that suited her even better than the 10K, and followed it north to the Boston Marathon, then around the globe to Honolulu, Germany and Australia.
She never stopped smiling or putting ribbons in her hair, a Southern girl to the core. Yet, she also showed that you could break free from the past and its restrictive code to become an athlete, inspiration, leader and woman of the world.
Longtime Atlanta Track Club member Carolyn Mather, winner of the 2019 USATF National Cross Country title for women 70-74, remembers how Barron set a new standard. "Gayle was a role model for the fledgling women runners in the 1970s," said Mather. "She emanated grace and beauty while truly supporting other female runners trying to compete in a 'man's world.'"
Gayle Barron was born in Atlanta in April, 1945, and attended Druid Hills High School. The school offered no sports for girls, so she became a cheerleader.
In college at the University of Georgia, Barron did the usual amount of lazing around, ate the usual amount of cafeteria food and gained the usual 15 pounds. One day she spotted a guy running steps in the football stadium. She asked about joining in and he replied, "Sure." It quickly became her regular routine, though it struck many as quite strange. A girl exercising in public under the hot Athens sun? Small crowds gathered on a nearby bridge to point fingers and buzz over the bizarre sight.
When she grew tired of the steps, Barron switched to the flat track. She first aimed for four laps, then 12 - a solid three miles. She never thought about longer distances, or about running through the nearby neighborhoods. "Everyone warned me to stay off the roads and sidewalks," she remembers. "They said a girl would get mugged out there."
After college and marriage to the stair-running guy, Ben Barron, they continued their routine. One morning over breakfast, Ben glanced up from the morning paper. He told Gayle, then 25, that he was reading a story about the new race in town - something called the Peachtree 10K. "I think I'll run it," he said casually.
"That's ridiculous," Gayle responded. "You can't run six miles."
"I think I can," Ben said. "I'll just slow down and take it easy."
"Well, if you're doing it, so am I," said Gayle, scarcely believing the words that tumbled out of her mouth.
It was the first road race for both of them, and they had no idea what to expect. Arriving a bit before the 9:30 a.m. start, they first noticed the day's rising heat. Then they surveyed the ragtag crowd of about 150 starters (110 would finish) clustered together on one side of a half-closed Peachtree Street. "We were a pitiful sight, just standing around, not knowing what to do" Gayle remembers. "People were leaning out of cars making fun of us, and honking their horns like crazy."
Once again, she wondered what she was doing in a public 6.2-mile race. Midway through it, things got worse. She passed the 3-mile mark, entering unknown territory, as the temperature kept climbing. "I didn't feel so good," she said. "I told Ben I wasn't sure I could finish. He told me to calm down, to keep running slow and to walk if I needed."
And that's how they got to the finish, with Gayle placing 62nd overall and Ben immediately behind her. Their time was 49:13 for what was later judged a short course, measured by a car odometer.
Barron hadn't just gone the distance; she had also placed first among three female finishers. That made her, for all time, the first woman winner of the Peachtree Road Race. Barron received her trophy from Tim Singleton, the race organizer. It was a handsome little affair, except for one thing. Striding atop the wood base was the metallic running figure of a man.
Barron won Peachtree again the next year, and then skipped the 1972 race to visit relatives in Florida. She came back to claim three more victories, in 1973, 1974, and 1975. Her five wins match Lornah Kiplagat for most ever, male or female, in the open division. More impressively, she got faster every year, starting with that 49:13 in 1970 and ending with a 38:04 in 1975.
This didn't happen by chance. With regular encouragement from Tim Singleton, who became a mentor and coach, Barron finally agreed to join his small (and previously all-male) training group. That meant showing up for long weekend runs that stretched from 18 to 22 miles, and also for midweek speed sessions at the Northside High track.
Barron found the track work much tougher than the long runs. Sometimes Singleton and friends would run as many as 20 repeats of 400 meters each, with short jogs in between. "I was the only girl running on the track with the guys, and they killed me every week," Barron notes. "But I kept at it, and eventually the paces got easier. More than anything else, those track workouts led to my faster times."
Singleton told Barron that she was a natural marathoner, and should focus on the 26.2-mile distance. He proved right. After she won the 1974 Peach Bowl Marathon in 3:06:40, more than an hour faster than her debut in 1972, Barron leapt onto the world marathon scene. This led to marathons in far flung locales and, most famously, the 1978 Boston Marathon.
Barron almost didn't run that Boston. After a fatiguing fifth-place finish in the Avon International Marathon in Atlanta a month before, she made the trip only to cheer for friends who were entered. She didn't even bring racing shoes with her.
Two days before the Monday marathon, feeling unexpectedly fresh, she changed her mind. Boston organizers accepted her late registration, given that she had finished third in 1975 and fourth in 1976. They gave her the last and highest number in the women's field: 229.
Unburdened by pre-race pressures and undertrained after her recovery from Avon, Barron ran lighter and fresher than ever. She caught the leader going up Heartbreak Hill, and surged to the front on the downhills to Boston proper - a skill she had honed on Atlanta's steep downhills.
Barron snapped the finish-line tape in 2:44:52, a personal best. She wore a bright-red shirt and shorts, accentuated by a matching ribbon in her hair.
Many took note of her attractiveness and flair. Some scoffed that a marathon woman shouldn't care about her appearance. "What right does anyone have to criticize my looks?" Barron protested. "My mother always taught me to dress well, and I enjoy a color-coordinated outfit. People should be paying more attention to my times."
After her competitive career, Barron coached thousands of Atlanta-area runners through various nonprofits, including her own Team Spirit, which raised funds for the Aflac Cancer Center. She was inducted into the Georgia Sports Hall of Fame in 2003 and the Atlanta Sports Hall of Fame in 2007.
Now 73, she lives in Hoschton, about 50 miles northeast of Atlanta, and works out on a Max Trainer and Pilates machine whenever possible. She remembers Peachtree as "my big hometown race and always very important to me. Plus it was a great place to see old friends."
And her legacy? "I don't pat myself on the back much," said Barron. "I'm so impressed by today's women runners and happy for any role I might have played to inspire them. Mostly, I'm proud that I didn't let others get to me and discourage me. If I'm a role model to anyone, it should be because I started from nothing and stuck with it. That's how you achieve anything - with patience and consistency."
This story was originally published in 2019 as part of the Peachtree 50 series.