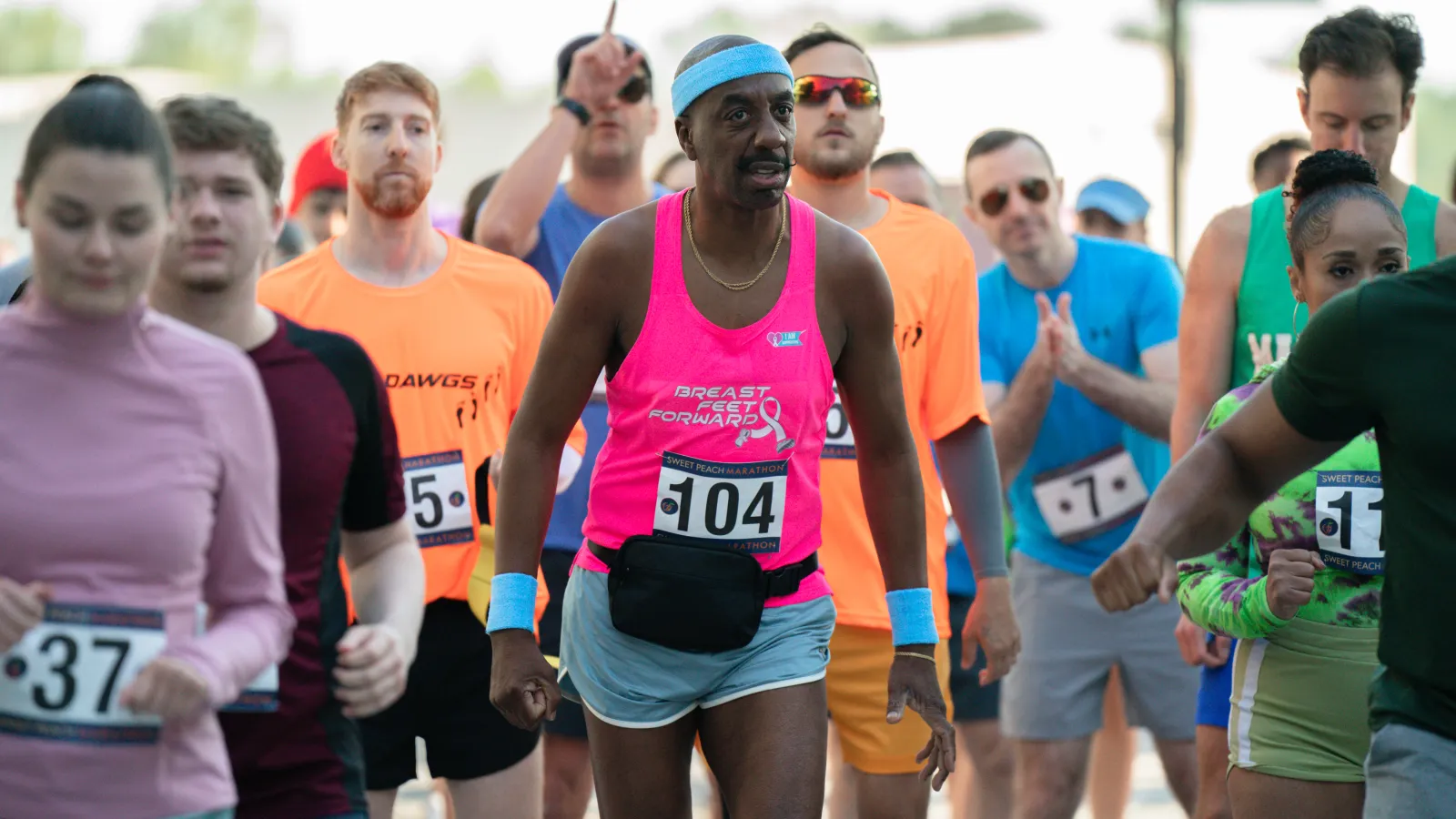 Grab Some Popcorn and Watch for Atlanta Track Club in New Marathon Movie
You may never get a chance to run in the Sweet Peach Marathon, but starting next week you'll get a chance to laugh at it.
"This is a running movie for runners, first and foremost," said James Kilmoon, a former collegiate cross country national champion who co-wrote the forthcoming Comedy Central movie, "Office Race."
In fact, when filmmakers started scouting locations in the Atlanta area, one of the first things they did was reach out to Atlanta Track Club.
"What kind of movie do I want to see as a runner? What kind of things would I want to see?" said Kilmoon, of why he sought the Club's input. "If I am a runner living in Atlanta and I saw a running movie come out, I'd be like 'oh man, I wish I knew they were filming.'"

After meeting with Kilmoon and co-writer/director Jared Lapidus, the Club put out a call to members who might be interested in appearing as extras. Nearly 100 stepped up and spent two days on set, many outfitted in Atlanta Track Club attire. Included among the extras is none other than Atlanta Track Club mascot Pete the Peach. The Club also began working with the set designers to incorporate signage, apparel and even its merchandise van into the background of the fictional marathon's start line.

"I've both worked and run a lot of races, and the cast and crew's attention to detail made it feel like I was at an actual race," said Andrew Margve, the Club's manager of expos and merchandising, who assisted for several days on the set. "Their camaraderie and enthusiasm reminded me of our staff on race day. I wish I could run the Sweet Peach Marathon!"

"Office Race" will premiere on Monday night. It stars "Saturday Night Live" alum Beck Bennett as Pat, a non-runner who decides to sign up for the Sweet Peach Marathon to beat his exercise-obsessed boss, played by comedian Joel McHale. Pat is encouraged by his girlfriend - a former high school track athlete also named Pat - played by "How I Met Your Mother" star Alyson Hannigan.

It's not a spoiler to reveal that, along the way, Bennett falls in love with running. As he prepares for the marathon, which serves as the film's climax, he shares the miles with some training partners who might feel familiar: the runner who's obsessed with all the latest gear (Erinn Hayes), the runner who wants everyone to know about his fundraising efforts (Geoffrey Arend), the vicious competitor (Katlyn Carlson), an oft-injured former marathon star (Kelsey Grammer) and even a race walker (J.B. Smoove). There's also chafing, bonking and even a beer mile.

Yes, the movie pokes fun at running, but the good-natured ribbing, its writers say, is a love letter to the sport - and they trust that runners will be in on the joke.

"I think it requires a certain predisposition to take a liking to running," said Lapidus who, unlike Kilmoon, is not a runner. "The running community seems like a really good-willed, self-effacing group. Just generally speaking, runners are some of the most open, easy-going and simultaneously good-humored people."

This is the first feature film for Kilmoon and Lapidus, who met as college roommates at New York University. There, Kilmoon, then James McCarthy, was a member of the 2007 NCAA Division III Champion cross country team and an All-American in track, running 3:53 for the 1500 meters. Since graduating, he's run one marathon (2:58:35, 2010 Paris) and now runs to stay in shape, often pushing a jog stroller. McHale, one of the film's stars, also has a running background, with a 3:06:19 at the 2001 Los Angeles Marathon.

On the other hand, Beck is as much of a novice as his character, the movie's protagonist. "He doesn't necessarily look like a runner, but what does a runner look like?" said Kilmoon, adding that one of the movie's messages is "anybody can run a marathon."

Kilmoon and Lapidus wrote "Office Race" in 2016 and have spent the last five years working to raise money, find a distributor and get the movie made. Filming took place over 20 days this April and May in Trilith, Senoia and Peachtree City. Unlike other movies and TV shows made in the area, "Office Race" is actually set in suburban Atlanta and features several local businesses.

There's even a significant role for running legend and Atlanta native Jeff Galloway, winner of the first-ever Peachtree Road Race, as a race commentator.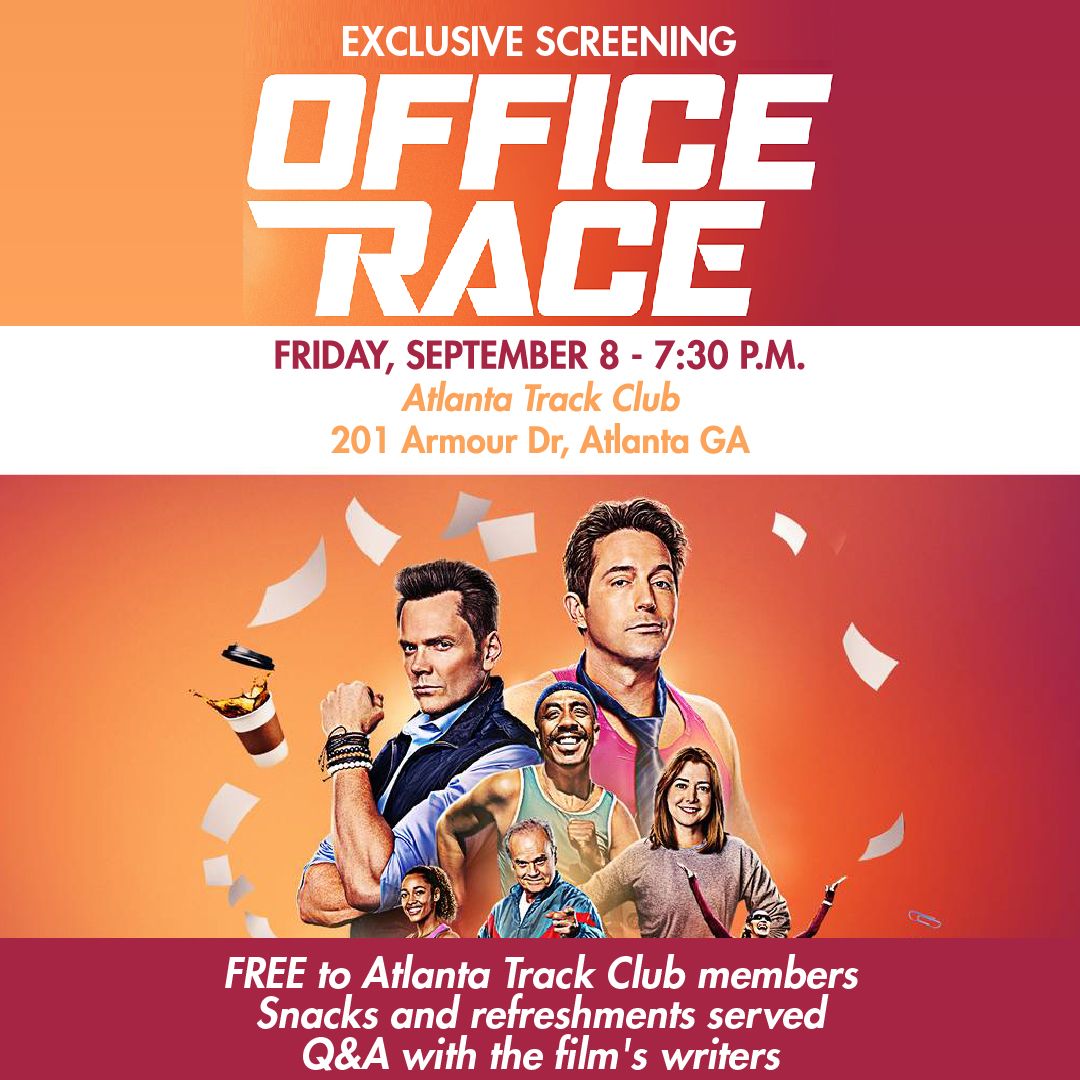 "We wanted to have a really big running legend in the movie," said Kilmoon. "We wrote "Jeff Galloway" as a placeholder because we never thought we could get him." But not only was Galloway up for the role, the writers said he was a natural as soon as Lapidus called "action!"

"It was truly acting," said Galloway, also a 1972 Olympian. "I usually do serious stuff, and I was the straight guy, but the producers and director helped me not to play it too straight."

"Office Race" (TV-MA rating for language and sexual suggestions) premieres this Monday, September 4, at 8 p.m. on Comedy Central. Atlanta Track Club is hosting a free screening at the Club's headquarters (201 Armour Drive, Atlanta) on Friday, September 8, at 7:30 p.m. Kilmoon and Lapidus will be on hand to introduce the movie and answer audience questions.
Despite strikes by the Writers Guild of America and the Screen Actors Guild, Kilmoon and Lapidus were authorized to speak about and promote this project since the interview request was coordinated directly with them and did not involve the studio.