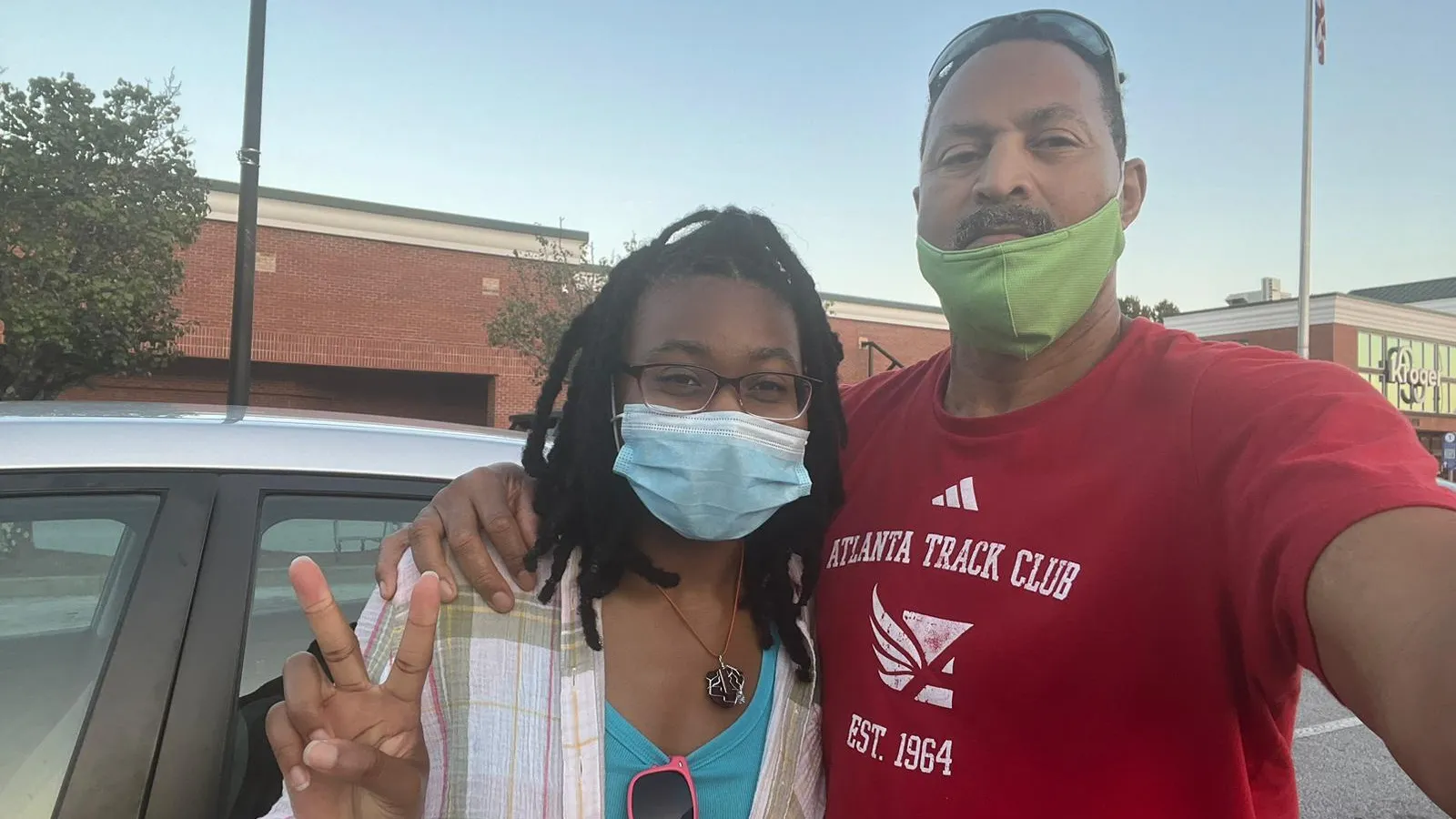 Bus Driver Now Behind Wheel of Masters Track Career
LanceLot Evans played a key role in Atlanta Track Club's 2017 USATF Masters Track & Field national title: He was the man who drove the team bus. Then 55, Evans was more than three decades removed from his days as a track athlete. The trip to Baton Rouge changed his life.

"That whole week. Once I got out there again, man, I was hooked after that," said Evans, who watched the competition before making the return trip.

A sprinter and middle-distance runner in high school - he said he clocked 48 seconds for the 400 meters and 1:54 for the 800m - Evans went on to run at Sante Fe College in Florida, where his coach, Jamaican Olympian Byron Dyce, also had him run cross country. After two years there, Evans joined the military. Shortly after, a sports hernia ended his running career.

The closest Evans had come to a track in decades was either in his bus - he regularly drove the teams from Milton High School and Emory University - and going to Atlanta Track Club's All Comers meets to watch his daughter compete.

But seeing athletes his age and older win national titles in Louisiana, Evans was inspired. While still at the meet, he reached out to masters team captains Phil and Terry Ozell about how to get involved.

"He didn't know anything about masters track and field," said Terry Ozell, also a member of Atlanta Track Club's Board of Directors. "Every time I would see him in the spring at All Comers, I'd tell him 'you need to come back out.'"


Once Evans decided to go for it, the Ozells helped him sign up for the team and enter events. Worried that he wouldn't have the endurance for middle distance competition, Evans decided to put his focus on the sprints. He started training at a park near his home in Lawrenceville, sometimes alone and sometimes with friends. He hit the local LA Fitness for weight training and started competing at All Comers meets instead of just spectating. He changed his diet, adding in more vegetables, chicken and fish, and lost 20 pounds.

His family had front row seats to the comeback. "They were shocked," Evans said. "They thought I was done with track."

Evans traveled with the masters team to the 2022 national championships in Kentucky, this time with someone else at the wheel. He competed in the 100 and 200 meters, finishing 10th and 16th respectively in the 60-64 age group, and left excited about his potential.

"I was so scared. I was so nervous. I felt like I almost died trying to do it," he said of racing there.

In the year the followed, Evans doubled down on his training and took part in masters competitions across the Southeast. By the time the national championships came around this year, he was entered in five events: the 100, 200, 4x100, 4x400 and 4x800.

In the individual competitions, Evans finished fourth in each of his heats, missing the finals. But he said he was proud of how he competed and is already focused on getting faster for the indoor season.

"I am going to try to build for a decent 60, decent 100 and decent 200," he said. "And then I'll get some training in so I'll have the strength to do the 800 again."

Even if he never gets faster or scores team points, Evans said the positive impact on his health has been more than worth the effort. His teammates and coaches don't care how fast he runs, either. They say that Evans' biggest contribution is his positive attitude and inspiring story.

"His enthusiasm is infectious and the team is better because of his involvement," said Andy Carr, who helps coach both the masters and Milton High School teams and so has spent many hours with Evans as he drove. "He is fully invested because he likes the camaraderie and people who share his passion for the sport."

Carr said Evans never talks about himself. Yet, Evans was excited to be a part of this story. The reason: He hopes that it will inspires others like him to give track a try.

"Think about your health," said Evans, who now works full-time for a healthcare company and no longer drives the bus that brought him to this new world. "Get out there and have fun. I think that's the greatest thing you can do for yourself."