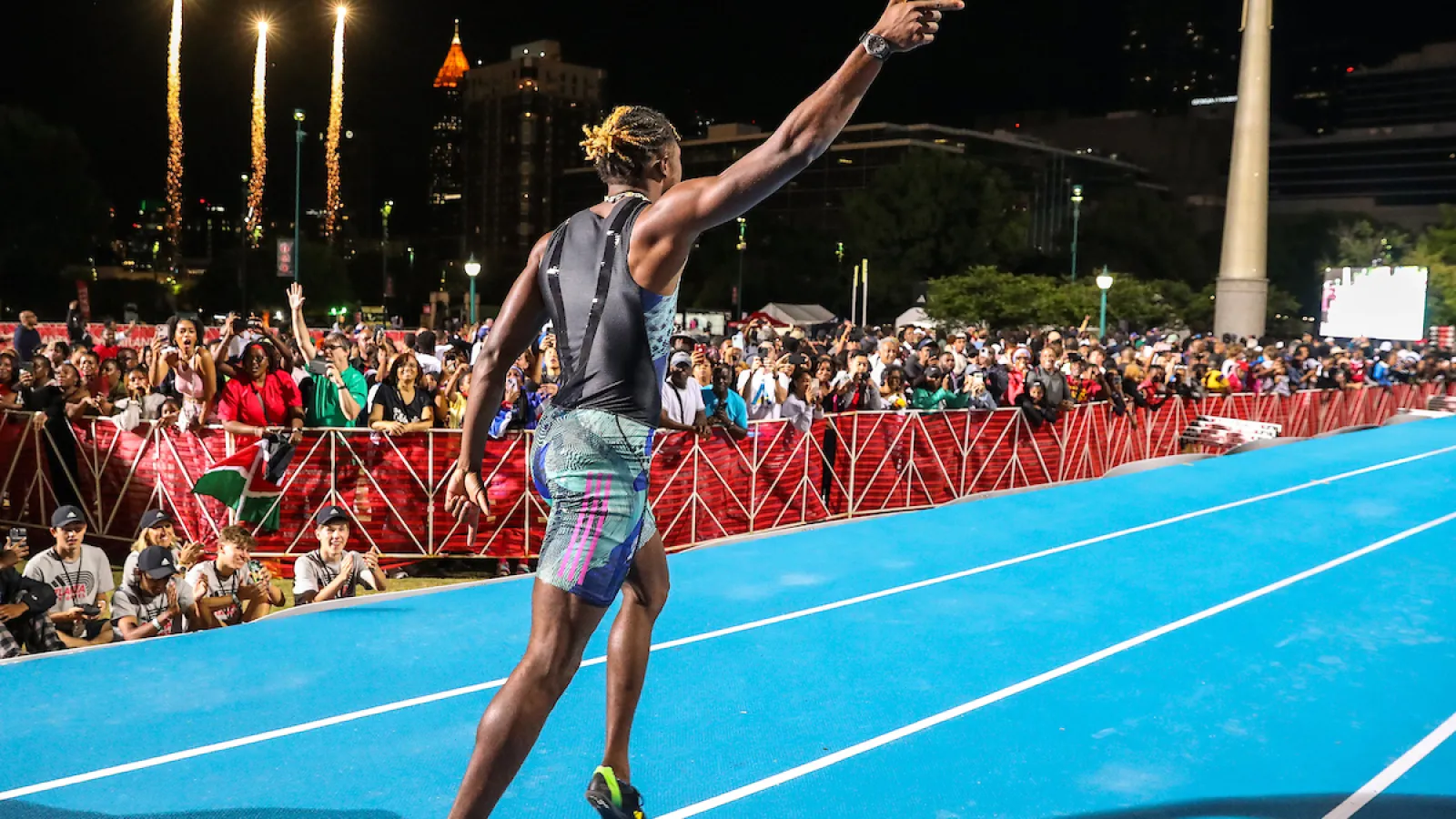 adidas Atlanta City Games Moves Olympic Legacy Forward
In an evening not seen in Atlanta since the 1996 Olympic Games, track-and-field superstars from near and far lit up Centennial Olympic Park on Saturday, May 6, in the inaugural adidas Atlanta City Games, entertaining throngs of fans who brought lawn chairs, blankets and passion for both the spectacle and the competition.
Capped by a victory at 150 meters by 200-meter American Record-holder Noah Lyles, a gutsy win at 100 meters by 60-meter American Record-holder Aleia Hobbs and a world-leading time in the 110-meter hurdles by two-time World Champion Grant Holloway - all with the iconic Olympic Rings sculpture as a backdrop - the event also produced breakout performances by a pair of former metro Atlanta high school stars.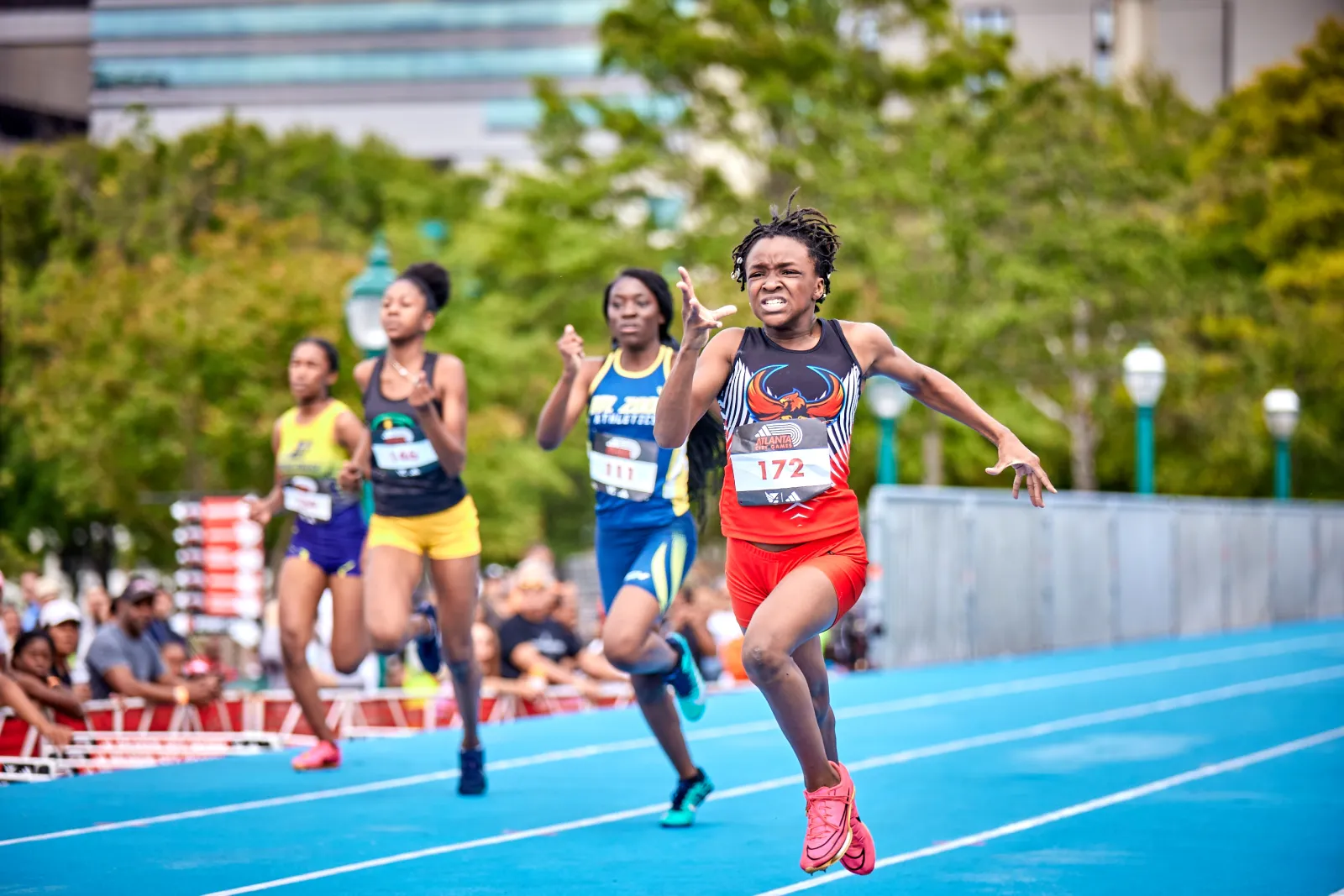 Their triumph was especially fitting on a day that began with the adidas Atlanta Youth City Games, which gave many of the top middle-school athletes in the state of Georgia a chance to compete on the same specially built, elevated track - lined with American and Olympic flags - that the professionals would pound a few hours later. That was followed by the Running City Mile, in which hundreds of age- group runners as young as 6 took part in a series of road miles that ended on the track.
"Atlanta Track Club was formed in 1964 to support young, up-and-coming athletes," said Rich Kenah, CEO of the Club, which organized the meet. "We continue to act on that mission every day, so there is some poetry in the fact that we've come back to our roots in such a big way on a grand stage in our own city."
In the night's marquee matchup at 150 meters, Lyles - the two-time 200-meter World Champion - kept his composure and took command with about 50 meters remaining after Kenya's Ferdinand Omanyala, a 100-meter specialist, took the race out hard. In his 14.56 victory, the flamboyant Lyles didn't break the tape so much as grab it, as if he were the rightful owner all along.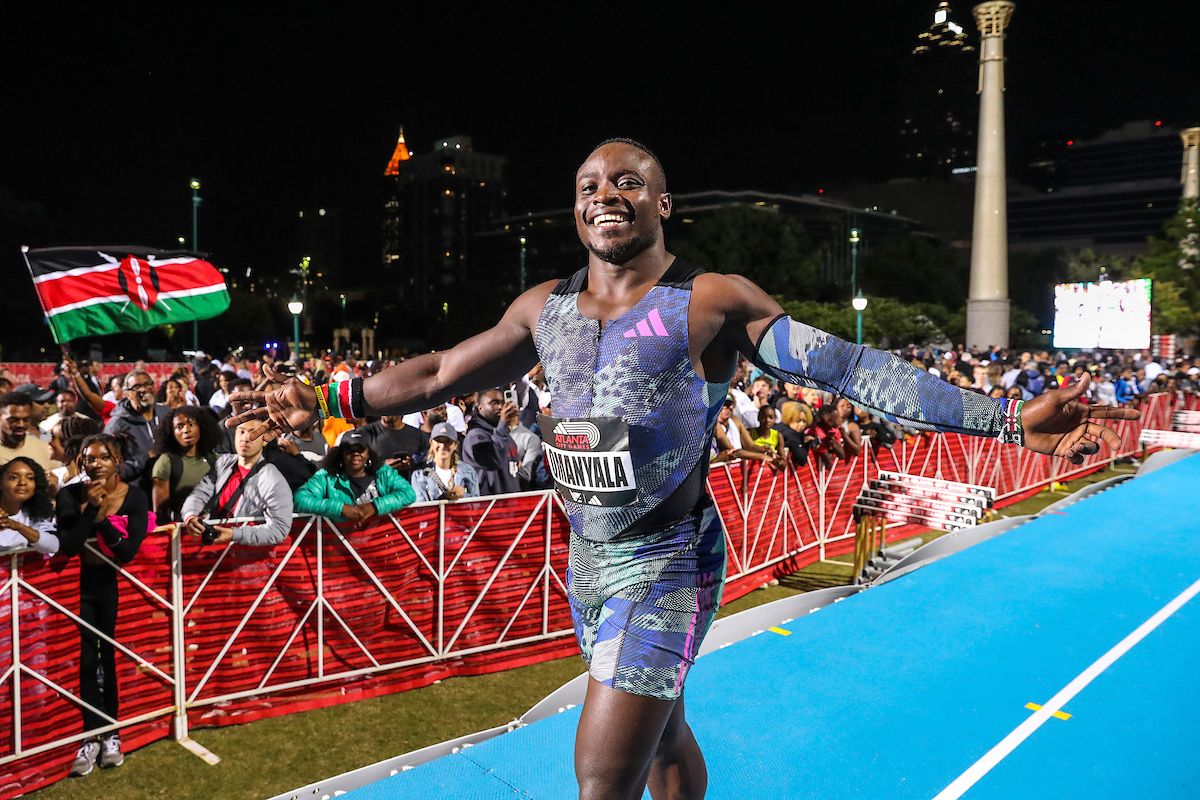 Erriyon Knighton, the reigning World Championships bronze medalist behind Lyles, finished second, in 14.85, with Omanyala - supported by a boisterous contingent of flag-waving Kenyan fans - was third, in 14.89.
Lyles, pleased with his start, said that he and his coach "have really been focused on giving 110 percent off the first step. I was getting to the end of the track and I was running out of gas, but I was like, 'I want to make sure I get to this line fast.'" Although not happy with his time, he called the race a step forward. "I did what I wanted to do, go 100 percent from the get-go, command the race by 70 meters and run away with it, and I felt I did that today."
Hobbs, recovering from a broken hand that has hampered her training, had to chase down training partner Mikiah Brisco to win at 100 meters in 10.99 to Brisco's 11.02.
"She had an amazing start," said Hobbs, who praised what she called a fast track. "I knew she'd get on fast, so I just had to hold on with her."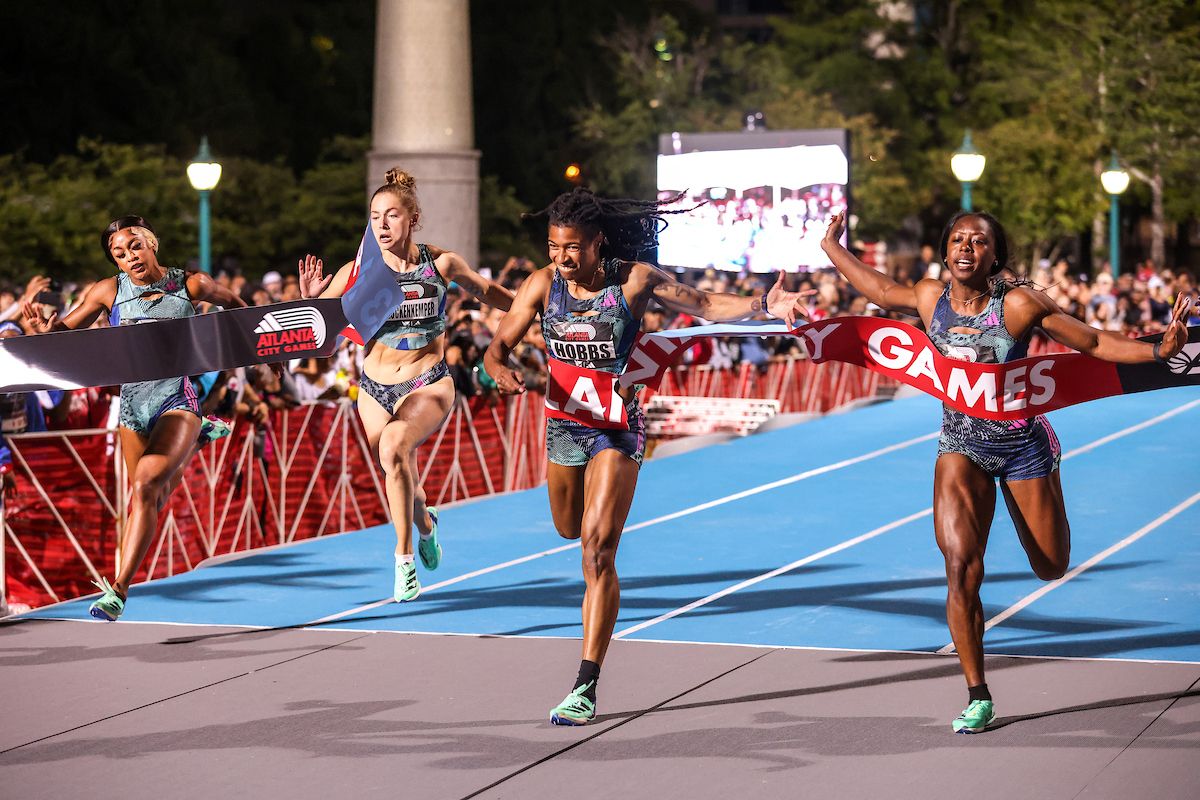 In the women's 150 meters, 20-year-old Tamari Davis - who turned professional in 2020, at the age of 16 - upset 200-meter Olympic bronze medalist Gabby Thomas, winning in 16.44. Thomas, who was born in Atlanta and lived here until the age of 11, finished third, in 16.50, but called her homecoming "amazing. It was good to be back; I had all my friends and family cheering me on, so that felt good."
"Friends and family" could have been a theme of the evening. In the 100-meter hurdles, 22-year-old Tia Jones, who signed a pro contract straight out of Walton High School in Marietta, surprised former World Record-holder Keni Harrison, who got out to an early lead but was quickly overtaken. Jones then fought off Harrison's late surge to hang on, 12:50 to 12:53.
During her post-race TV interview, Jones scanned the crowd for her mom, who was among an estimated 25-30 in her circle who came to see their hometown favorite. "I definitely feel like we should keep this meet here," said Jones, a two-time Atlanta Track Club All- Metro selection and two-time World Under-20 Champion (100-meter hurdles, 4x100-meter relay), who was seemingly unfazed at just having defeated a World Championships silver medalist.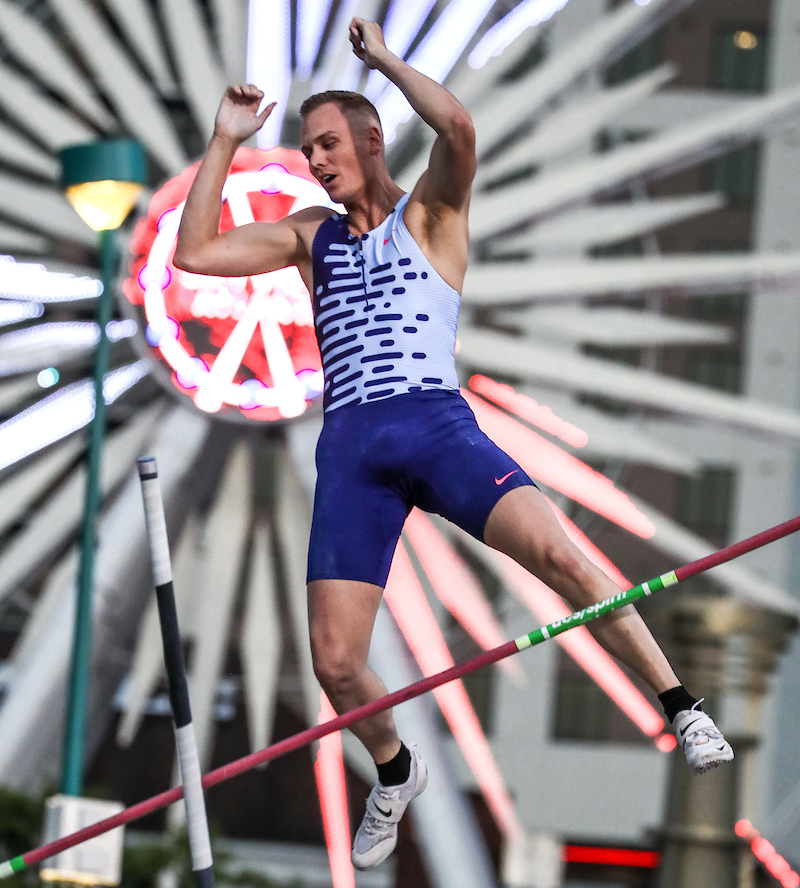 "It's a great city; look at the ferris wheel, it's all lit up." Pole vault winner Austin Miller, who upset two-time World Champion Sam Kendricks on countback, also gave a shoutout to the 20-story SkyView, whose pulsating lights grew in drama as night fell. "We couldn't have asked for a better setup today. We were zooming down that runway toward that ferris wheel."
Atlanta fans got another treat in the 110-meter hurdles. Phones held aloft and children hoisted onto their shoulders, they watched Holloway came away with an expected victory in 13.01, the fastest time in the world so far this year. But stealing the show was runner-up Robert Dunning, a product of nearby Kennesaw Mountain High School, with a massive personal best of 13.09 to demolish the 13.23 he set just three weeks ago.
Holloway couldn't have been more thrilled for his training partner, a Georgia 6A Champion in the high jump and 300-meter hurdles as a senior, and a 2015 All-Metro selection.
"It's not about me," said Holloway afterward, his friend alongside. "I'm no stranger to world leads and the fast 13 point 0 times, but today's about Robert Dunning. He ran [under 13.10] for the first time in his life, man. We're going to celebrate that. I've said it in multiple interviews: We're coming to take over the world."
Dunning called Holloway is "probably my biggest fan. He pushes me every day, he yells at me every day, just to get me motivated. That's what love does. I've grateful to have him by my side every day we go to practice." Among the day's other winners were Emily Grove in the pole vault (14-11.50) and Jamaica's Oblique Seville in the men's 100 meters. In the mile, which began on the roads before finishing on the track, it was Taryn Rawlings (4:40.11) and Sam Prakel (4:03.64); in the 600 meters, also road-to-track, it was Bryce Hoppel (1:17.13) and Ajee' Wilson (1:27.00), who said later: "I didn't realize what a running city Atlanta is."
Winning the B heats of the 100 meters were Angie Annelus (16.58) and Jereem Richards of Trinidad and Tobago, dropping down from his more-familiar 200-400-meters (14.83).
"The crowd was ecstatic," said Richards, a two-time Commonwealth Games Champion. "The good thing about Atlanta is that it's very diverse; it has a lot of people from the Caribbean, Africa, all around the world and it's nice to see people from my country and different countries coming out, so it was a great experience."
Lyles, who bounded down the track to special intro music and saw fireworks light up the park after his victory, agreed.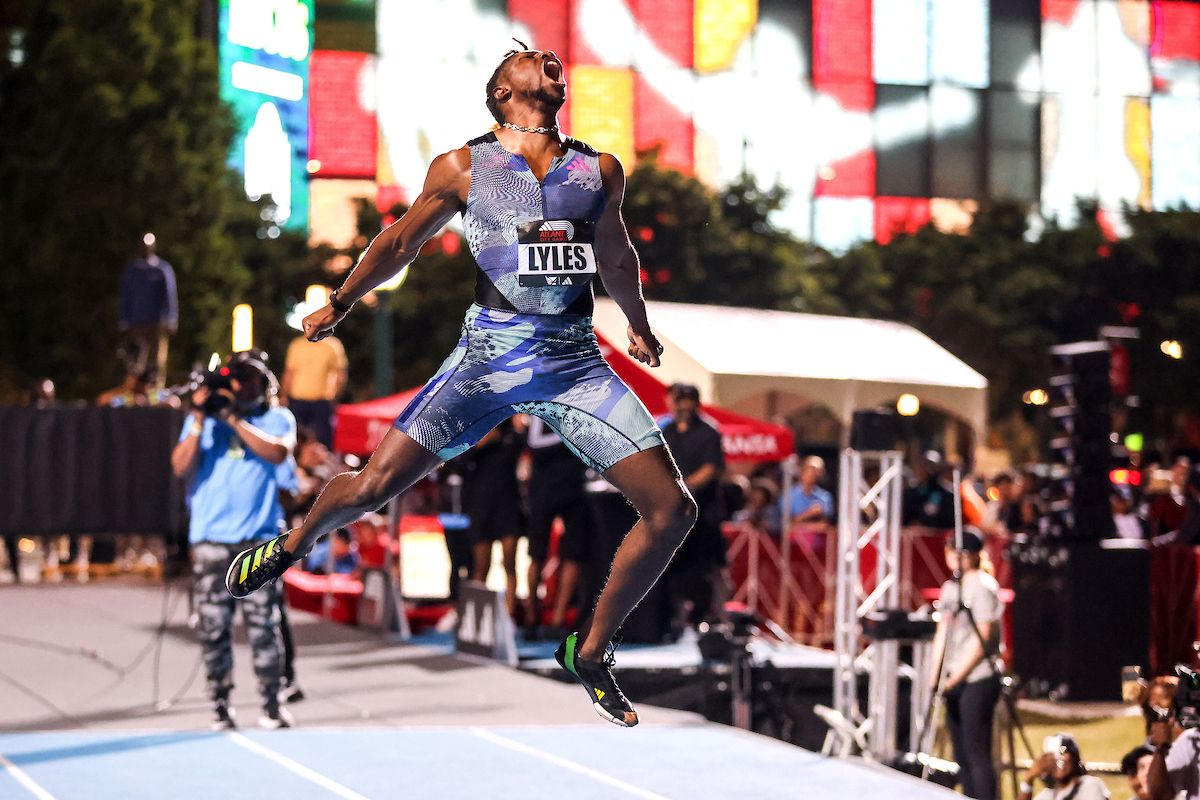 "I'd say it's pretty hype." If the sport is going to be more popular in the U.S., he said, "It's going to take meets like this."
Complete results came be found here, and a video of the event is available here.