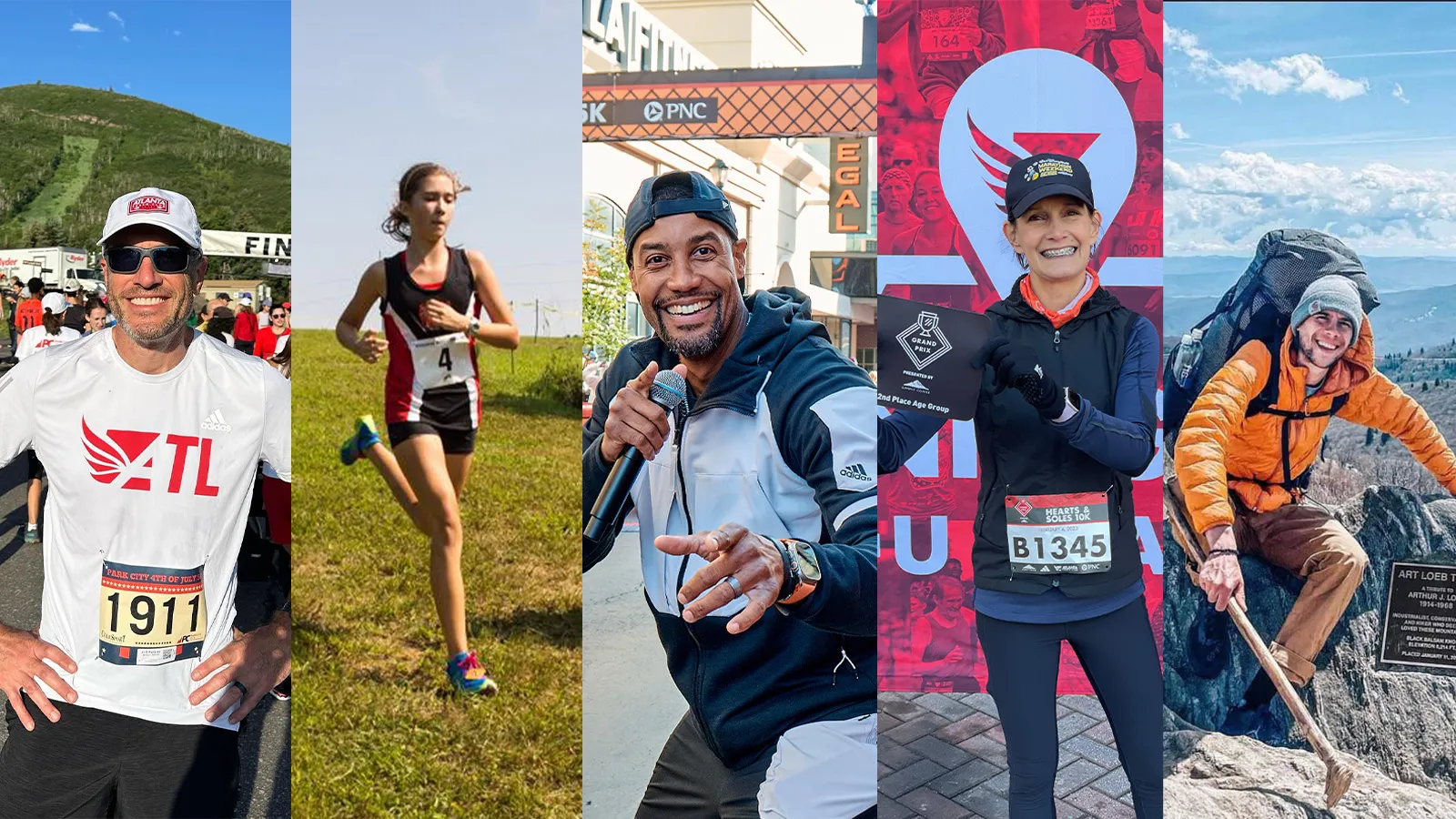 Meet the TCS NYC Marathon Kilometer Kids Charity Team
Next week, five runners from Atlanta will travel from the Big Peach to the Big Apple to run one of the largest races in the world as members of the 2023 TCS New York City Marathon Kilometer Kids Charity Team. The team's challenge? To raise $50,000 in addition to covering those already-tough 26.2 miles.
Together, the team - ranging in age from 24 to 58, from a photographer to a software executive, from people you might not know to one you almost certainly do - will run on November 5 to support Kilometer Kids, Atlanta Track Club's largest free youth running program. The game-based curriculum teaches children in grades K-5 the importance of healthy habits, goal setting, community and respect through running and walking. More than 4,000 children in metro Atlanta and beyond participate in the program each year during spring and fall 10-week seasons.
Donations to the charity team's runners go directly to the Kilometer Kids program and will help provide support, coaching staff, resources, educational materials and more to the participants. To learn more and donate to any - or all - of these five runners, click here.
Jeremiah (Miah) Cowan Atlanta, Ga.
Miah Cowan, a 28-year-old freelance photographer, is not afraid to put himself out there when it comes to health and fitness. In 2022, he thru-hiked the Appalachian Trail from March to October, covering more than 2,190 miles. This adventure made him love the feeling of aerobic fitness even more, and he moved to marathon running shortly after.
His first was the 2023 Publix Atlanta Marathon, and afterward, he craved another challenge but this time wanted to embark on it for a great cause. His search for that combination led him to the Kilometer Kids team.
"One thing that I really love about Kilometer Kids is that it's fitness and it's something that will stick with these kids throughout their lives," Cowan said. "No matter what happens in their lives, they're going to be able to look back at these runs… and these are the building blocks that will help them get through."
Donate to Miah's fundraiser here
Denise Crider
Woodstock, Ga.
Since childhood, Denise Crider has had a love for running and fitness, which led her to lifelong benefits and even the physical and mental strength to deal with a cancer diagnosis more than 20 years ago. Now 58, she said running has greatly impacted her, so her goal is to give back to the community and help others through the sport.
The TCS New York City Marathon Kilometer Kids Charity Team is not the physical therapy assistant's first time running for a fundraiser, but it is significant to her because the program teaches children in her community the importance of fitness and exercise at an early age.
"I felt like running a marathon was… larger than life, and I wanted to correlate it to something and do something just not about me but for others as well," Crider said.
Donate to Denise's fundraiser here
Emily Bowers
Roswell, Ga.
A decade ago, 24-year-old Emily Bowers was experiencing the joys of her own youth running program in Alpharetta, Ga., which gave her the competitive edge and love for the sport that she still carries.
She said that her time at Alpha Crush shaped her into who she is today, so she felt that her first full marathon should benefit an organization much like the one that gave her a head start. Kilometer Kids fit that standard, and it gave her the challenge she was looking for.
"The fact that I'm even running the New York City Marathon feels too good to be true," said Bowers, a licensed realtor. "And that I get to do it repping Atlanta is even more fun. It's my dream situation and I'm thankful I get to do it."
Donate to Emily's fundraiser here
Jeff Perkins
Atlanta, Ga.
As a father to two young girls, Jeff Perkins understands the importance of encouraging children to be fit and active early in life. He often encourages his daughters to run races with him and take on new sports where running is the foundation.
When the 49-year-old chief marketing officer of Greenlight Guru decided he wanted to run the TCS New York City Marathon as his first full marathon, he felt the need to do so not only for himself but for a mission influencing his community and family.
"What I like about the Kilometer Kids program is that it's teaching so many life skills to kids at a young age, but I also love that it's teaching kids teamwork, healthy lifestyles and all the tools they'll need to be successful later in life," Perkins said.
Donate to Jeff's fundraiser here
Ronnel Blackmon
Roswell, Ga.
At many Atlanta Track Club races and events, runners and walkers will hear the words "your race, your pace" and then "the finish line is right here" from the host and emcee Ronnel Blackmon as they toe the start and later approach the finish.
The motivational speaker and professional "hype man" enjoys challenges, and sets goals that benefit the community as well as himself. With these values in mind, he said, the TCS New York City Marathon Kilometer Kids Charity Team was "just right" for him.
"For Kilometer Kids to be introduced to running early on it, to me, will allow them to fight the different severities and health problems that could arise if they aren't being active," said the 41-year-old Blackmon. "I'm a huge advocate of the community and working with kids as well … and health and fitness is a key thing that I'm encouraged with that I've seen me build resilience with even in my life."

Donate to Ronnel's fundraiser here