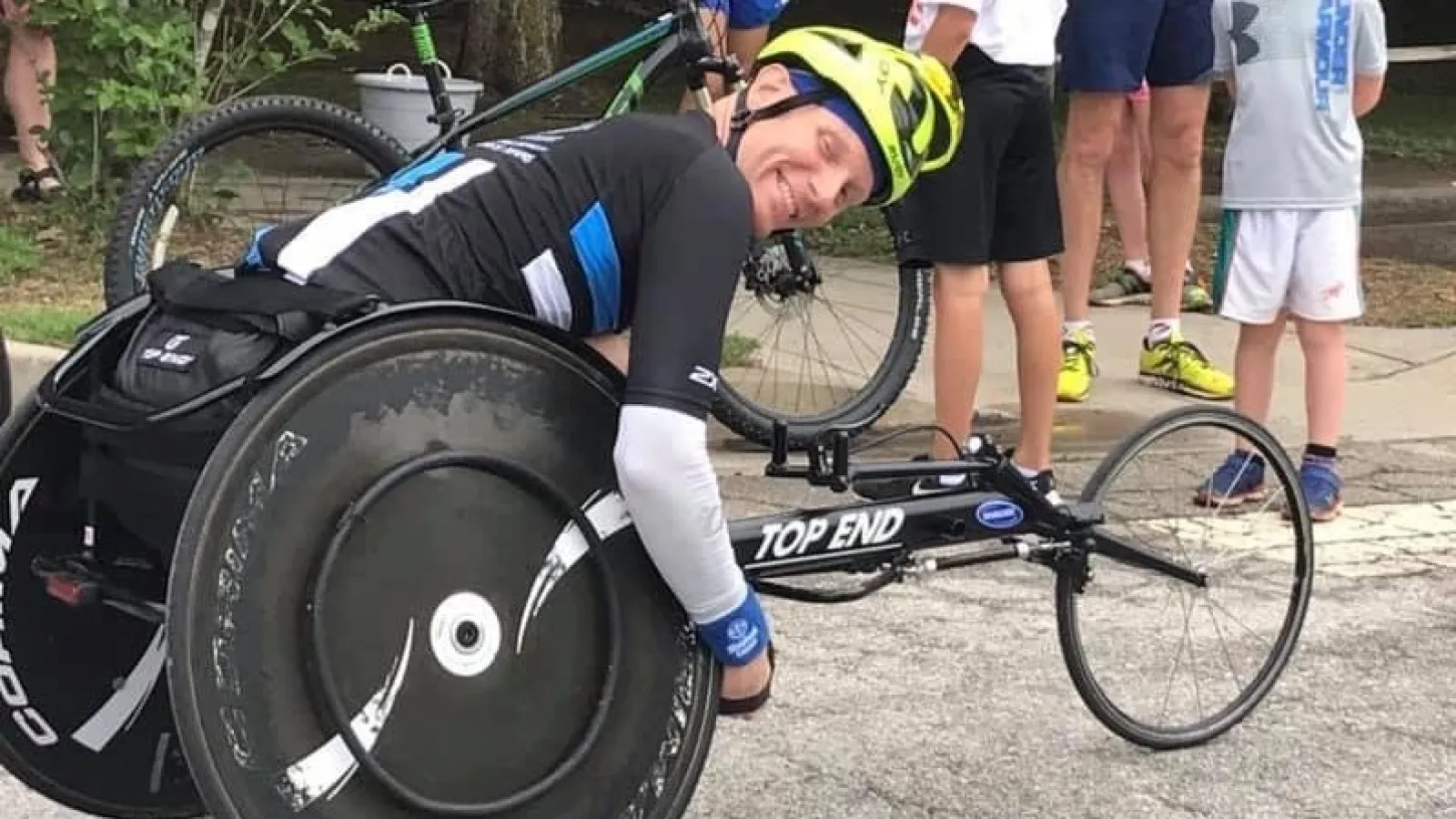 Brad Smith Keeps Pushing As Hard As He Can
Brad Smith vividly remembers the circumstances leading up to the accident on that late-spring day 13 years ago — cruising on his bicycle not far from home, the curve in the road, the car suddenly pulling out of the parking lot in front of him, pitching forward, his back slamming into the front fender.
He remembers waking up in the hospital in Asheville, North Carolina. And, of course, he remembers being told there was just a 1 percent chance he would ever walk again.
What he doesn't remember is ever feeling sorry for himself.
"It's funny. The first thought I had after my injury was, 'How can I get back onto the bike?'" recalled the Duluth resident, who was a 33-year-old triathlete and veteran of several marathons when he suffered his spinal-cord injury. "Some people might go, 'That sounds crazy.' I even had friends that sold their road bikes and haven't ridden since because of what happened to me. It freaked people out.
"But I wanted to get on the bike."
From his hospital bed in North Carolina, Smith researched the country's top rehab centers and zeroed in on Shepherd Center in Atlanta. After being accepted into Shepherd Center's program (after a scary bout with Guillain-Barré syndrome, which temporarily rendered his upper body paralyzed, too), he spent many nights in his new bed researching sports equipment for paraplegics and zeroed in on handcycles, which are three-wheeled bikes powered using arms rather than legs to turn over cranks. By February 2011, eight months after his crash, he was going for his first ride. By that summer, Smith was being fitted for a racing wheelchair, for use in road races alongside able-bodied runners.
Not long after, he joined the Shepherd Cyclers — a handcycling team that is among 11 sports teams Shepherd Center sponsors — and in 2012, Smith started a streak as a participant in the Shepherd Center Wheelchair Division of the Atlanta Journal-Constitution Peachtree Road Race, which annually fields a mix of about 50 professional and amateur racers on wheels in one of the largest and most-respected wheelchair races in the world.
Since his accident, he's also earned a second master's degree, in school counseling, from Georgia State University; spent 10 years working as a counselor at DeKalb County's Lakeside High School; qualified for and competed in the Boston Marathon, twice (a race he was never fast enough to run on two feet); gotten engaged to fellow wheelchair athlete Maggie Frederick; and remained a highly respected fixture on the Shepherd Cyclers.
Especially for "younger athletes, newer athletes coming in, he's a very good mentor," says Krige Schabort, the team's coach (and a five-time winner at the Peachtree as a pro), who says he's known Smith as a uniquely positive force since meeting him during his original stay at Shepherd. "He would be a good coach for the team," said Schabort, who this year will be competing in the July 4 classic for the 26th time.
Smith, now 46, is doing a little less road racing these days — he's branched out into adaptive mountain biking and kayaking — but one thing that hasn't changed is his love for Peachtree. And, specifically, his love for Cardiac Hill. Well, love-hate.
"There's no giving up on that one, when everybody's out there cheering for you," said Smith, who will tackle the course's challenging climb for the 12th-straight time this year. "People I know will yell my name, and I'll kinda smile at 'em. But man, I cannot make much eye contact" he said, chuckling, "because it's head down, pushing as hard as I can to get up that hill."