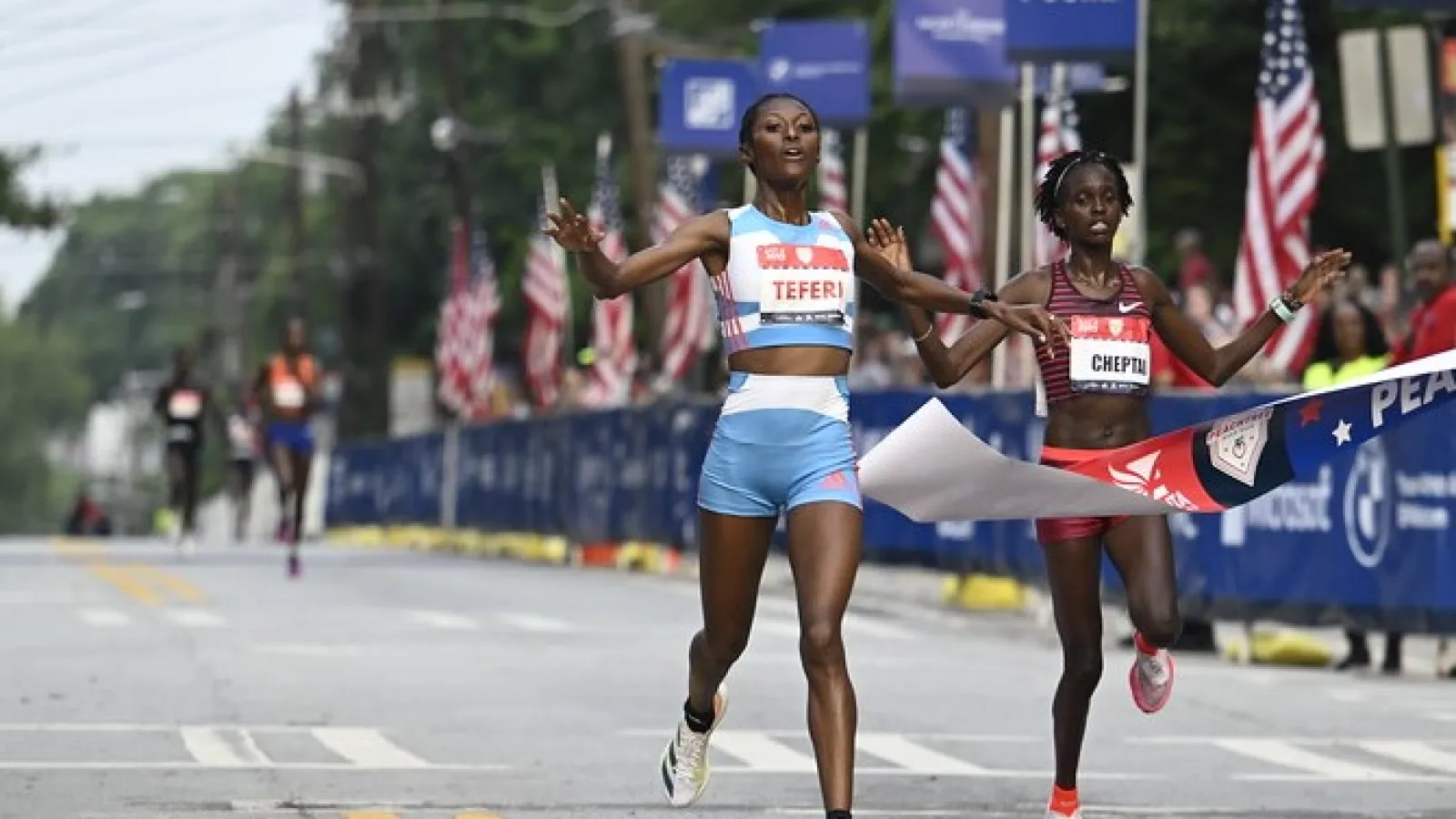 Return to Tradition Brings a New Meaning
On the Fourth of July this year, the road from Lenox Square to Piedmont Park was 6.2 miles and three years long.
"We went from celebrating the 50th Running of the Atlanta Journal-Constitution Peachtree Road Race in a way that exceeded our - and we think everyone else's - expectations to running into the brick wall of COVID-19 to starting back to normalcy with a two-day Peachtree last year to what I think is a new beginning," said Rich Kenah, the race director and CEO of Atlanta Track Club. "We're back to the future."
The future began with a return this year to the traditional one-day race, with almost 50,000 runners and walkers taking part on a morning that brought "red flag" conditions of a soaking humidity and temperatures in the 80s, with a hot sun adding to the mix by mid-race. But the challenging conditions were just one more reminder that things in the city were back to "normal" on July 4 for the first time since 2019.
As runner Jason James summed it up post-race on Instagram: #AtlantaHillsHumidityHeat.
He could have added #Heartening.
Every year, the Peachtree serves not only as a vital fitness goal - and, on race day, a reward for all the training - but also as a citywide stage for Atlantans to maintain family traditions and renew friendships.
Often, those purposes combine in surprising ways.
Take Kevin Lowther. Survivor of a heart attack five years ago, the 43-year-old Douglasville man dropped 50 pounds as health and fitness became part of his lifestyle. Participating in the Peachtree has been part of that change. ("It's always an accomplishment for me to finish," he said). In 2021, as Lowther walked the race for the second time, a friend from their days at Clark Atlanta University ran past. JB slowed and the two college pals enjoyed chatting a while before JB ran on.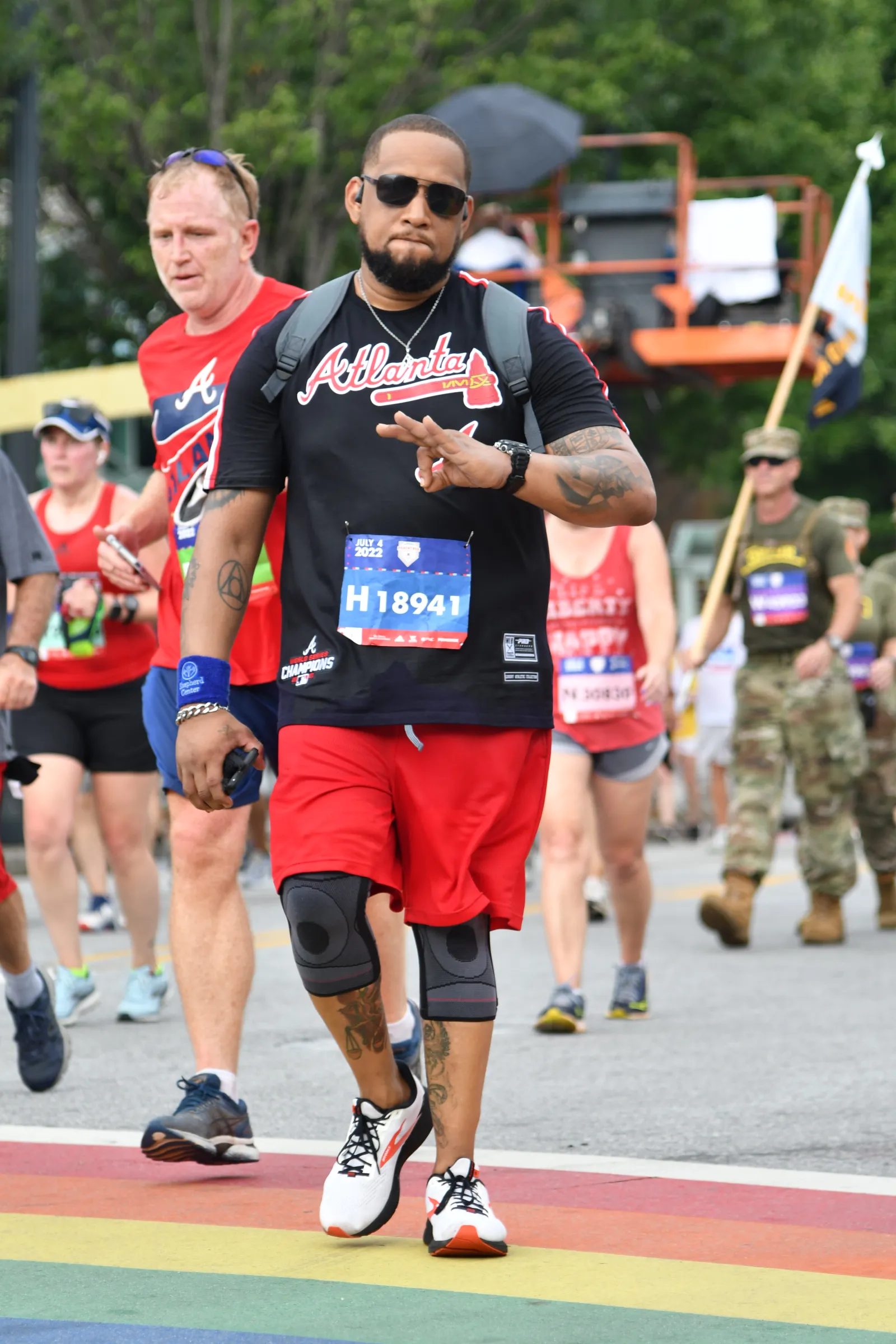 This year, Lowther was thinking of JB the morning of the race - not because he expected to see him, but saddened that he wouldn't. In May, JB suffered what Lowther had heard was a debilitating stroke.
But as Lowther walked up Cardiac Hill, there was JB. In a wheelchair, outside watching the race along with dozens of other Shepherd Center patients. The two men locked eyes.
"We hugged, we cried," said Lowther.
The nurses understood the gravity of the moment. Stand up, they urged JB. Show him you can stand up on your own. He did, mouthing words of reassurance to his college buddy: "I'm alright, I'm alright."
Lowther resumed his race, in tears for the next mile and wearing the blue Shepherd Center wristband JB had just given him.
Or take Vickie Crenshaw Smith.
"I 0/10 recommend running a 10k when you are <2 weeks from delivery but IF you do, please do it with wonderful friends! I didn't make the top 500 this year but I made it to the finish line!"
Crenshaw Smith, a former Ironman competitor who in 2021 finished Peachtree as the 166th woman overall, ran this year's race in 1:14:47, the 5,832rd woman overall.
The birth of her son, Matthew, less than two weeks later could serve as a metaphor for the rebirth of the Peachtree as it continues to acknowledge and adapt to a world changed by COVID-19.
For instance, the Club already knew that some of its valued long-time crew chiefs would retire after the 50th Running in 2019; what it didn't know was how COVID-19 would compound the challenge of building back its volunteer corps.
"This event doesn't happen without our volunteers," said Kenah. "The crew chiefs that were there, the volunteers and the staff are really good at what they do and take a tremendous amount of pride in the service they offer." Because of a significant shortage this year, "I regret that their experience was more stressful and challenging than usual, and I don't want to put our volunteers in that position again."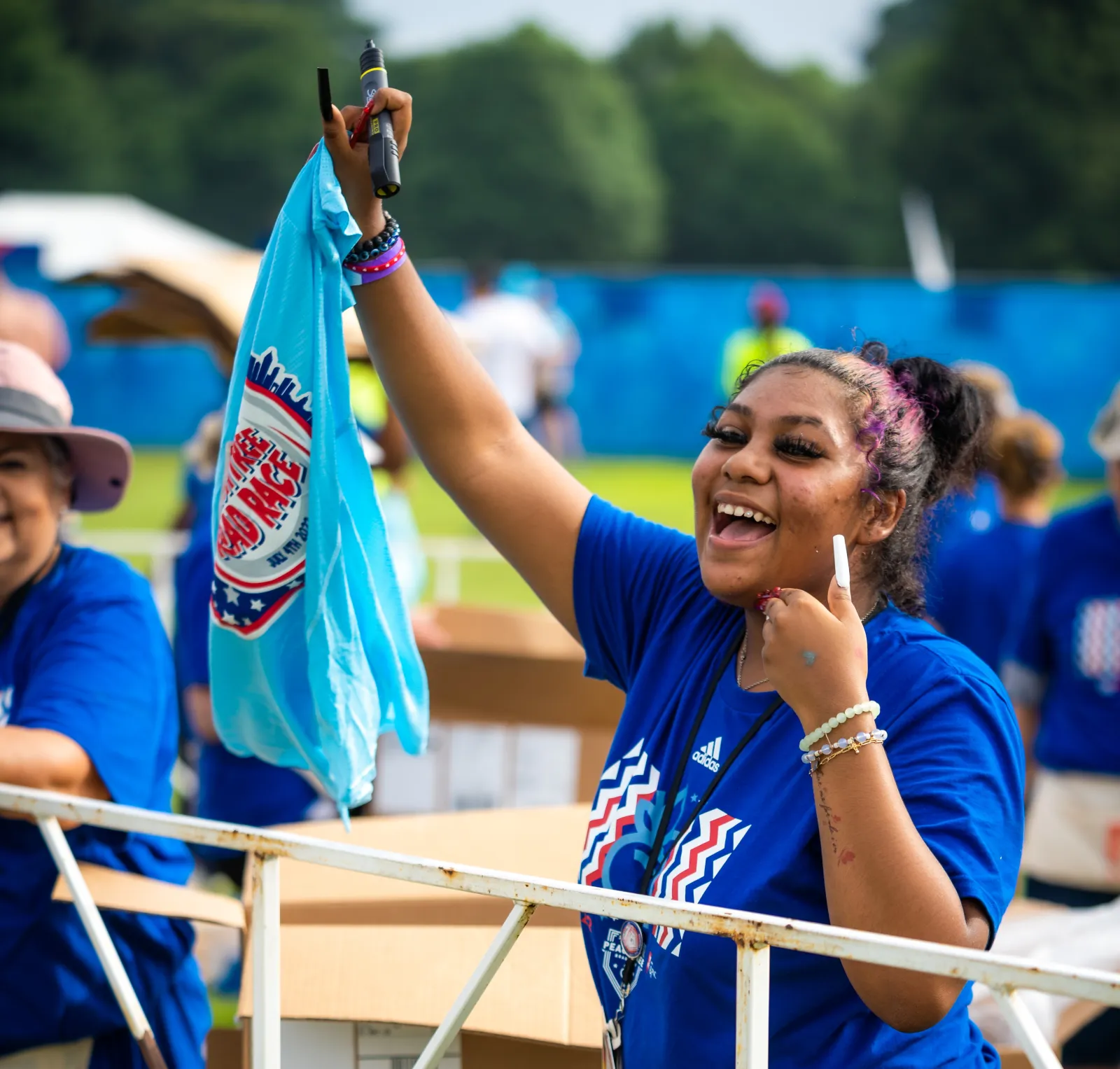 To that end, the Club is looking to new avenues of volunteer recruitment, just as it is looking to continue building on other changes brought about by COVID-19.
"The leadup to this year's race was one of my biggest challenges here as race director," he said. "The world has changed, and I don't think it's going back to what it was in 2019 any time soon. In 2022, we feel as if we gave back to Atlantans what they've known the Peachtree to be: a celebration of the community on Independence Day.
"Now we're ready to build on this new beginning."
Course Record Earns $53,000
Despite the heat and humidity, it was a day for fast - and even record-breaking - times in the pro races.
Winning the women's footrace was Senbere Teferi of Ethiopia, who barely edged Kenya's Irine Cheptai at the tape. Both women were given the time of 30:49, tied for the fourth-fastest time in race history. Becoming a two-time winner of the Peachtree in the men's footrace was Rhonex Kipruto of Kenya, who broke the tape in the men's open division in 27:26, the fifth-fastest time since the Peachtree began in 1970.
In the Shepherd Center Wheelchair Division, Daniel Romanchuk won for the fifth-consecutive year, in 18:38, tied for third-fastest in Peachtree history. But it was women's wheelchair winner Susannah Scaroni who took home the entire $53,000 bonus - offered by organizers in honor of the race's 53rd Running - for her winning time of 21:14, which broke the course record by 14 seconds. Had any of the others also broken the record, the bonus would have been split; instead, it was the biggest payday of Scaroni's career.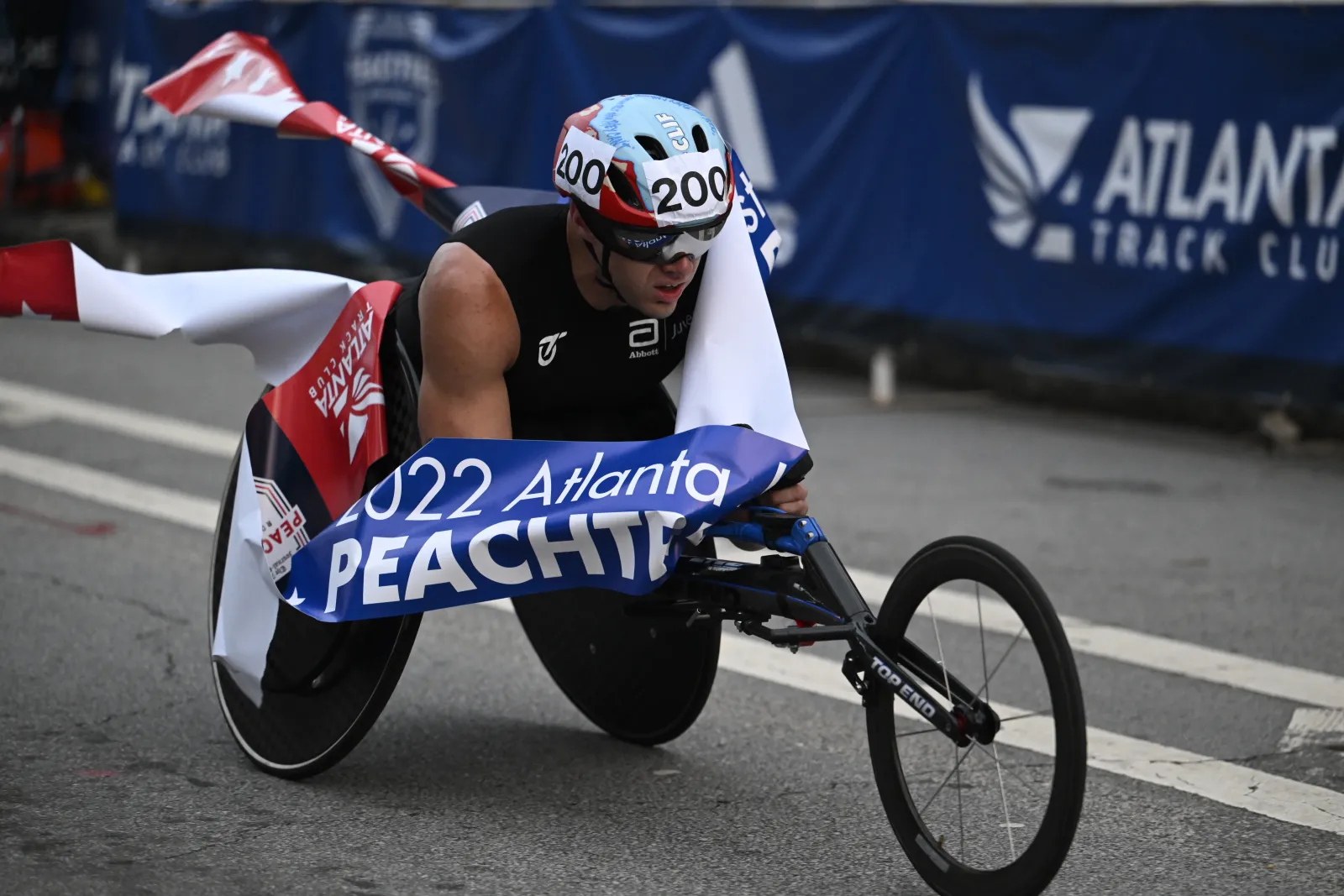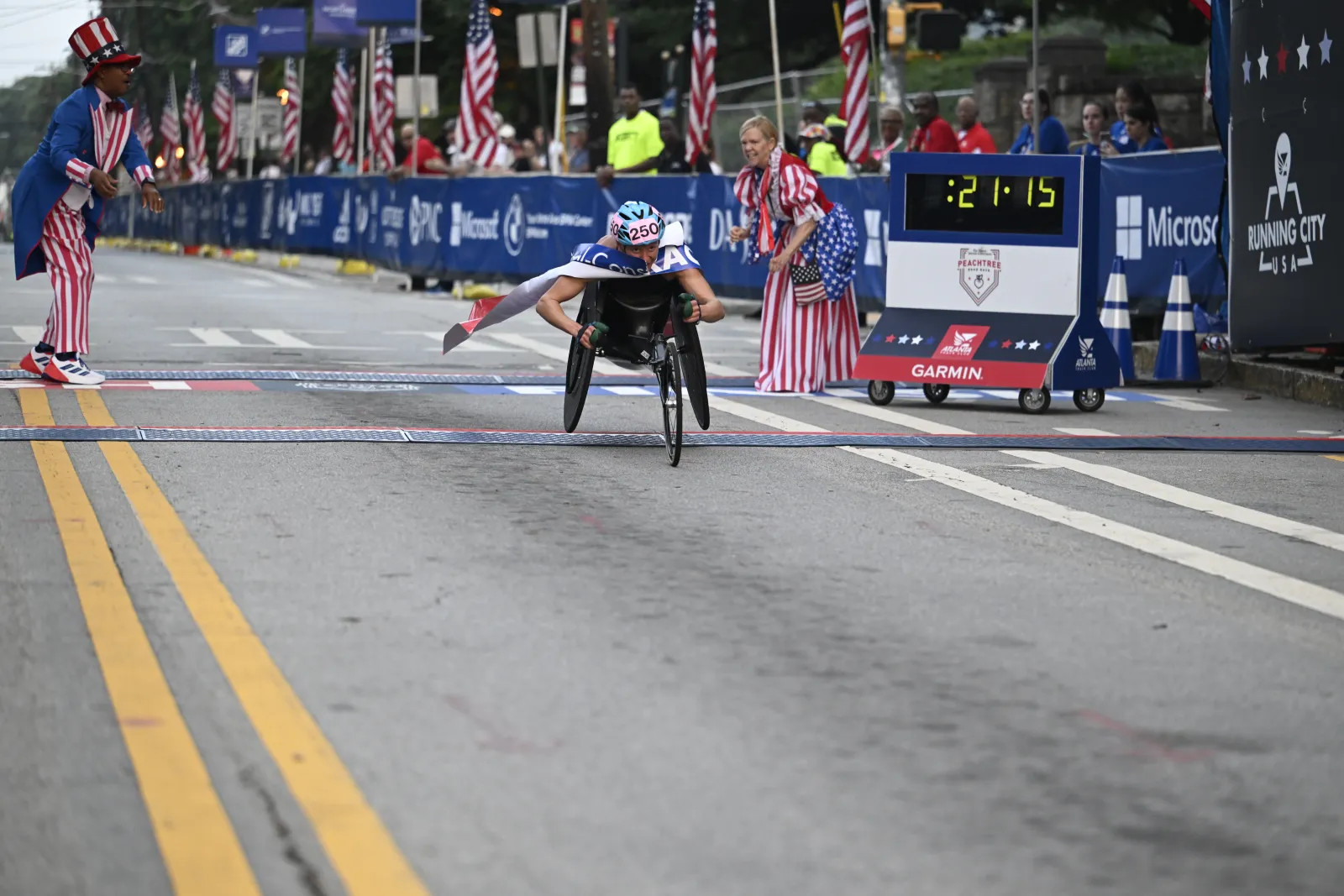 "I was picturing myself back in 2019 and I was trying to race my former self, because I was in that pack," said Scaroni of the three women who chased after the bonus that year, which was won by rival Manuela Schär. "I know how hard that went, so I went as hard as I could today."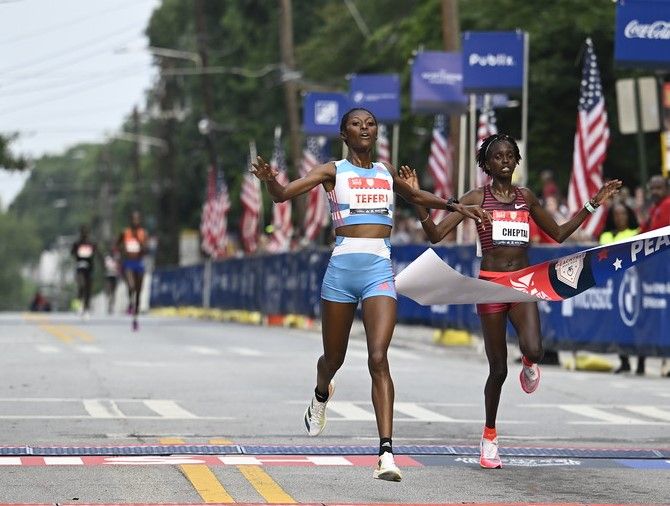 In the women's footrace, Kenya's Mary Munanu pushed the pace for the first two miles, with Ethiopian Biruktayit Degefa Eshetu taking over the next mile. The large pack went through 5K in 15:10, with Brigid Kosgei - the 2019 winner and course record-holder - asserting herself soon after. Going with her were Teferi, Cheptai and Rosemary Wanjiru; Wanjiru would soon drop back by the turn onto 10th Street toward the finish, but Fancy Chemutai would briefly rejoin the group. In a fierce sprint to the finish, Teferi prevailed over Cheptai, with Kosgei third in 30:57.
The top American was Annie Frisbie, 10th, in 32:22. ("If you a stare at the weather forecast long enough, maybe the humidity will go down??" she wrote on Instagram.)
"I'm very happy I did well," said Teferi, the 5K world record-holder for a women-only race who has not lost on the roads this year, through a translator. "It was really hot out there, so that made it hard to run and I'm not really good at handling the heat so I tried my best. I came in thinking I would win and also break the record, and with God's help I won and next time I will break the record."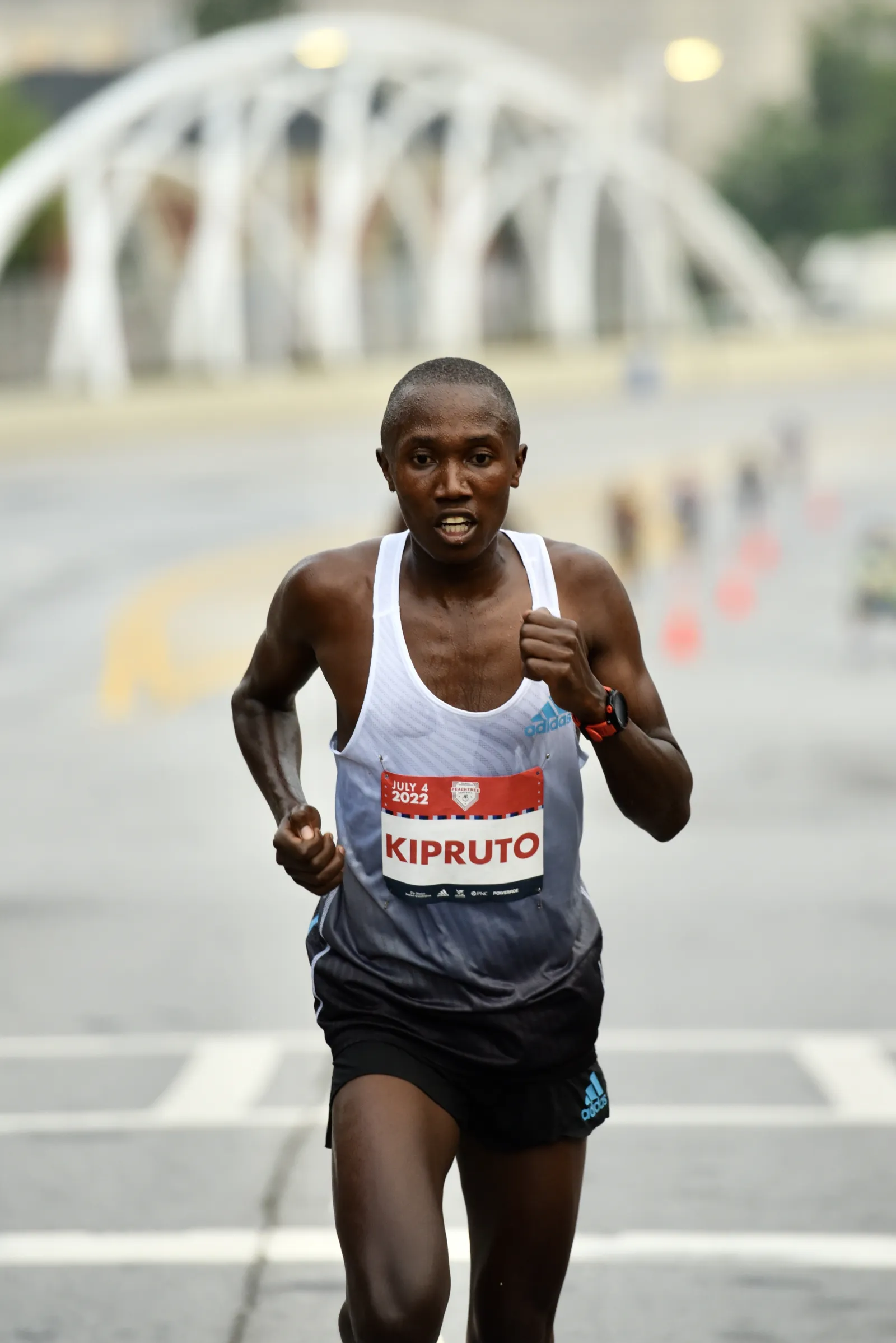 Kipruto took command of the race from the outset, leading a pack through the first mile in 4:38 and whittling the contenders down to four by 5K (13:27) - himself, Leonard Barsoton, Mathew Kimeli and Kibowatt Kandie. He would open up a lead again just before the four-mile mark, and go on to win by 8 seconds, with Kandie runner-up in 27:34 (the sixth-fastest time ever here) and Jemal Yimer third in 27:49.
"It was very nice," said Kipruto, who holds both the world and course records "The competition was real tough."
Finishing as top American and fifth overall in his debut at the distance was Conner Mantz, whose time of 28:04 was just one second shy of the fastest time ever run by an American here (Craig Virgin, in 1981).
"I tried to kick it in and I ended up passing two athletes," said Mantz, who was chasing the American mark. "I wanted to put myself out there, and I did. I think I got the best out of myself today, and that I enjoyed."
Mantz is planning to make his marathon debut in New York City this fall.
Mayor Breaks New Ground
The day's winners were greeted on the awards stage by Atlanta Mayor Andre Dickens, who experienced the Peachtree for the first time as Mayor. And while a broken foot prevented him from running, he was able to serve as official starter of Wave A before his duties at the finish line.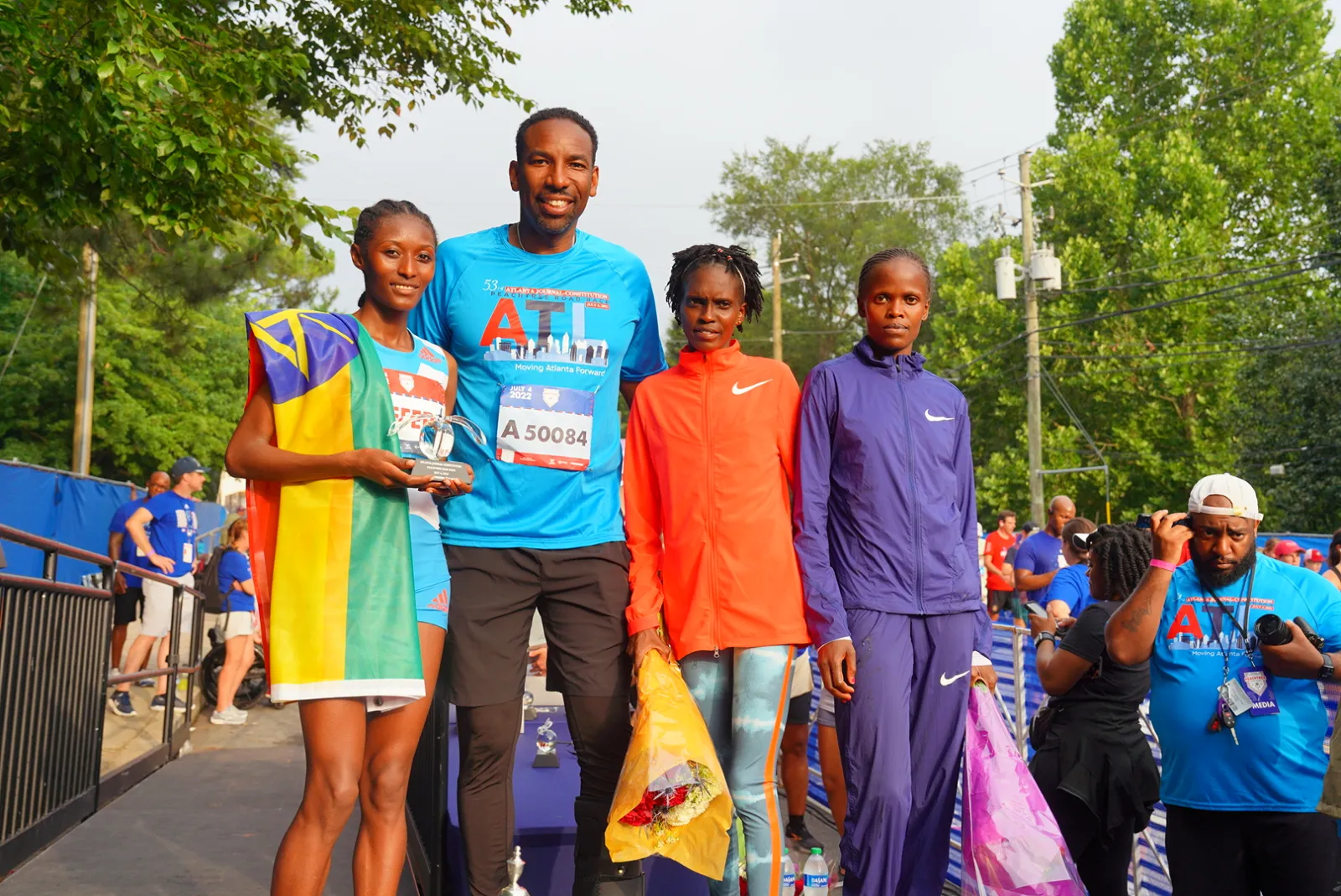 "This really is Atlanta - the diversity of runners," Dickens told 11Alive. "You have runners of all ages, all backgrounds, of all perspectives and they're running right beside each other all going for the same goal of arriving at the finish line on the Fourth of July in Atlanta in the world's biggest 10K. You gotta give it up for this experience."
Kenah calls Dickens' obvious enjoyment of the race one of his fondest memories of the 53rd Running.
"The race has a long history of support by the office of Mayor," he said. "And Mayor Dickens embraced it in every way possible. He was so disappointed about not being able to run that he jumped in a car at the start to get to the finish line to greet finishers - wearing the bib he had hoped to race in, which was picked up by mats at the start and finish."
Which marks the first known time a Mayor has been disqualified from the Peachtree.
"Sweet Americana" is T-Shirt Winner
In another return to the race's beloved traditions, the T-shirt design wasn't revealed until the first runner crossed the finish line. Winning the annual design contest was Tony Lombardo of Tallahassee, Florida, a former resident of Johns Creek, with his submission titled "Sweet Americana."
"It's a great feeling to be a part of something bigger than ourselves, and that much sweeter when it's a part of the world's largest 10K," he said.
As for the shirt itself, there were more mysteries this year than just the design.

"Anytime you change something with the Peachtree, you worry about how it's going to be executed and about how it's going to be received by the participants," said Kenah. "We're proud of our new partnership with adidas and of the fact that the finisher's shirt this year contained no virgin plastics. I was concerned that a technical shirt would miss the mark for many people, but I'm really pleased with the feedback on both the type of shirt and on the gender-specific sizing we offered."
Top Georgia Finishers
The top Georgian finishers were 18-year-old Edward Blaha, a recent Atlanta Track Club All-Metro honoree and Pace Academy graduate, in 31:11, 24th overall, and Gracie Griffith, 24, in 35:12 - first among women not in the elite start. This is the second-consecutive year that Griffith earned the honor. Both are from Atlanta.
Said Blaha, who will compete for Columbia University beginning this fall: "I was thrilled when I found out that I was the top Georgian in the race. I realized later that I had barely outkicked two other Georgians at the finish, which I was happy about. I run the Peachtree every year and winning top Georgian this year made it very special."
Bill Thorn Keeps Streak Alive
Bill Thorn became the only person to finish every Atlanta Journal-Constitution Peachtree Road Race, 53 of them, since the event began in 1970. Thorn, 91, did the race virtually near his home in Tyrone - starting at 6:30 a.m.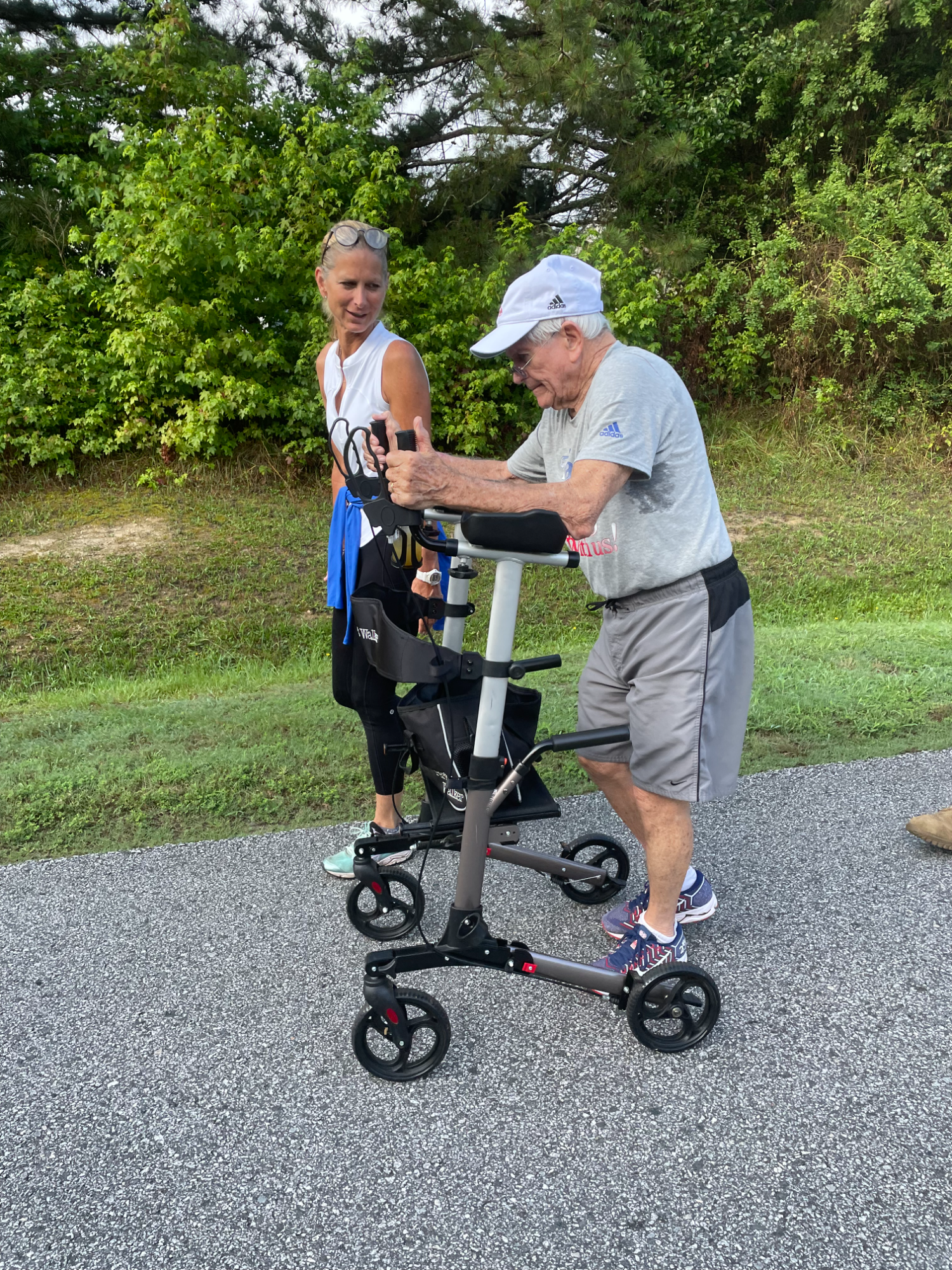 About 3 hours and 20 minutes later, he was greeted by about a dozen friends and family who applauded as he approached the finish line, his police escort tooting the siren when Thorn broke the makeshift tape.
Asked moments afterward how he was feeling, Thorn replied: "53 and I'm well done."
Betty Lindberg Says This Was Her Last Hurrah
The oldest finisher was 97-year-old Betty Lindberg, who finished in 2:37:53 and said in early August that although she will continue to participate in other races, she is retiring from the Peachtree.
"The last three years, the race has been hard," she said. "After this year's race I was feeling pretty lousy. I've thought about it, and I'm hanging up my sneakers and will be watching on TV next year."
Microsoft Peachtree Junior a Hit
Greeted by three pro athletes who would cross the same finish line the next day - 2021 runner-up Emily Durgin, defending champion Sam Chelanga and five-time Olympian Abdi Abdirahman - runners in the Microsoft Peachtree Junior got the racing action underway on July 3.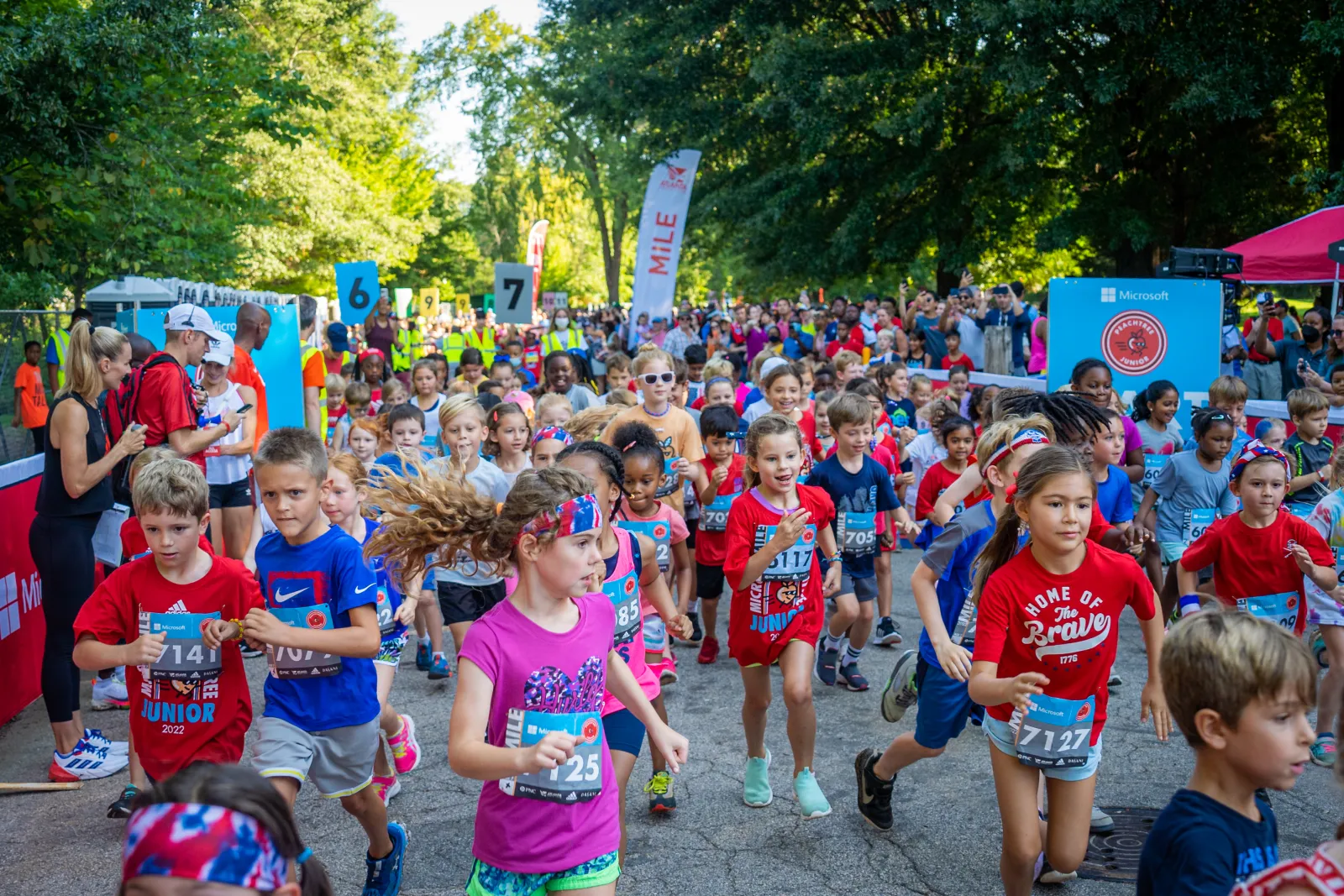 Featuring a Mile for kids 6-14 and a Dash for ages and under, the Junior this year was held under sunny skies, unlike last year's downpour.
In addition to their races, participants were treated to a Track & Field Zone, where they could practice their mini-hurdling, long jump and "javelin" techniques as well as shake the hand of a Home Depot Tool. On a note of serious fun, many - their race medals still hanging from their necks - also took advantage of the chance to engage in STEM activities by creating their own step counters or running-themed arcade games, courtesy of Microsoft.
This article originally appeared in the August/September 2022 issue of Wingfoot Magazine.
Photos: Paul McPherson, Paul Ward, Dan McCauley, Matt DeMarko, Stephanie Heath, MarathonFoto, Courtesy of Bill Thorn