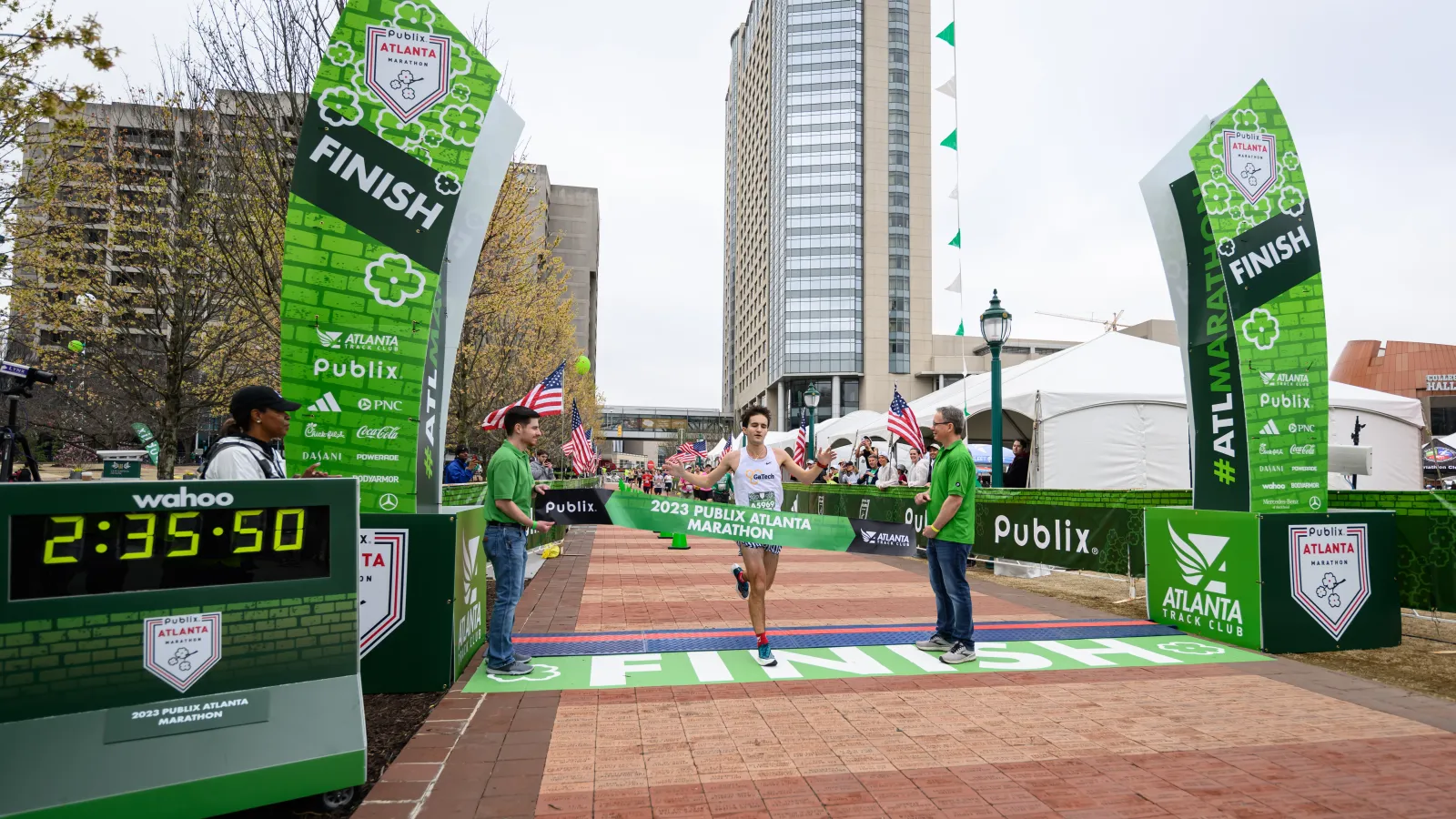 Catching Up with Publix Atlanta Marathon Winner Hayden Marshall
The last five miles of Hayden Marshall's greatest race are a blur. The 20-year-old had a commanding lead in the 2023 Publix Atlanta Marathon and all he needed to do was keep moving to break the finish tape of his hometown race.

That wasn't as easy as it might sound.

"I had complete tunnel vision," Marshall recalled. "I can only remember a few of the intersections I went through. I had no clue where I was. My only instinct was to just put one foot in front of the other."

Immediately after crossing the finish line, Marshall crumpled to the pavement and was wheeled off to the medical tent. No damage done - soon after, fully revived, he told a reporter:

"This is what the sport is all about. You're not always going to get exactly what you want, but it's all about the fight to get there."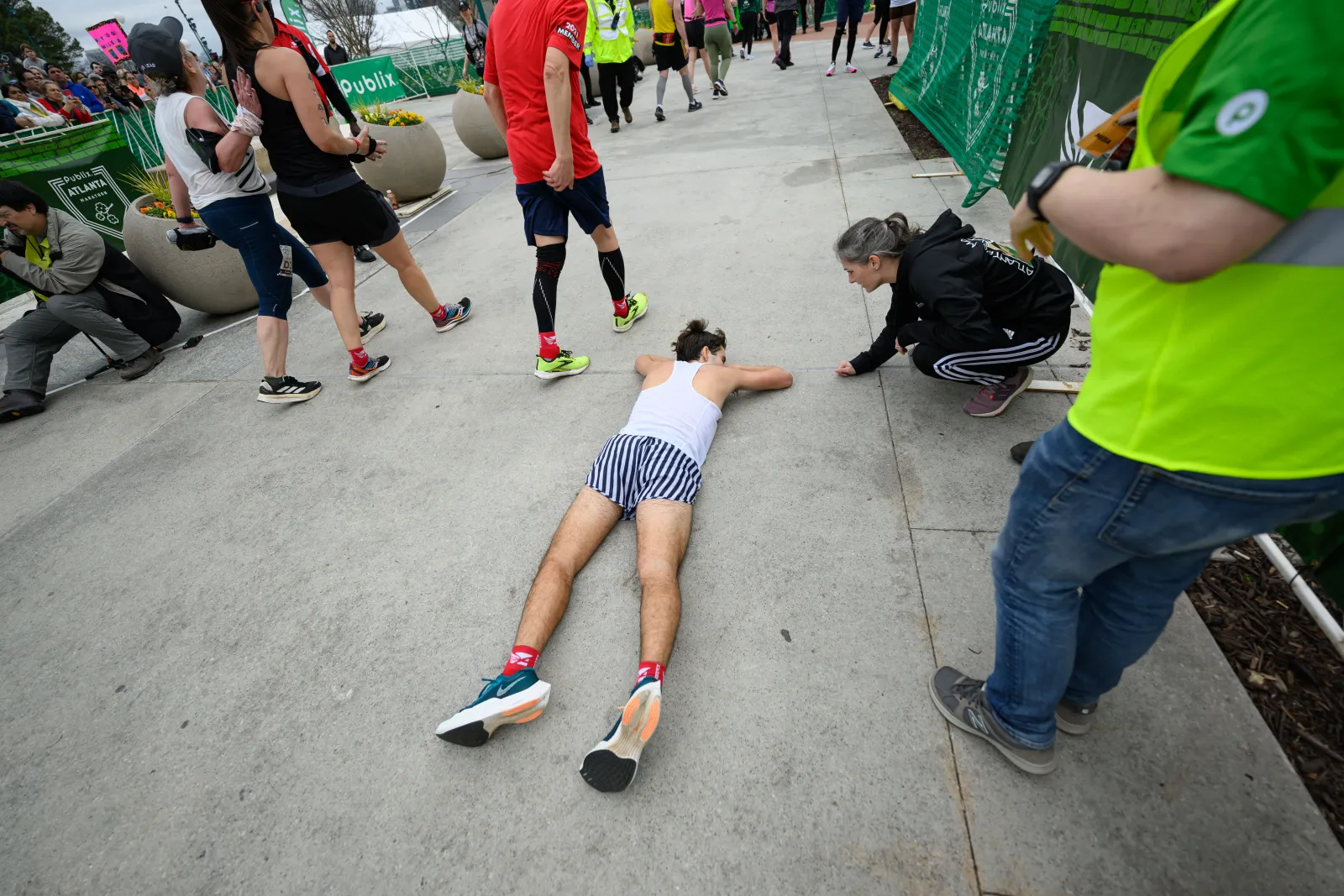 Just putting one foot in front of the other has always been Marshall's instinct, and perhaps his greatest strength as a runner. Described both by himself and his coaches as a relentlessly hard worker who made up for a lack of natural talent with unnatural dedication, Marshall worked his way through the top seven on Milton High School's powerhouse cross country team. In his final race during his senior year in 2021, he placed third at the extremely competitive GHSA 7A State Championship and was named to Atlanta Track Club's All-Metro team.

"He was much shorter [than the other runners]. His stride was not as graceful. He just worked really hard," said Andy Carr, the Milton coach. "Never turned down a run with someone who was better, and I think that made a big difference."

At the Publix Atlanta Marathon on February 26, no one was better than Marshall. Wearing the singlet of Georgia Tech's "Runnin' Wreck" running club, the college sophomore started the race with something to prove. One, he had hoped to break 2:22, the time listed by a website called Georgia Race Records as the fastest run by a Georgia-born male. But he also wanted to show he could be a competitive runner even without the structure of a collegiate team.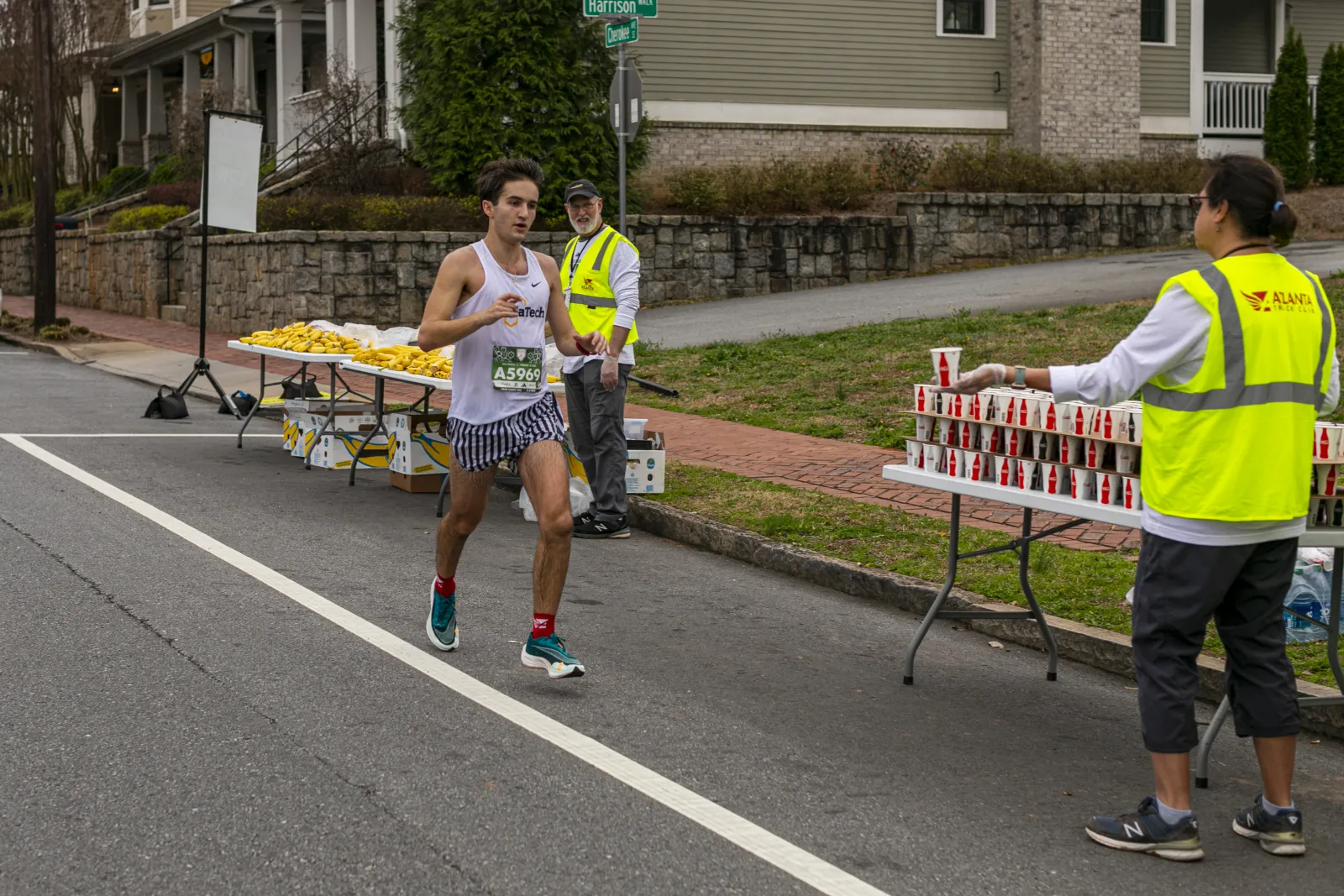 After graduating from Milton with modest personal bests of 4:26 and 9:24 in the mile and 3200m, there wasn't a spot for Marshall on Tech's team. He received a scholarship offer from the University of Georgia, but he'd already decided that Tech was the best academic fit. He quickly joined the campus running club and signed up for some collegiate events as an unattached runner. In a 5,000-meter race his freshman year, he ran 15:05, beating three of the school's Division 1 athletes and losing to only one. But it wasn't enough to earn a spot on the team, and Marshall decided it was time to move off the track and onto the roads.

"Never say never, but I think I definitely have more potential in the marathon as opposed to track," said Marshall. "In terms of walking back onto the D1 team at Tech, I am not seeing that right now."

Maybe "back to the roads" is more fitting, anyway. At the age of 14, Marshall finished fourth in the Georgia Fitness Marathon in Suwanee with a time of 3:33:35. His middle school team, Alpha Crush, lists it as a team record on its website - because no one else has attempted it. That's when he knew, he said, that the longer distances are where he belonged.

But first, he wanted to run cross country in high school. "At first he was stubborn and wanted to do a lot more than we ever told him to do," said Carr. "He thought more was always better." With Carr's guidance, Marshall was able to turn his focus to the 5K, finishing 19th at the state meet his freshman year as the team's fifth man and the top ninth grader in the field.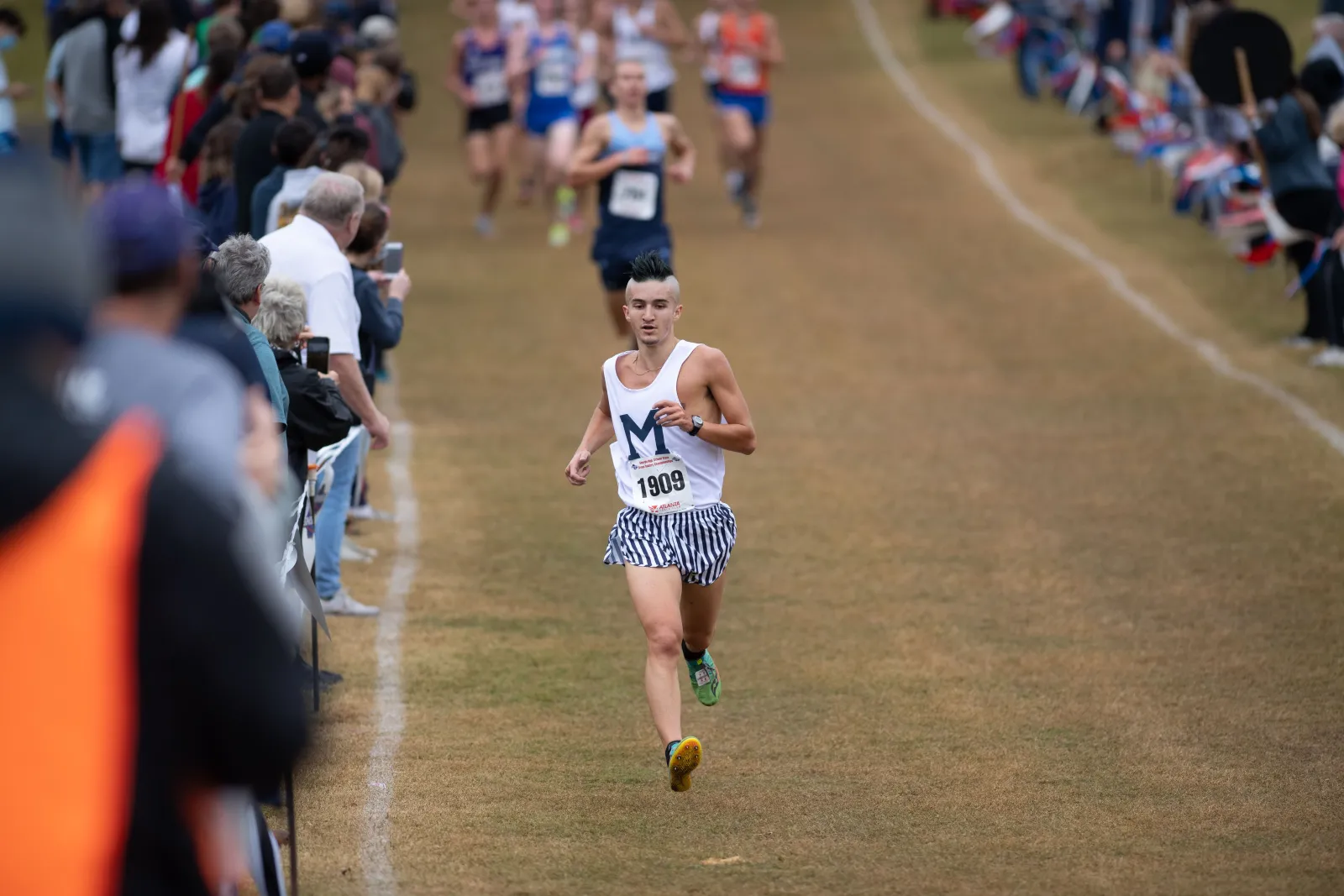 In addition to his cross country podium finish in senior year, Marshall made it to the state meet in the 3200 meters and started to think about running after high school. But thanks to COVID-19 and limited roster spots at Georgia Tech, where he is studying atmospheric science with a concentration in meteorology, collegiate running would look a little different.

Training with the Club team allowed Marshall to pick his own races, as well as his own distances, and compete in races organized by the National Intercollegiate Running Club Association (NIRCA). One of his first was the 2022 Publix Atlanta Half Marathon, where he was the first non-professional athlete to cross the line when he finished in 1:09:55.

Coming back in 2023 to run the full marathon, Marshall may have won the race but he didn't hit his goal time: 2:35:48 was well short of where he had hoped to be and where he believes he can be. Looking back, he said he went out too fast and underestimated the difficulty of the course.

Now targeting the Twin Cities Marathon in Minnesota this fall, Marshall said his workouts indicate he can run at a pace of 5:25 per mile (which equates to a 2:22:01 finishing time). About six weeks after his Atlanta victory, he took second at the NIRCA Half Marathon Championships in 1:11:18.

Marshall, who attributes the absence of injury interruptions in his training to the stretching and drills routine he learned in sixth grade, said he has completely recovered from his tough Publix marathon and is looking forward to logging 110-120 mile weeks this summer. After Twin Cities, he wants to begin a quest to run all of the Abbott World Marathon Majors. And while 2:22 is still the goal for the fall, Marshall thinks he can hit the U.S. Olympic Trials standard of 2:18 - if not by 2024 definitely by 2028, when he'll only be 26 years old.

"The way I ran in Atlanta was a tough experience," he said. "But an awesome learning experience."