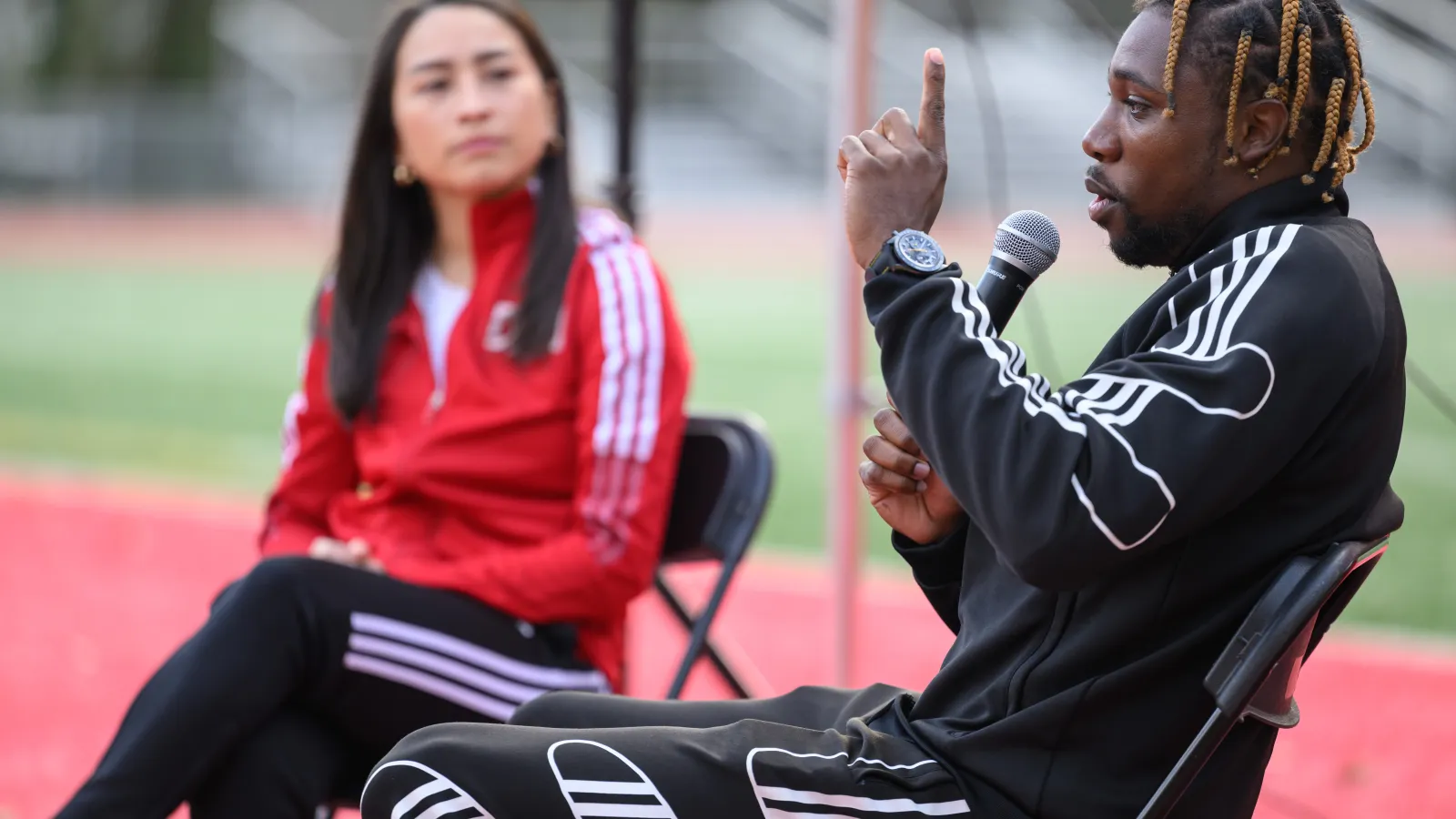 Lyles Tells KIPP Athletes: "Hang On To The Good Moments"
Not that many years ago, the speaker might have been among the kids sitting on the grass. Like the three dozen students gathered on the infield of the KIPP Atlanta Collegiate High School track on this blustery January day, he would have been wondering what it takes to become a superstar - or even just to become your best.
Noah Lyles, just 25 years old, was there to tell them.
The 2020 Olympic bronze medalist, three-time World Champion and American record-holder at 200 meters will lead a list of the world's top athletes at the inaugural adidas Atlanta City Games, in which Atlanta Track Club is partnering. The event, to be contested on a specially built 150-meter track in Centennial Olympic Park, is set for May 6.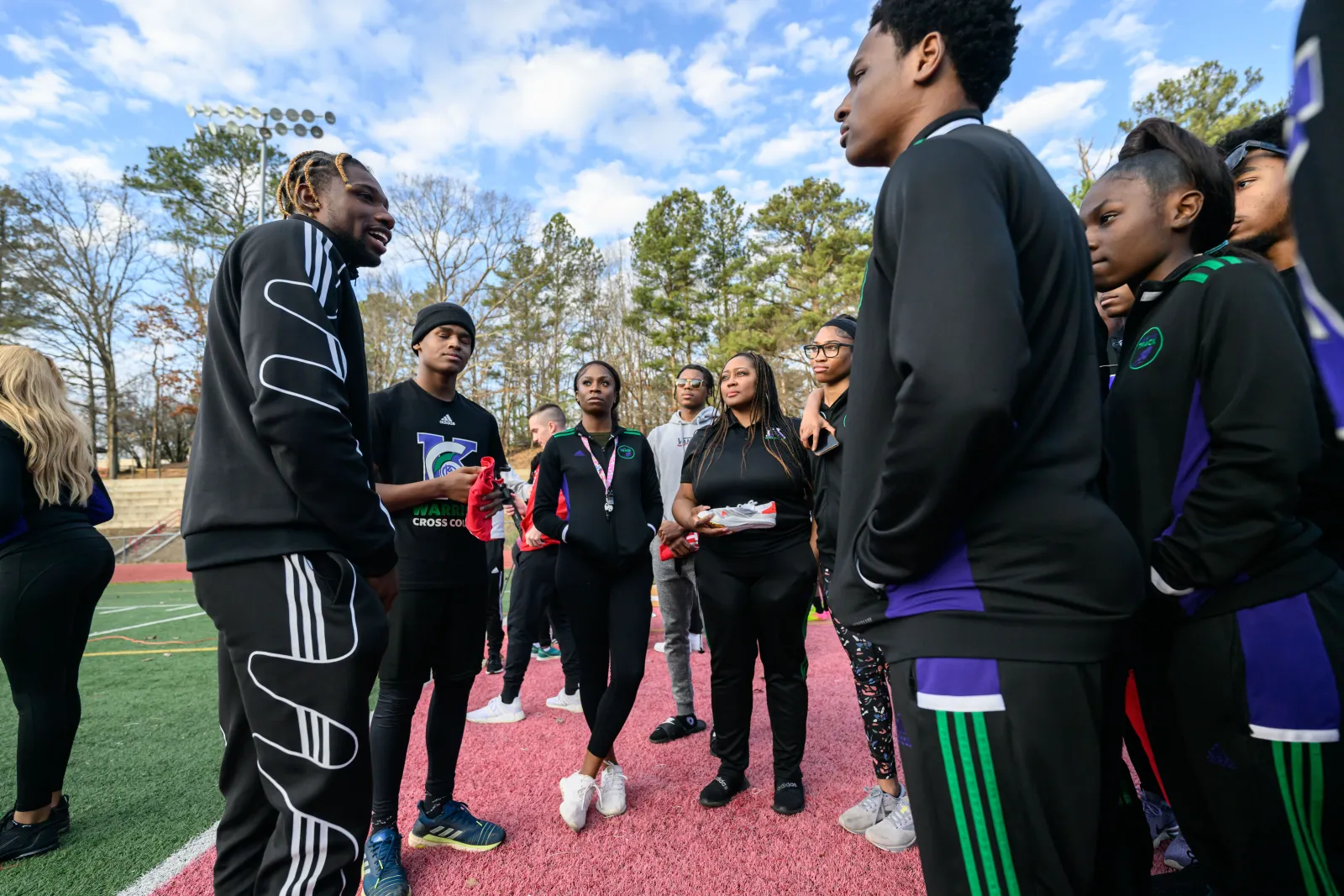 In town this week to kick off the City Games, Lyles dropped by KIPP after school to address the track team and answer questions. As he spoke, he recalled watching the Opening Ceremony of the 2012 Olympics with this brother, Josephus. The two were just about to enter high school but were already calculating what it would take to get to the Olympics four years later.
Noah Lyles almost did it just weeks after graduating from high school in Alexandria, VA. In finishing fourth and barely missing a spot on the 2016 U.S. Olympic Team, he broke a 31-year-old national high school record when he ran 20.09 for 200 meters.
That July, he and Josephus both signed professional contracts with adidas. They are thought to be the first male sprinters to bypass college careers in favor of turning professional.
But, Lyles told the students, he got a slow start. Born into what a called "a track and field family" - his parents, Keisha Caine and Kevin Lyles, were both All-Americans at Seton Hall University, and Kevin would win a gold medal at the 1995 World Athletic Championships in the 4x400-meter relay - young Noah's earliest memories of the sport are of sitting around in the hot sun as a 3-year-old waiting for his father to compete.
"My brother and I were like, 'we're never gonna be track athletes," he said. Instead, they turned to basketball, gymnastics, swimming, baseball, soccer … anything but track. After their father began coaching, Lyles remembers that he and Josephus went to one of his practices and commented on how slow the runners were. Dad suggested they go out and beat them, in that case. They did, wearing jeans, and then asked, "Can we go to basketball practice now?"
Eventually, Lyles started high jumping, had early success in the Junior Olympics, and became hooked on the sport. He shared some advice, as well as the secrets behind his success, with the KIPP students:
Asked to describe his biggest challenge, Lyles said it was just "to keep going. That's a normal thought that everybody here has. Even though you have one negative thought, my therapist tells me that if you replace that with five positive thoughts then you're re-training your mind to now think in a positive light. You're going to have those days when it's not hitting you, but that's one moment out of a whole year. Just hanging on to those good moments [to replace the bad ones.] That's how the power of a mindset can change the trajectory of a practice, a day, a week, a year, a career."
"I am somebody who has a drive that's so strong that I refuse to lose. If I have a true interest in something, I am going to learn that and be so devoted to it that by the time I leave it nobody will even be able to grasp the thought of obtaining what I've done. I love it when people say I can't do something."
Before deciding to turn professional instead, Lyles and his brother had committed to the University of Florida. During the recruiting process, he said, "one thing that we were very passionate about was not believing in smoke and mirrors. Not every D1 college is made for everyone." When evaluating colleges, he said, find the right program by considering the character of the coach and the team and how that fits you. And don't rule out junior college as an option.
Asked for details about his rest and recovery, Lyles told the story of how he went to his coach in the weeks before the World Athletic Championships last summer and said, "I need a few days to do nothing. I'm tired. If you give me three days, I promise you'll get the results. He said OK. What happened is I got COVID and I ended up with a week." That's the meet at which he broke the American record, defended his 200-meter World title and won gold on the 4x100-meter relay team. "I knew that without that rest I wasn't going to get that result. Your body does need that time to reset."
Lyles said he considers 2021 the worst year of his career. "I battled with depression, gained weight, struggling to win, wasn't nearly as fast as wanted to be. I was meant to win the Olympics (where he took bronze). I was so upset. This was a moment I'd waited 8 years for, and I felt like I blew it. I was on antidepressants; I was talking to two therapists at the time. What I had to do to get out of it was to keep moving forward, that just because it was a bad part of my life doesn't mean that it's going to be like this forever. Life goes in seasons. It's a cycle. Knowing how to get yourself through a cycle is how you produce your best self."
Asked about his love of anime, Lyles offered this insight: "As you get into sports, you become the main character of whatever journey you're on. So, you're watching anime and you're watching [the characters] go from being the no-name loser of the village to becoming the leader of the world. You're like, that's me! That's how I think of myself!" Every time he lines up in the blocks, he said, people tell him not to let the moment get bigger than himself. "Shoot," he said. "The moment was MADE for me!"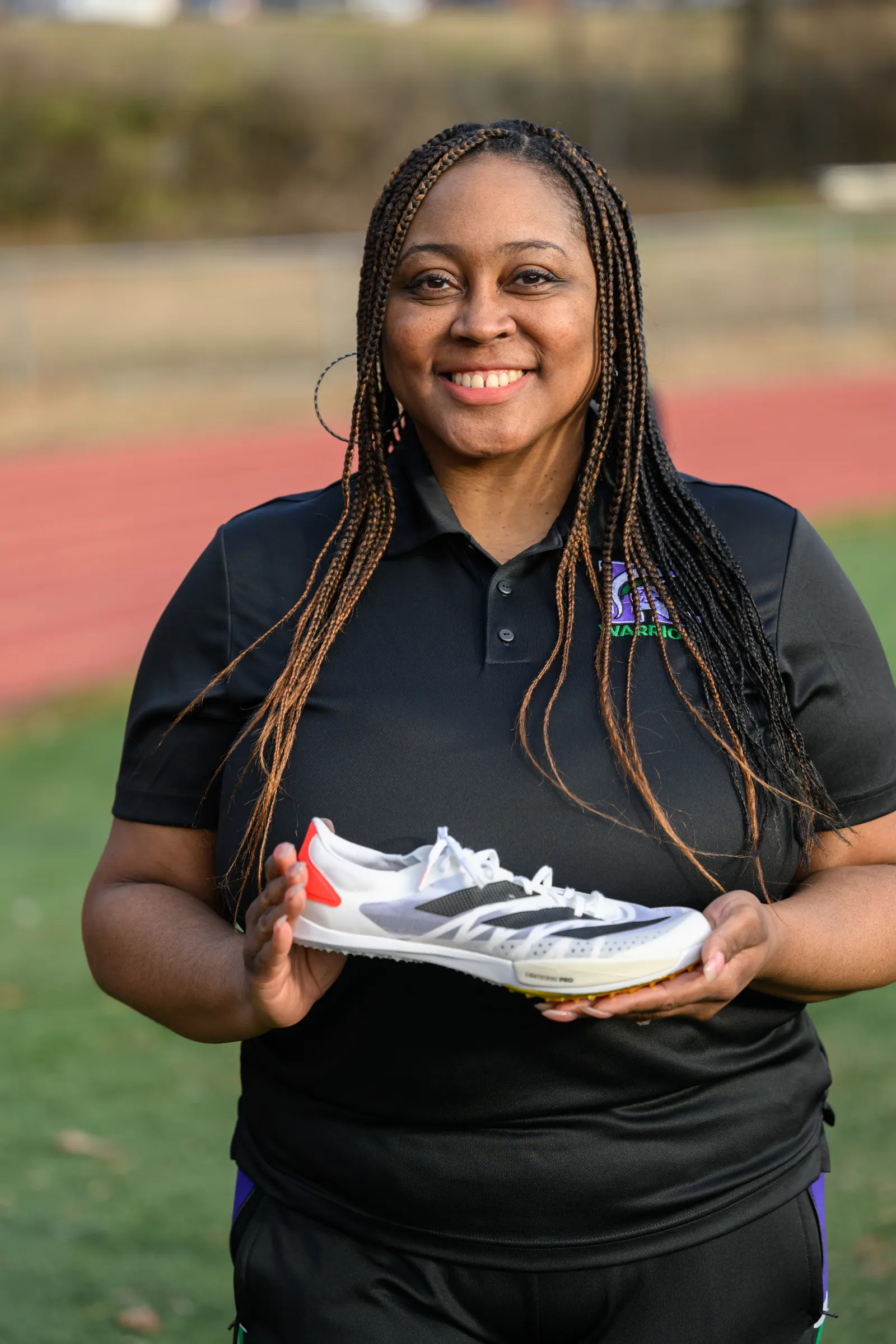 As the session wound down, the school was presented with a Lyles-autographed adidas spike by Eric Heintz, Atlanta Track Club's director of high performance, to be awarded by the coaches at season's end to the athlete "who embodies those values of Noah, who is setting no limits on what they can achieve, who is making the sacrifices to be the best they can be."
Accepting the shoe was Janae Powell, a coach of the team. "It's super important for this shoe to represent what track is for them," she said on the team. "Having someone of Olympic caliber come out here and taking time to be with them means a lot."
Photos by Paul Ward