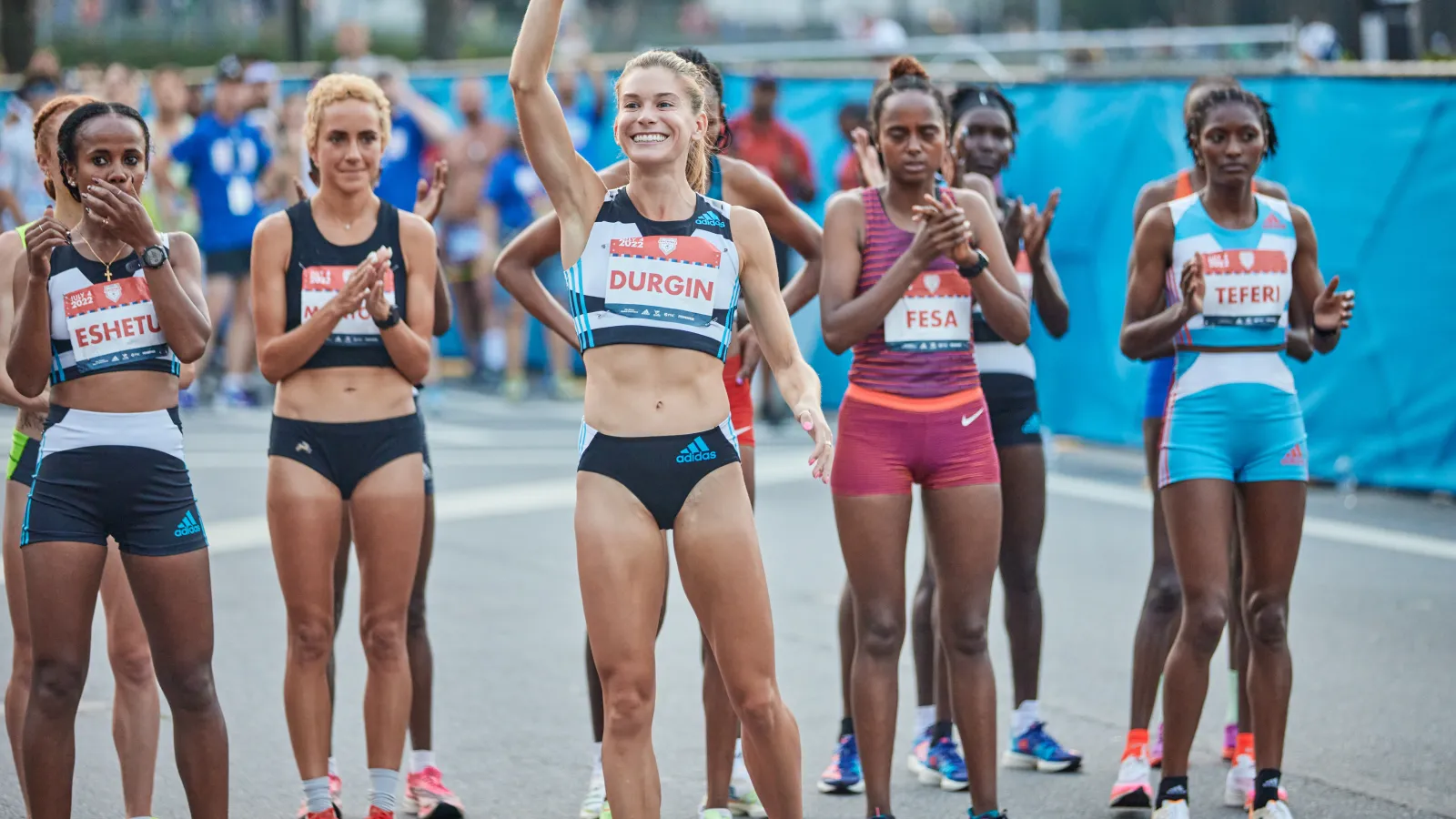 Emily Durgin Heating Up For Peachtree
It's a summer of 10Ks for American runner Emily Durgin. This weekend's Atlanta Journal-Constitution Peachtree Road Race will be her fourth and final in a series at that distance, starting in Boulder, Colorado, on one patriotic national holiday and capping her summer season in Piedmont Park on another.
For Durgin, who lives and trains in Flagstaff, Arizona, it will be her third-consecutive year spending the Fourth of July in Atlanta. It turned out that the first year, when she finished second to Sara Hall in 2021, was a little misleading.
"The weather being as good as it was, it made me think that every year was that good," Durgin, who grew up in Maine, said about the unseasonably cool and dry weather that helped her to a 31:49 personal best (since lowered to 31:35). That was not the case in 2023, with temperatures in the upper 70s and 99-percent humidity - no surprise to any veteran Peachtree runner.
"Last year, oh my gosh, that was tough," she said. "Coming from Flagstaff, it was a shock to the system." Durgin finished second American, 11th overall.
Following an injury that caused her to give up her spot at the World Cross Country Championships in February, the 29-year-old said she had a strong spring training cycle, her victory at the Bolder Boulder 10K on Memorial Day offering proof.
Looking toward Atlanta, she's been doing workouts down in the heat of Camp Verde, Arizona, where the altitude of 3,000 feet makes it much warmer than Flagstaff, which is about 55 miles north and 4,000 feet higher.
Durgin said her knowledge of the course will also be an advantage. When she was outkicked by Hall in 2021, Durgin said, she didn't know how far the finish was after they made the final turn onto 10th Street. "At that final turn, she knew how long it was to the finish," said Durgin. "She made the move and was able to gap me just enough so I wasn't able to catch her."
After this year's race, Durgin will prepare for the U.S. Olympic Team Trials - Marathon, set for Orlando in February. A summer of 10Ks, she said, helps her get the speed and the turnover needed to compete for a spot on that Olympic team. Plus, she added, races like the Peachtree are just a whole lot of fun.
"Every single K for 10K, you are going to have people screaming and yelling," she said. "Fourth of July in Atlanta. No other way to spend it."