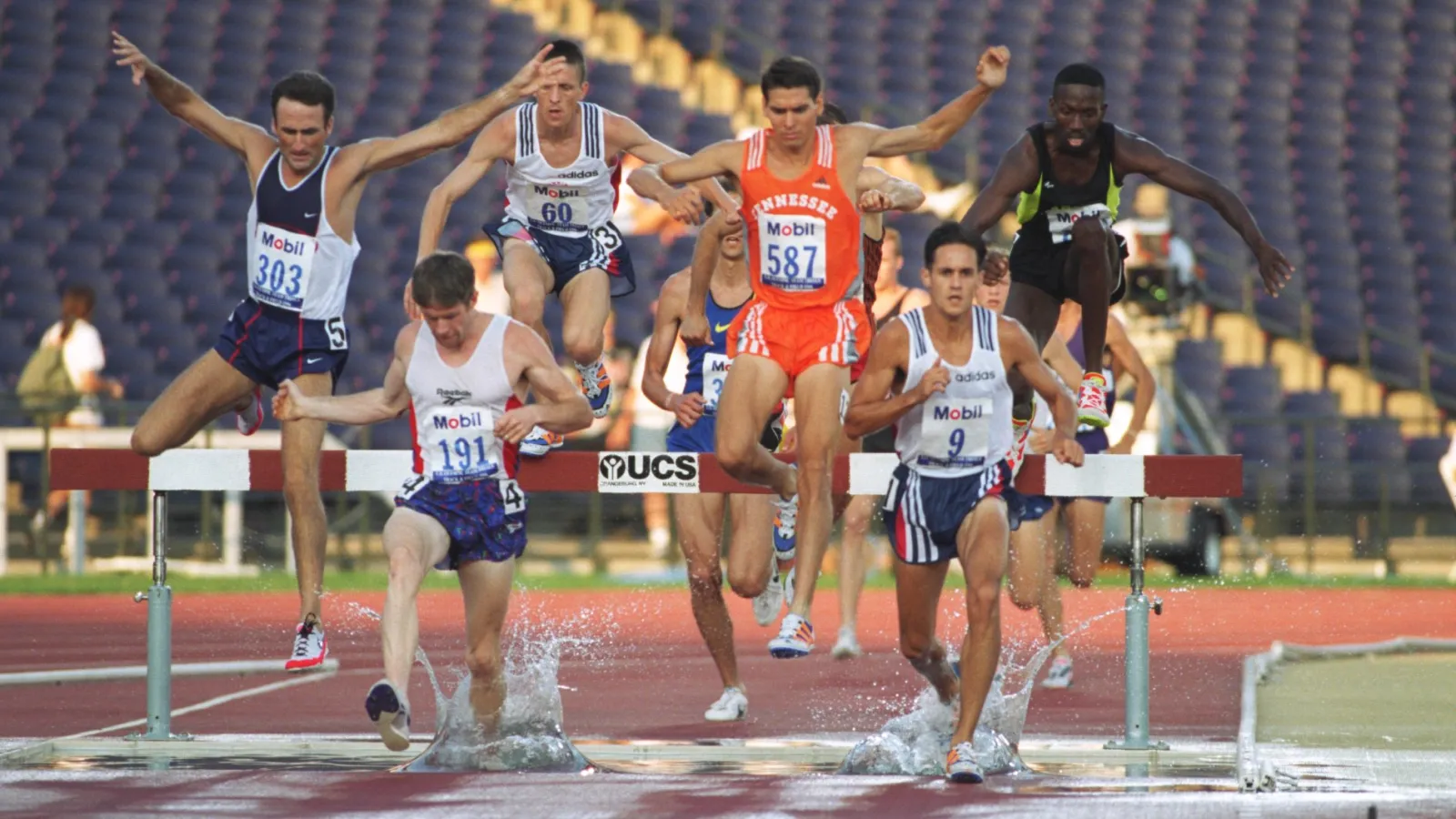 Nohilly to Atlanta Track Club Elite: Let's Run Fast and Have Fun
In 1992, a gutsy come-from-behind effort left Tom Nohilly sprawled on the track, just 4/100ths of a second short of making the U.S. Olympic Team in the 3,000-meter steeplechase. Now it was 1996 and Nohilly, just hours before, had finished fourth again. After crossing the line, he'd put his hands on his knees, staggering backwards, looking dazed with disappointment.
A few hours later, back at his hotel, you would have thought he'd won.
Greeted by training partner Rich Kenah - who two days earlier had also placed fourth, at 800 meters - and coach Frank Gagliano, Nohilly clutched a bouquet of flowers and beamed as Gagliano playfully held up four fingers and a photographer clicked the shutter.
"The people you do it with are what you remember," he said recently, when asked about that photo. "If you're not having fun, what are you doing?"
Lest the athletes of Atlanta Track Club Elite think their new coach is in it for laughs, however, Gagliano has a message: Nohilly is in it to win it.
"They'll see how much he wants it for them," said the legendary coach, now 86 and retired. "This is a big move for him. He wouldn't be making it unless he wanted these young men and women to be very good competitors. He cares about every athlete he's responsible for, and he will give 100 percent."
Nohilly, 57, was named head coach of Atlanta Track Club Elite in early August, He has already assumed his duties as he; his attorney wife, Kim; and son Eion finalize their October 1 move to Decatur.
"Let's go run fast," he said of his goals for the Elite team. "It's very simple: Let's go run fast and have fun, and let's do it together."
Although he's no stranger to the South - he was the 1989 NCAA Steeplechase Champion for the University of Florida - Nohilly has spent most of his life in the New York City area.
Raised in working-class College Point, Queens, Nohilly had four older sisters; his father was an EMS driver and his mother a nurse's aide. Secluded on a peninsula bordered by the East River and Flushing Bay, the close-knit neighborhood was not an easy one to reach, and the family saw no need to lock its doors.
"If there was a stranger in town," he said, "you knew it."
Although a hard-drinking neighborhood where you had to know how to fight - and where family addiction issues led to the death of his oldest sister, Bernadette, at the age of 35 - College Point was also known for its sports opportunities. Nohilly started running when he was 10 years old and took up cross country to get ready for youth football. After he won a meet, the coach told him he was done with football where, by his own admission he was "getting dragged around the field."
At Monsignor McClancy Memorial High School in Elmhurst, Queens, Nohilly was a city champion and All-American in the steeplechase and set school records in the mile and 2-mile both indoors and outdoors; the 3-mile run; 5,000 meters; DMR; steeplechase; and cross country.
"I didn't think I had many choices," he said. "Running was my way to show I was capable of something."
After a junior college stint to get his academics in order, Nohilly received a full scholarship to run for the Gators, meeting his future wife on the team and graduating with a major in exercise and sport sciences in 1990. He stayed in Gainesville to train for the 1992 U.S. Olympic Trials in the steeplechase, a race in which he went to the well for a huge personal best of 8:16.92 but missed a spot on the team by not much more than the length of his big toe.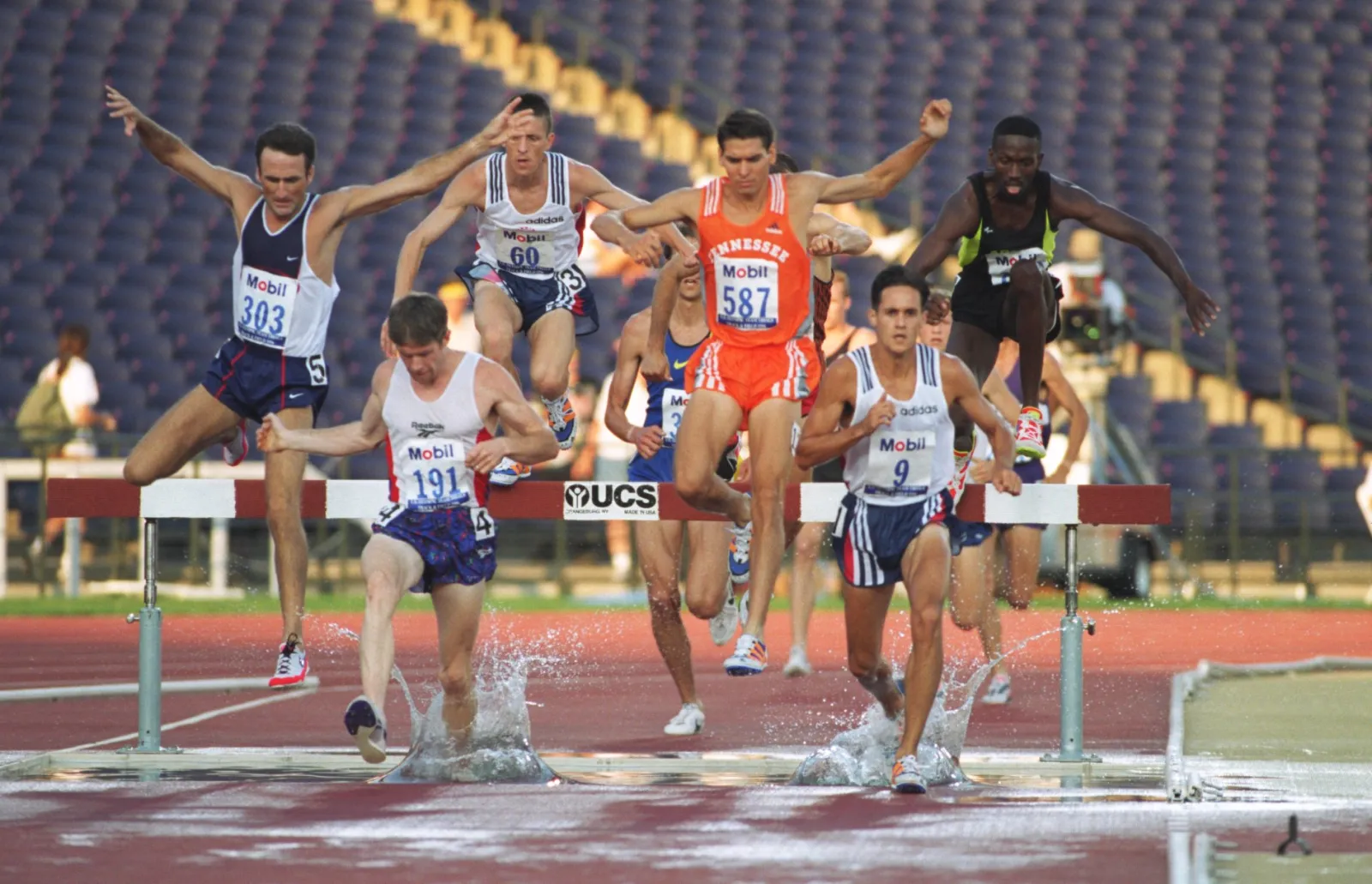 It was after that race that Gagliano, in the midst of a legendary coaching career at Georgetown University, introduced himself, congratulating Nohilly for his effort. By this time Kim, by then his fiancée, was studying at the University of Virginia, so Nohilly headed north.
Meanwhile, Gagliano had long been concerned about the lack of training opportunities for athletes who wanted to chase their Olympic dreams after college. Back as far as the 1980s he'd started two small clubs, and in 1991 launched the Enclave at a time when post-collegiate groups were uncommon, helping lay the groundwork for groups such as Atlanta Track Club Elite today. A year later the Enclave was founded, athletes Steve Holman (1500 meters) and John Trautmann (5,000 meters) made the U.S. Olympic team. With the help of 1978 Peachtree Road Race winner Mike Roche, the first athlete "Gags" had coached to the Olympics and who at that point worked for Reebok, the Enclave soon received financial support.
In 1993, Nohilly joined the Washington, D.C. group to train for the 1996 Olympics, dedicating himself to improving on that fourth-place finish in 1992. The atmosphere suited him well.
"The energy is what you feed off of, the community of it," he said. "We're all making this sacrifice, so let's do it."
"Sacrifice" is a word Nohilly uses almost as often as "fun." In his lexicon of both athlete and coach, they are not unrelated.
The chance to pursue a professional running career, whether with the Enclave or as a member of Atlanta Track Club Elite, "is an opportunity, but it's also a sacrifice. You have a four-year degree; in a regular job, if you do everything right you're probably going to advance. This is not that. There are no guarantees, but you have to be OK with that."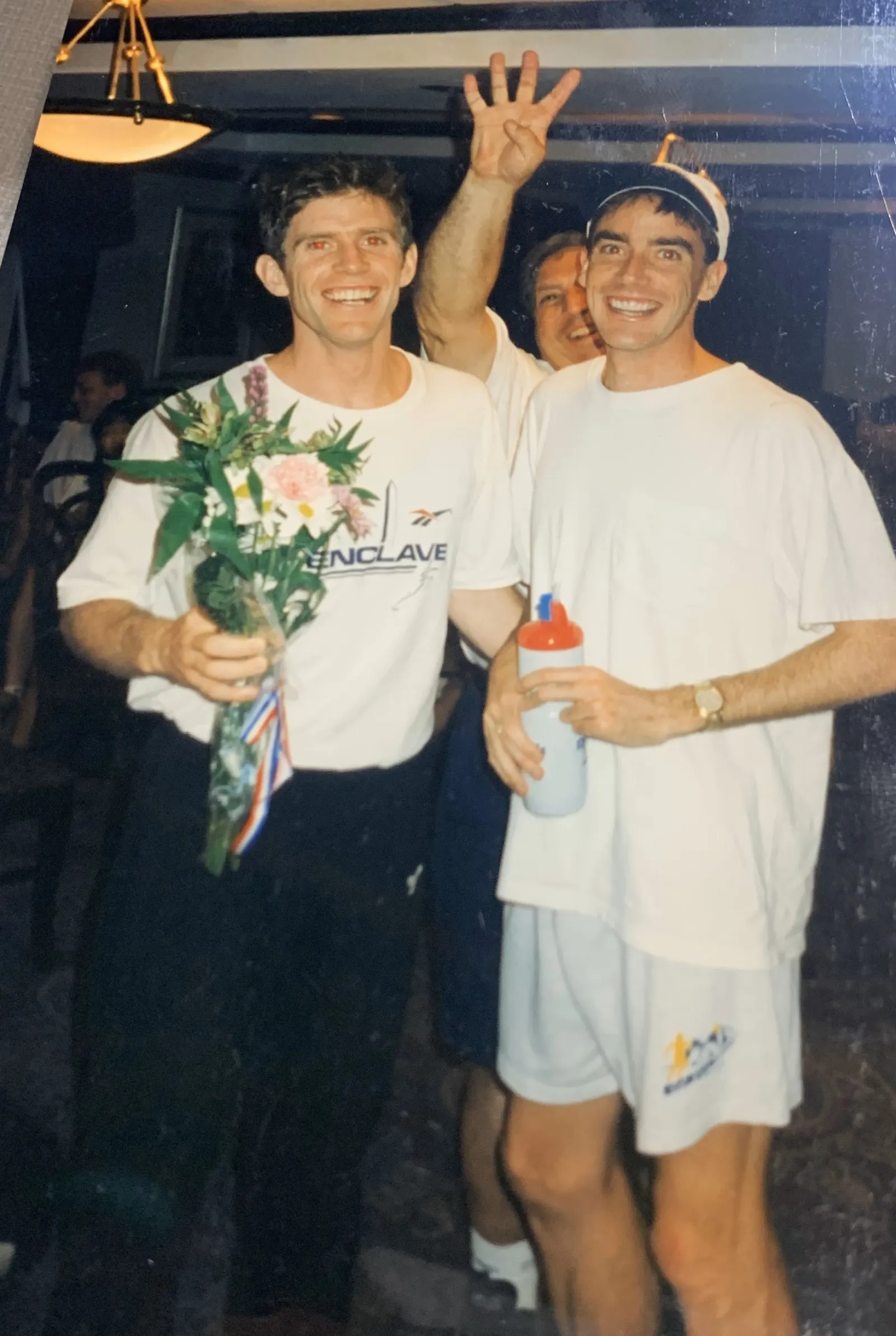 In 1996, Juli Henner (now Benson) made the Olympic team at 1,500 meters running for the Enclave, and in 1997 Kenah would earn World Championships bronze medals at 800 meters both indoors and outdoors before joining Bryan Woodwood and Kevin McMahon as Olympians in 2000.
"It was incredible, just a great group to be around," recalled Dick Patrick, a retired Olympic writer for USA Today who often wrote about the Enclave. He called Nohilly's move to head up Atlanta Track Club Elite "a great continuation, passing it forward."
Nohilly retired after finishing sixth in the 2000 Trials. So, while his Team USA resumé includes three World Championships appearances (1995 and 1997, steeplechase; 1999, cross country short race), it does not include what many would consider that magical bullet point of "Olympian."
People still ask, he said, what it feels like to have twice just missed the team. He does not struggle to reply: "If you do everything you can to give it your best shot but fall short, you can walk away with pride. I live with being fourth place because I gave it my best shot, with the people I wanted to do it with."
Ironically, Nohilly's post-career plans - to become a firefighter back in New York City, like his grandfather, a brother-in-law and three of his childhood friends - were foiled by that same career: because he'd paid taxes in Virginia while in the Enclave, he lost out on the five points awarded on the FDNY exam for being a city resident.
Instead, Nohilly not only began coaching but also worked as a physical therapist with Phil Wharton at Wharton Performance Inc., helping athletesof all abilities with flexibility, strength and neuromuscular therapy. Although his role at Atlanta Track Club will be solely as a coach, Wharton pointed out that Nohilly's background will allow him to see biomechanical and postural alignment issues that other coaches might miss.
In addition to working together, their relationship goes back to Nohilly's days at the Enclave, and the two were running partners for years.
"He didn't grow up with much," said Wharton. "He's had a lot of adversity he's had to overcome. Having that empathy for other people is important."
In 2001, Gagliano moved West to coach the prestigious Farm Team in Palo Alto, California, and later helped startan elite post-collegiate program at the Oregon Track Club. In 2009, he moved back East because of a family illness, and in 2010 the NJ/NY Track Club was born. Not long thereafter, Nohilly became one of his assistants, coaching Ce'Aira Brown to the 800-meter finals of the 2019 World Championships and Johnny Gregorek to the 1,500-meter finals of the 2017 World Championships and a 3:49.98 indoor mile, which still makes him the third-fastest American ever at the distance. Gregorek would be among the athletes - including Isaac Updike, a 2023 World Championships steepler - who followed Nohilly and Trautmann to Empire Elite after NJ/NY dissolved in 2020.
While at NJ/NY, Nohilly did double duty: between 2011 and 2016, he was a successful coach at John Jay High School in Westchester County - where he coached all three of his kids, calling the opportunity "a gift." All three - Eion and twins Kathryn and Brooke - would go on to compete in college. He also been a consultant to both the Iona College and Columbia University programs.
Among Nohilly's most-successful athletes at NJ/NJ was Ashley Higginson, who earned a spot on the 2013 World Championships team and a gold medal in the steeplechase at the 2015 Pan American Games.
"Tommy made me feel like our relationship was the most special relationship ever," said Higginson, an attorney who started law school while still competing. "But he made everyone feel that way. He understood that life happens. He meets you where you are."
"Congratulations," she added, in a message directly to the athletes of Atlanta Track Club Elite. "You are very, very lucky. Get ready to have fun and be great."