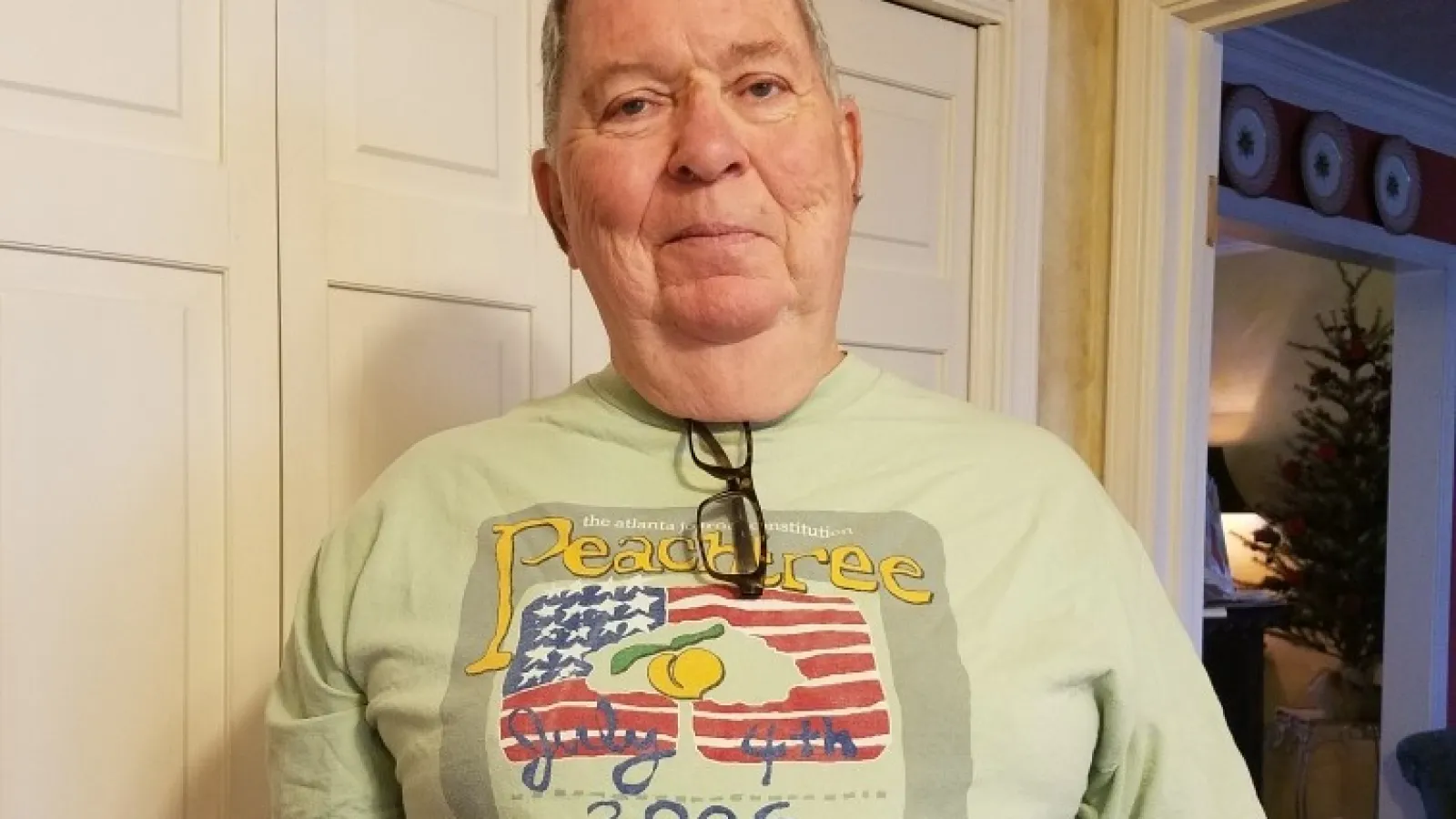 T-Shirt Quilt Keeps Runner's Memory Alive
Every year on the Fourth of July in Atlanta, Georgia, runners, walkers and wheelers make their way from the start line of the Atlanta Journal-Constitution Peachtree Road Race and up Peachtree before turning onto 10th Street to finish at Piedmont Park. There, finishers by the tens of thousands, water in hand and sweat rolling down their faces, continue their quest - this time, for the coveted T-shirt that is awarded only to those who complete the race.
For many, that shirt represents the determination to complete a 10K road race in the middle of a hot and humid Georgia summer and their success in doing so. But for some, it's even more: a symbol of family values. For Betty Madden and her stepson, Chuck, the iconic Peachtree finisher's shirt keeps the memory of Ed Madden (Betty's late husband and Chuck's father) alive.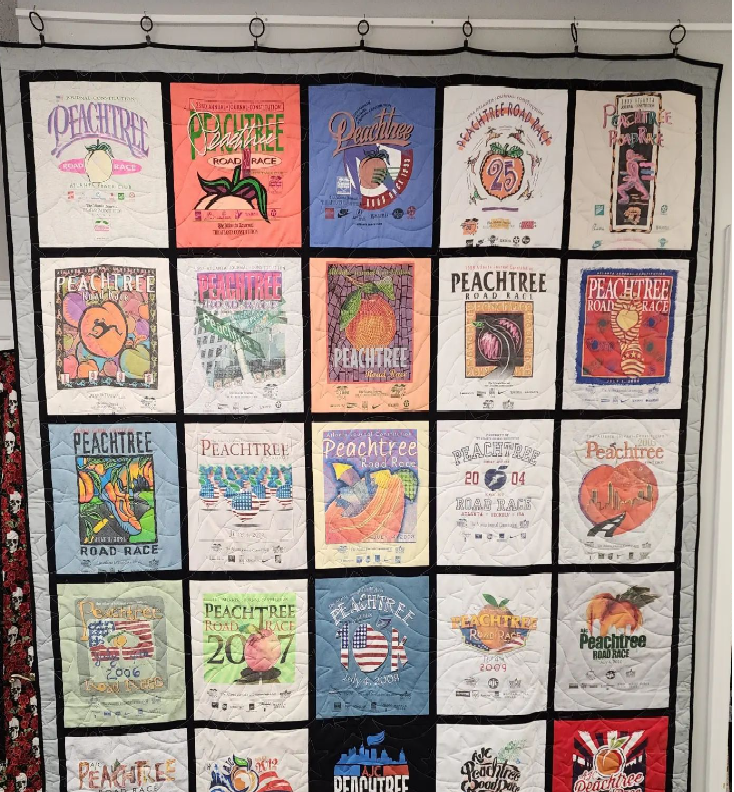 After he passed, the Madden family did not let those shirts go to waste. Betty saw the opportunity to turn them into a family heirloom and pass them down the line in the form of a quilt, so she trusted a company to sew each shirt into a warm reminder of Ed and presented it to his son, Chuck.
Ed ran the 10K for 25 consecutive years and cherished the finisher's shirt from every race. His first Peachtree was in 1991, and he was still running it when he was diagnosed with kidney cancer in 2014. When he was first diagnosed, Betty said, he even specifically requested that one of surgeries be scheduled for after July 4 so he could still participate. He ran his last Peachtree in 2015.
"As a wife to a husband who had a tumor on his kidney, that was pretty frustrating, but that's just who he was," Betty said. "He had his priorities, and the Peachtree Road Race was always important to him."
Even when he was too sick to participate, his family made sure he was part of the race whenever possible. In 2020, for instance, when the Peachtree went virtual because of COVID-19, family members ran the course on their own, cameras at the ready.
"The race always means a lot to us, so that year, my dad couldn't run the race, but we made sure to include him by sending him photos from the course, sharing memories and keeping him involved," said Chuck.
Ed passed away in 2021 at the age of 83.
When Betty thought of the gift idea for Chuck, she was initially hesitant to hand the shirts off to a third party because of how much they had meant to her late husband. But that changed when she Shirt Off Your Back Quilts and told them the story behind her prized possessions.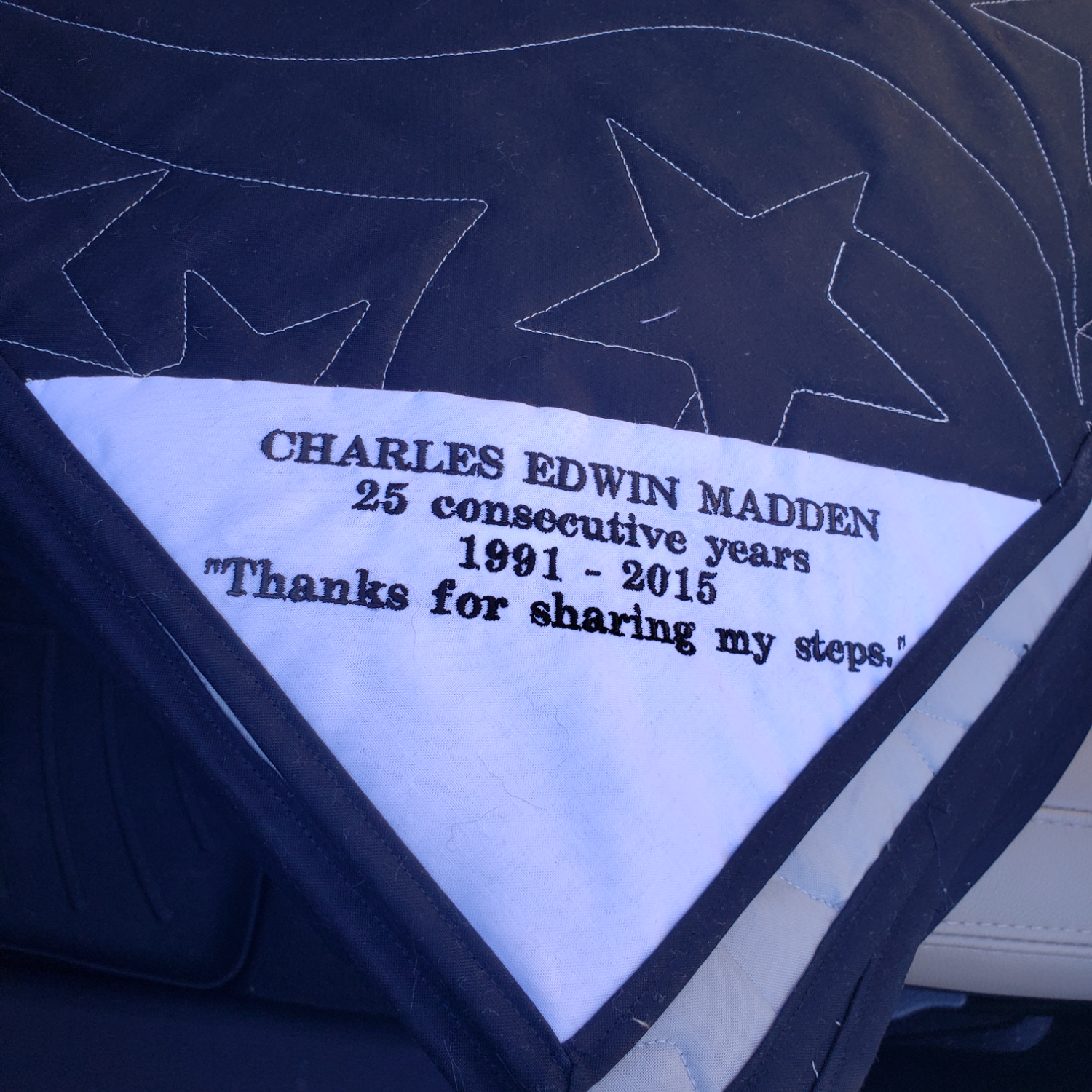 "They were kind and compassionate and comforting," Betty said. "When I went to pick up the quilt and saw it hanging up, I could actually see Ed wearing the shirts. That was him. He could have on jeans with the shirt and jacket in the wintertime, or wear one of the shirts with shorts in the summer. The T-shirts were Ed."
Chuck felt the same way when Betty presented him with the quilt as a birthday present: He could see his dad wearing the shirts.
Now, the quilt sits on the couch in Chuck's living room and is used as a blanket every day. His father, he knew, wouldn't want a display hanging on the wall; he would have wanted to shirts put to good use.
The Madden family plans to run the race again this year and continue their tradition in honor of Ed, step by step and shirt by shirt.