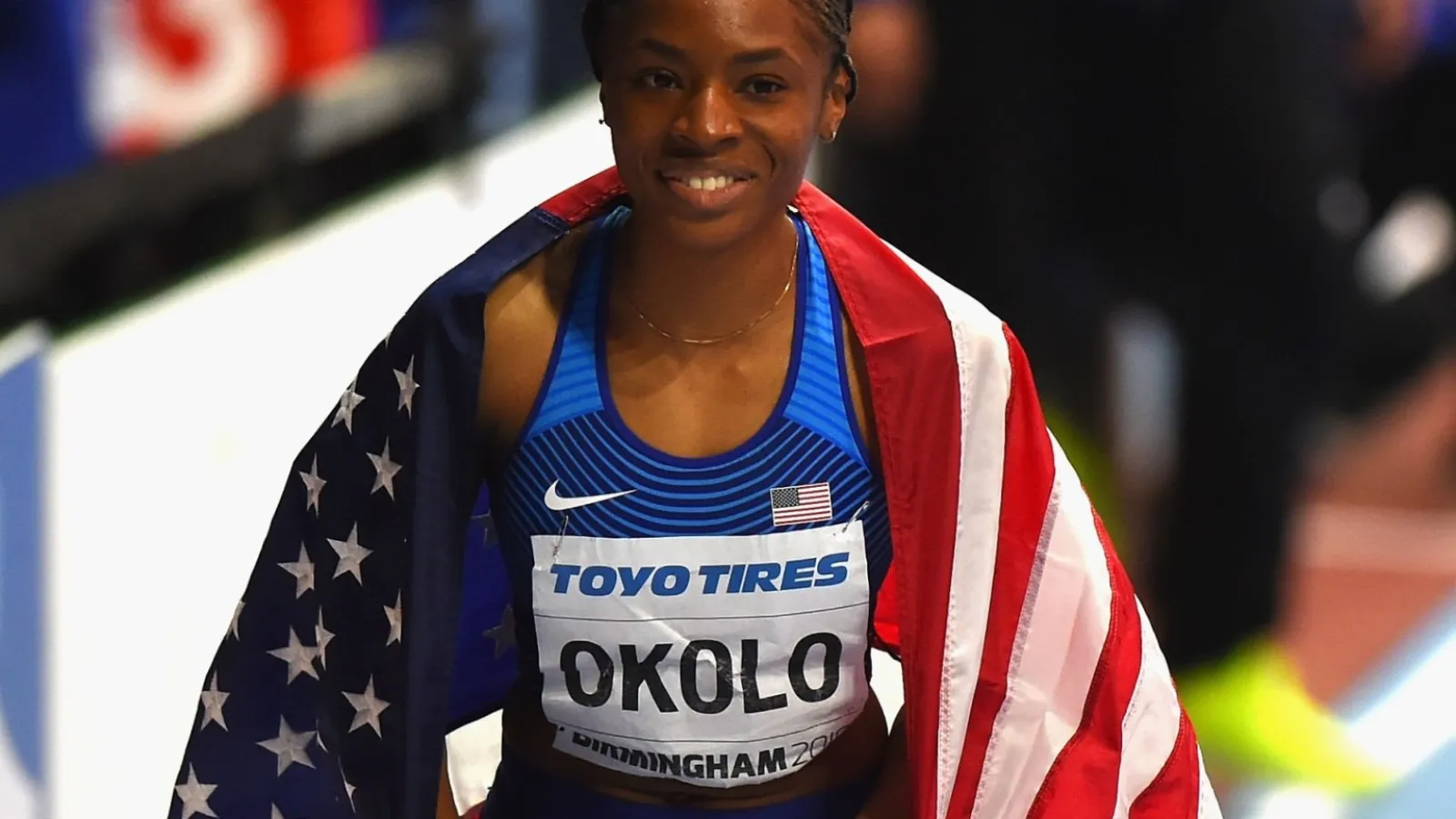 Olympian Courtney Okolo's Comeback Runs Through Atlanta
Courtney Okolo is trying new things even as she works to perfect the old.
An Olympic Gold Medalist and three-time World Champion in the 4x400-meter relay, Okolo recently became a coach of Atlanta Track Club's Track & Field Youth Team - and, for the first time in her long track career, she will run 600 meters (on the road, no less) when she laces up for the adidas City Games on May 6.
"I have never run on the road before, so I don't know how it's going to go," said Okolo, who is also an eight-time NCAA Champion and 2018 World Indoor Champion at 400 meters. "I live in Atlanta and work for Atlanta Track Club, so when I saw the meet, I knew I wanted to run something. The 600 is the only thing that I can really run, and I thought it would be a fun challenge. With where I am in my training, it made sense."
Okolo moved to Atlanta in 2021 when her training group, Altis World, relocated here from Arizona, and she immediately started looking for ways to get involved in the Atlanta track and field community. That's when former University of Texas teammate Alexandria Cruz reached out. Cruz, Atlanta Track Club's Manager of Youth Programming and Partnerships, was eager to bring Okolo on board.
"I always looked up to her," said Cruz, who was a freshman when Okolo was a senior, "I knew if the kids in the programs I manage were able to experience the same awe I got by learning from Courtney, it would be awesome."
Okolo, who is new to coaching, said she wishes she'd been exposed to the sport sooner while growing up in Texas. The future Olympic Champion wasn't introduced to track until the eighth grade and even then she had a slow start: When she showed up for summer track practice her coach told her she should run the 400 meters, but she wanted to run the 100. So, she left and didn't come back. The next year, Okolo went out for her high school track team and ended up making it to the state meet in the 400, placing third and learning that the summer coach had been right all along.
Since then, the distance has served her well. Competing for the Longhorns, Okolo won four NCAA individual titles at 400 meters and four more on the 4x400-meter relay team. She set a collegiate record of 49.71. As a senior, she won the prestigious Bowerman Award as the best female student track and field athlete in the country. After graduating, Okolo won the World Junior Indoor title in 2016 and the World Indoor title in 2018. She was also part of the United States gold medal winning 4x400-meter team at the 2016 Rio Olympics.
But the last two years have been tough for Okolo, who didn't make the U.S. team for the 2020 Tokyo Olympics or for the 2022 World Athletics Championships. At 29, she sees 2023 as a comeback year.
"There's always going to be highs and lows. I had a couple of low years, and just trying to get out of it is not always the easiest thing. I'm really trying to pull myself out of that and get back to being the person and athlete that I know I can be," Okolo said.
Okolo said that while her heart will always be in Texas, the move to Atlanta has been reinvigorating. She's looking forward to racing on the streets of her new city, even if she's not quite sure what it's like to race on asphalt.
"I've run a 600 indoors. I have never run a race in, like, sneakers," said Okolo, who's planning to ask a friend what shoes she should wear. That friend is World Indoor Champion Ajeé Wilson, against whom she will be competing at the City Games.
Okolo said she hopes her new young athletes will be there to cheer her on, regardless of whether they are aware of her resume. "Track is not like basketball or football, where we are like superstars," she said. But her new role at Atlanta Track Club is not about the adulation.
"As an athlete right now, coaching helps me understand why we do things that were never really explained," she said. "Some of them had no idea what they were doing. Now, two to three months in, they have really improved. It's been fun to watch their development and help them enjoy the sport."