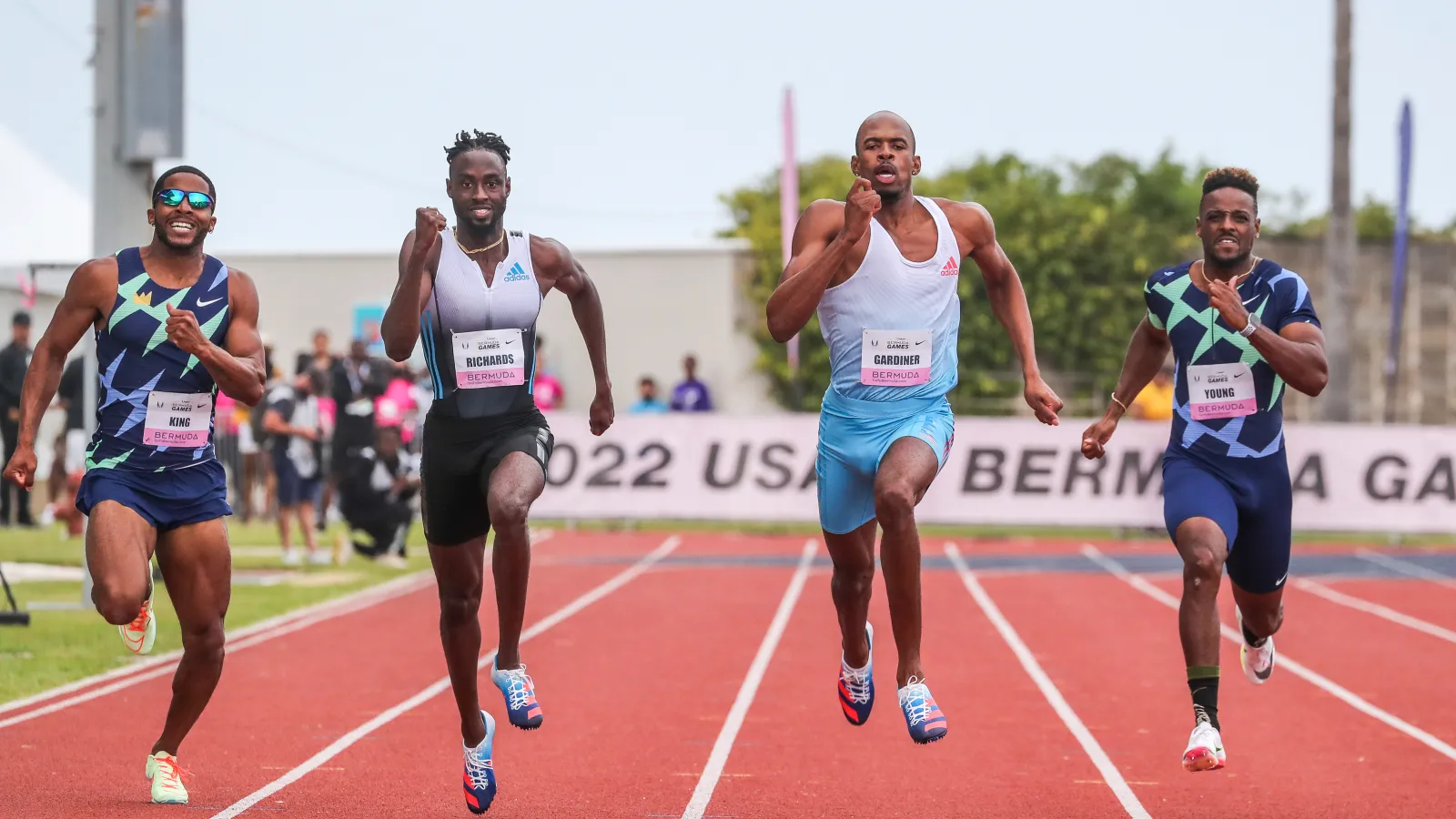 Matchups Promise Plenty of Fireworks at Saturday's adidas Atlanta City Games
Olympic medalists, World Champions, local stars and maybe even the kid who lives next door will all be part of a daylong celebration of running in Atlanta this Saturday, culminating in the inaugural adidas Atlanta City Games.
The action will take place in and around Centennial Olympic Park, beginning at 8 a.m. with the Run with Maud 5K Run/Walk, a fundraiser for the Ahmaud Arbery Foundation to celebrate the life of Arbery, who was murdered while running in 2020. Serving as official starter of the event will be Maud's mother, Wanda Cooper-Jones, joined by three-time Olympic gold medalist Jackie Joyner-Kersee. Registration is available here.
At 2:30 p.m., the adidas Atlanta Youth Games will kick off, featuring the fastest middle schoolers in the state of Georgia on the same sprint straightaway that will host Olympic gold medalists later in the day. Participants in Atlanta Track Club's youth program will get a chance to strut their stuff in the FOOTSPEED powered by MONDO Kilometer Kids Challenge, with qualifying beginning at 5 p.m. and finalists squaring off on the track later in the evening. Registration for the Challenge is available here.
Immediately after the Youth Games, at 4:45 p.m., the adidas Running City Mile will debut. Open to everyone, the race will be run in waves according to age group; register here. The final two waves of the Mile will feature elite men and elite women, kicking off the adidas Atlanta City Games.
In the City Games, international athletes will return to Atlanta in numbers not seen since the city hosted the 1996 Olympic Games. Competing on a specially built, elevated 150-meter track in Centennial Olympic Park, headliners include superstars Noah Lyles, Grant Holloway, Erriyon Knighton, Tobi Amusan, Keni Harrison, Aleia Hobbs, Steve Gardiner, Sam Kendricks and Gabby Thomas - all Olympic or World Championships medalists.
How to Watch
The adidas Atlanta City Games are free and open to the public. There will be LIVE coverage on the adidas YouTube page beginning at 5:30 p.m. EST/11:30 p.m. CET.
What to Watch For
Among the eagerly awaited matchups will be:
Noah Lyles (USA) vs. Erriyon Knighton (USA) at 150 meters. Lyles, the 2-time World Champion and American record-holder at 200 meters and the ultimate entertainer, is hoping to do something special here; World Championships bronze medalist Knighton - who just turned 19 - will be hoping to stop him. Keep an eye on Ferdinand Omanyala (Kenya), the 2022 Commonwealth Games 100-meter champion who stormed to a wind-aided 9.78 last weekend in a meet in Botswana.
Tobi Amusan (Nigeria) vs. Keni Harrison (USA) at 100m hurdles: Harrison (12.20) was the World Record-holder in this event until Amusan, from Nigeria, took the mark away from her in blasting to a stunning 12.12 at the World Championships last summer. Keep an eye on Tia Jones (USA), the 2018 World Under-20 Champion who turned professional directly out of Walton High School in Marietta and last weekend defeated Amusan in winning the Drake Relays.
Grant Holloway (USA) vs. Trey Cunningham (USA) at 110m hurdles: In a rematch of the 2022 World Championships gold and silver medalists, Cunningham will be looking for revenge over Holloway, who is also the reigning Olympic silver medalist and the World Record-holder at the 60-meter hurdles indoors. Keep an eye on Robert Dunning (USA), the 2021 NCAA Champion who starred at Kennesaw High School. (Note: Among them, these three have won the last five NCAA titles at the distance.)
Ajeé Wilson (USA) vs. Natoya Goule (Jamaica) at 600 meters: Wilson, a 12-time U.S. Champion at 800 meters who also holds the 2022 U.S. World Indoor title, is always challenged by Goule, a two-time Olympian and the 2019 Pan American Games Champion. Keep an eye on: Courtney Okolo (USA), the 2018 World Indoor Champion at 400 meters and 2016 Olympic gold medalist in the 4x400-meter relay, who trains in Atlanta and is on the comeback trail. Okolo recently became a coach of Atlanta Track Club's Youth Track & Field Team.
Jones, Dunning and Okolo aren't the only athletes with local ties who will be in the limelight on Saturday. Atlanta Track Club Elite's Olivia Baker, a member of Team USA at the 2022 World Indoor Championships at 800 meters; Shane Streich, the American Indoor Record-holder at 1000 meters; Allie Wilson, runner-up at the 2023 USATF Indoor Championships at 800 meters; Hannah Segrave, the 2017 European Under-23 Championships bronze medalist at 800m; Gemma Finch; Presley Weems and Rachael Walters will also be showcased in front of their home crowd. All will compete in the Mile except Baker, who is in the 600 meters.
A complete entry list can be found here, with additional bios of notable athletes in each event here: 100m, 150m, Hurdles, 600m, Mile, Pole Vault.
The event will conclude at 9:45 p.m. with fireworks - literal, this time - over Centennial Olympic Park.