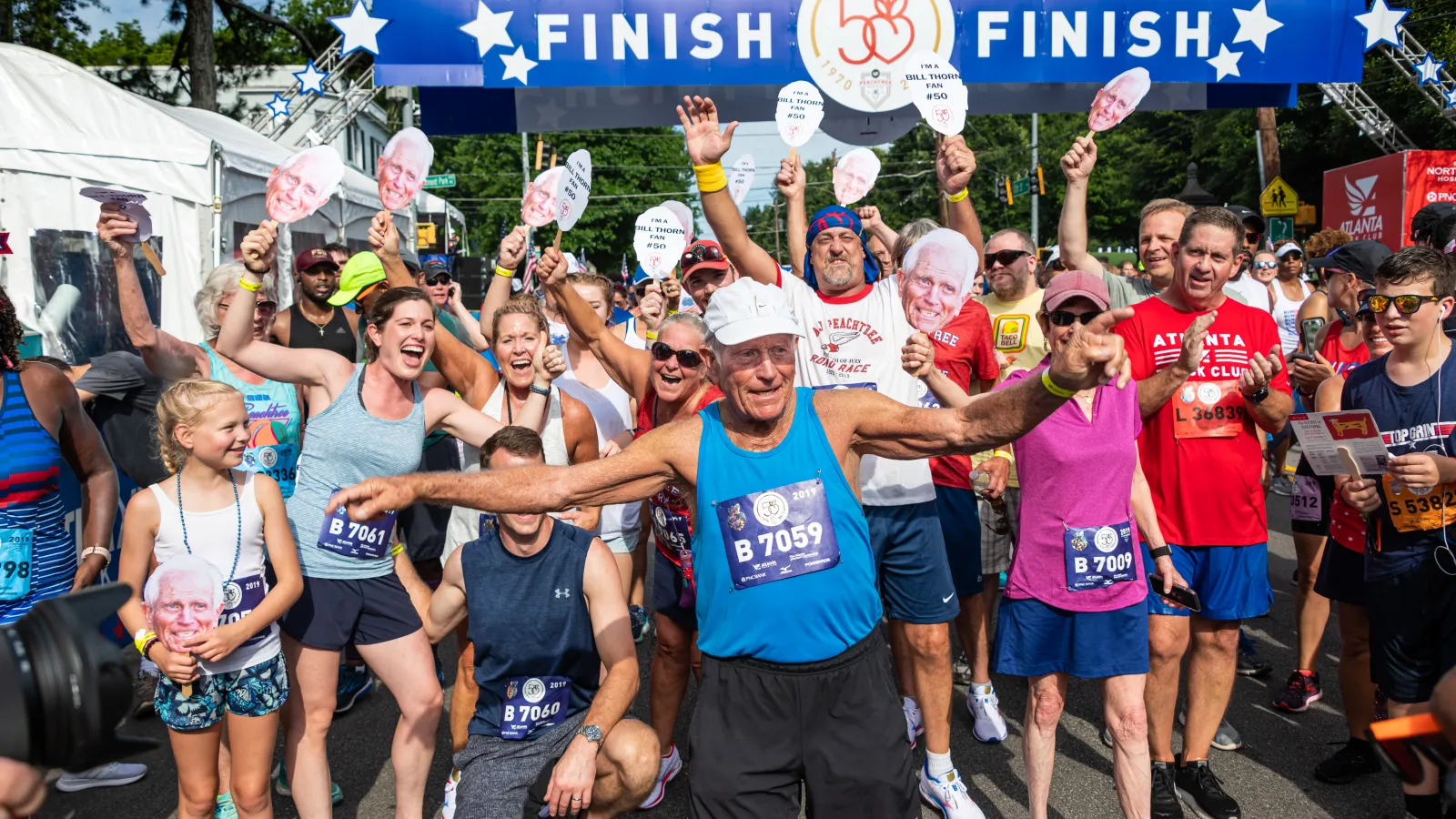 Bill Thorn Calls an End to Peachtree Era
After 53 years, Bill Thorn is stepping aside.
The only person to run every Atlanta Journal-Constitution Peachtree Road Race since it began in 1970, the 92-year-old Thorn this year will be honored as the event's Grand Marshal, chauffeured down a 6.2-mile course he knows better than anyone else in history.
Just before the finish at Piedmont Park, he will disembark to be celebrated as he crosses the finish line on foot one more time.
"There is only one way to stop worrying about not finishing, and that is to just be finished," said Thorn. "I'm going into a new era."
He will go into that new era with his name newly engraved on the Peachtree Cup, an honor up until now reserved for race champions. In addition, a signing wall will be available at the Peachtree Health & Fitness Expo presented by Publix where race participants can thank and congratulate Thorn for his efforts over the past five decades.
Of the "Original 110" finishers in 1970, Thorn and Don Gamel were the only two still running each year through 1992. In 1993, it went down to just Thorn.
"Overachievers in sport and in life often stay just a little too long before they step away. One season, one game, one job, one race too many," said Rich Kenah, race director of the Peachtree. "Not Bill Thorn. I have no doubt that if he had attempted his 54th he would have succeeded, because that is what he does. On Tuesday, we will celebrate Bill as the iron man of Peachtree, because that is what he is."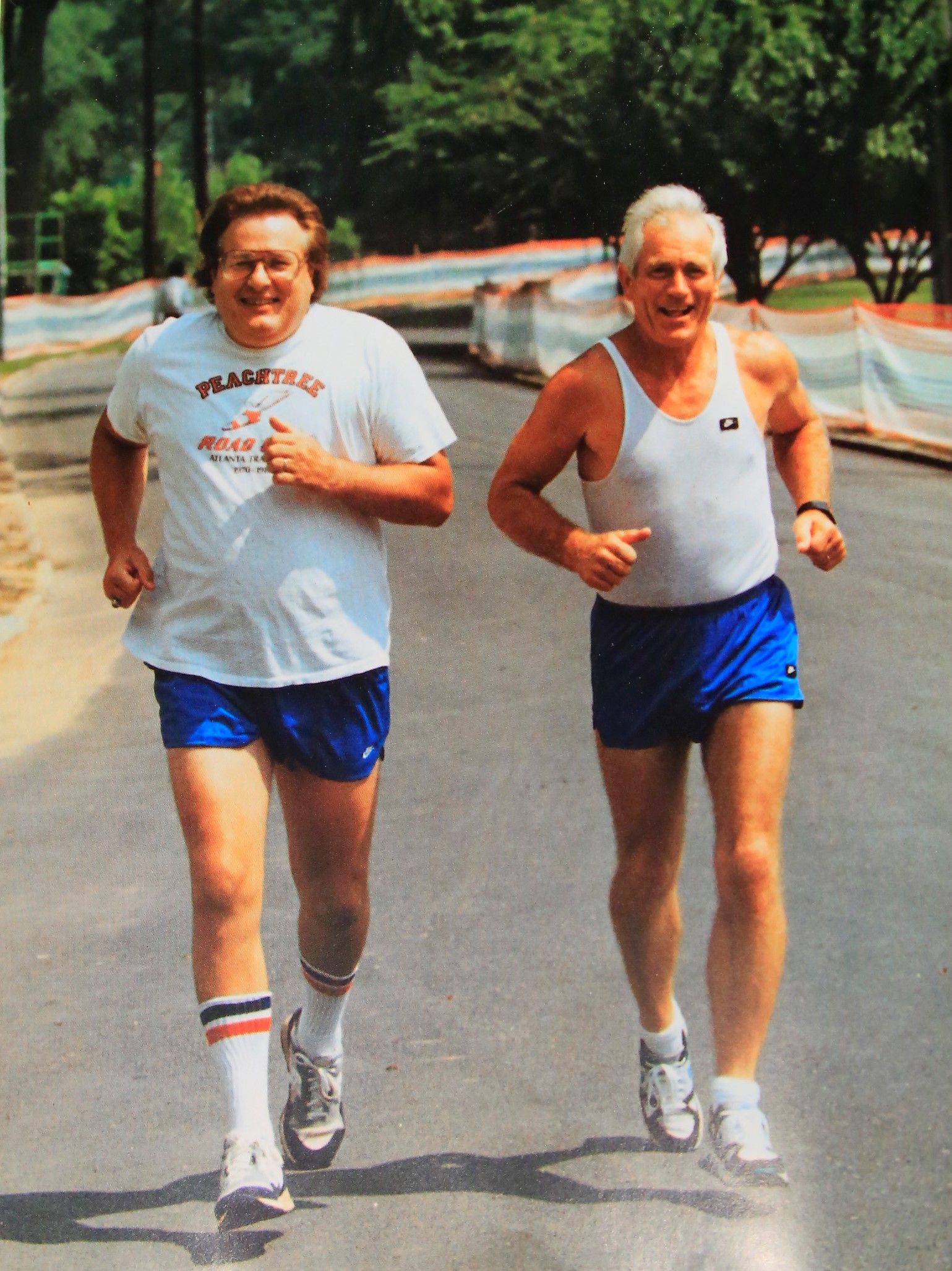 Through the years, Thorn has toed the line on July 4 while coping with an ankle sprain, a heel gash and even prostate cancer. In 2019, to mark the 50th Running of the Peachtree, Thorn crossed the finish line with, among others, four generations of his family and former Atlanta Track Club executive director Julia Emmons.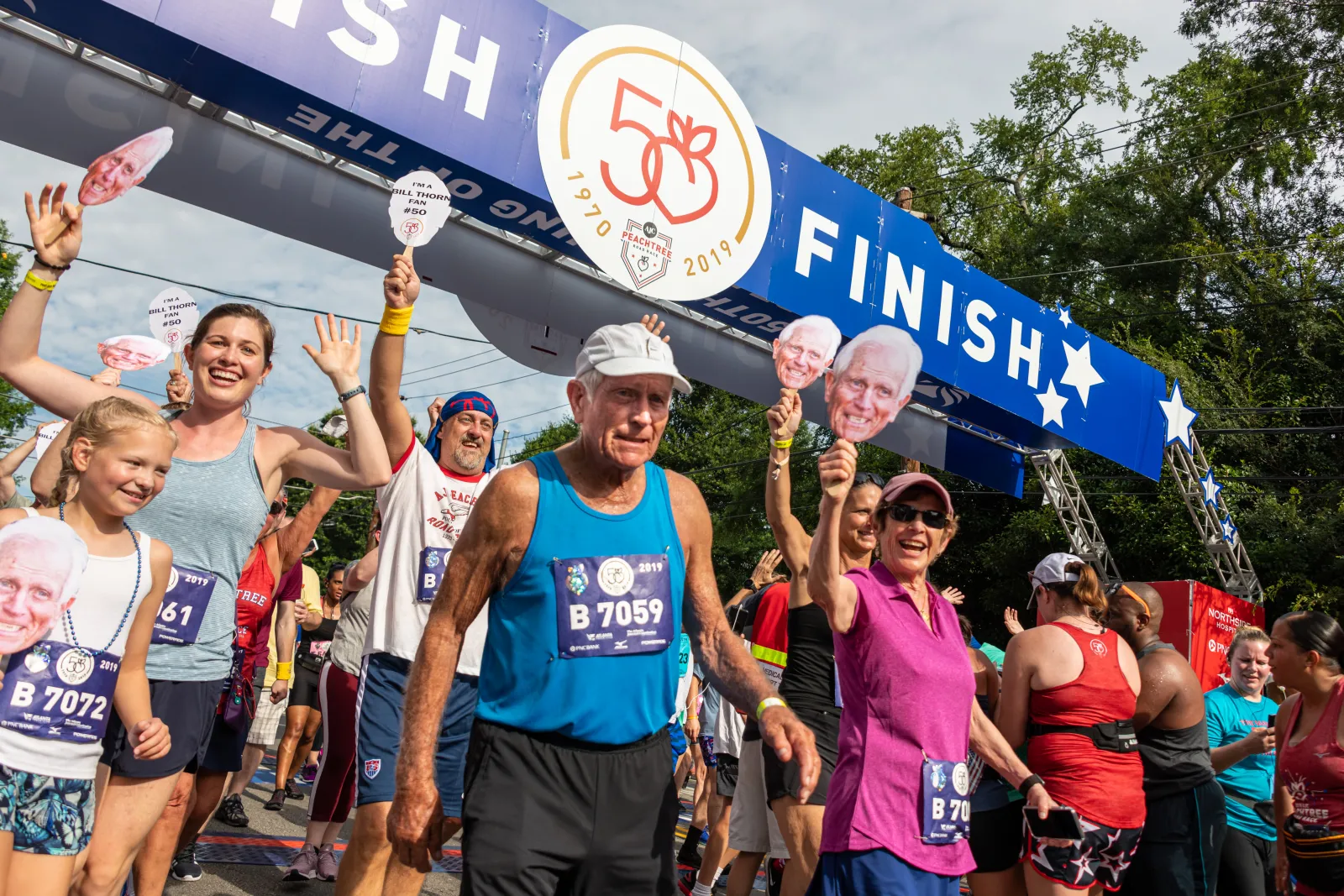 "It could've been just a fad," said Thorn that year, of his early Peachtree streak. "But as you go along through the years, people like Julia say to me every once in a while to 'keep going' and that was really encouraging, and so it just became a year after year thing."
Also in 2019, Thorn retired from Landmark Christian School in Fairburn, where he led his teams to 42 state championships in football, track and field and cross country going back to 1995 and where the stadium of the school he co-founded bears his name. His coaching career spanned 64 years.
Since the COVID-19 pandemic, Thorn has been completing the race virtually, on a carefully measured route in his Tyrone, Georgia, neighborhood. For the past few years, as he dealt with balance issues, he began to compete using a walker.
"It's been really exciting over the years, but there comes a time when you have to let go," said Thorn, who still works out for up to two hours a day, six days a week. Other streaks may come along, he said, but he knows that his place in Peachtree history is secure.
Said Thorn: "No one else will ever be able to say they did the first 50."