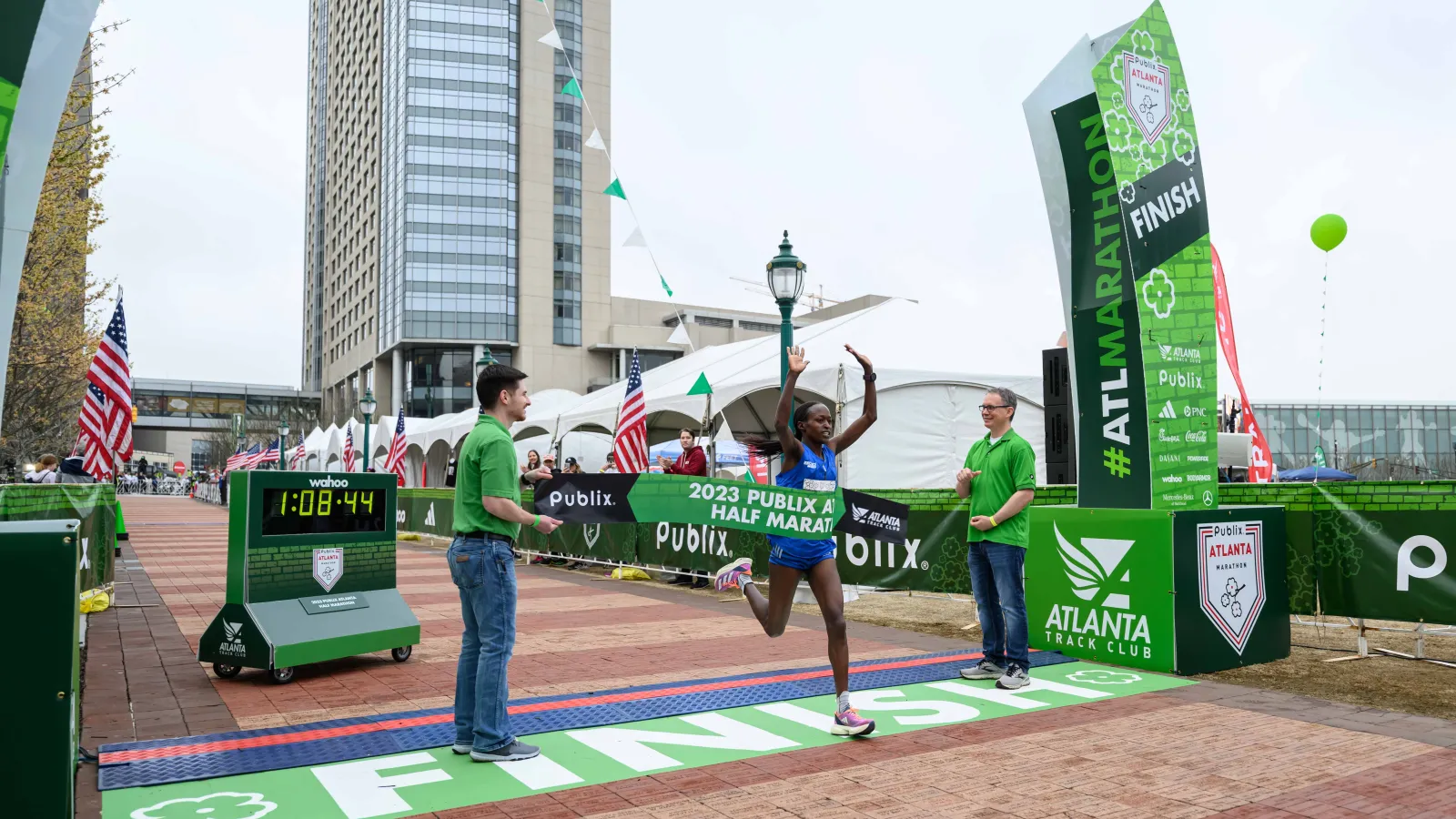 Fast Times, Fan Favorites and Familiar Faces Finish Publix Atlanta Marathon Weekend
ATLANTA -- February 26, 2022 -- Under overcast skies with temperatures barely breaking 60 degrees, the 2023 Publix Atlanta Marathon and Half Marathon kicked off with great promise, moved on to decisive wins by a pair of world-class athletes and finished up with high fives and gleeful selfies as the last of the 5,435 participants crossed the finish line in Centennial Olympic Park. Full results are here.
Of all the life lessons learned along the hilly 26.2-mile course, the marathon winner - a Georgia Tech runner barely out of his teens who folded to the pavement in exhaustion after breaking the tape - provided one of the best.
"This is what the sport is all about," said 20-year-old Hayden Marshall of Milton, Georgia, fully revived after a trip to the medical tent. "You're not always going to get exactly what you want, but it's all about the fight to get there."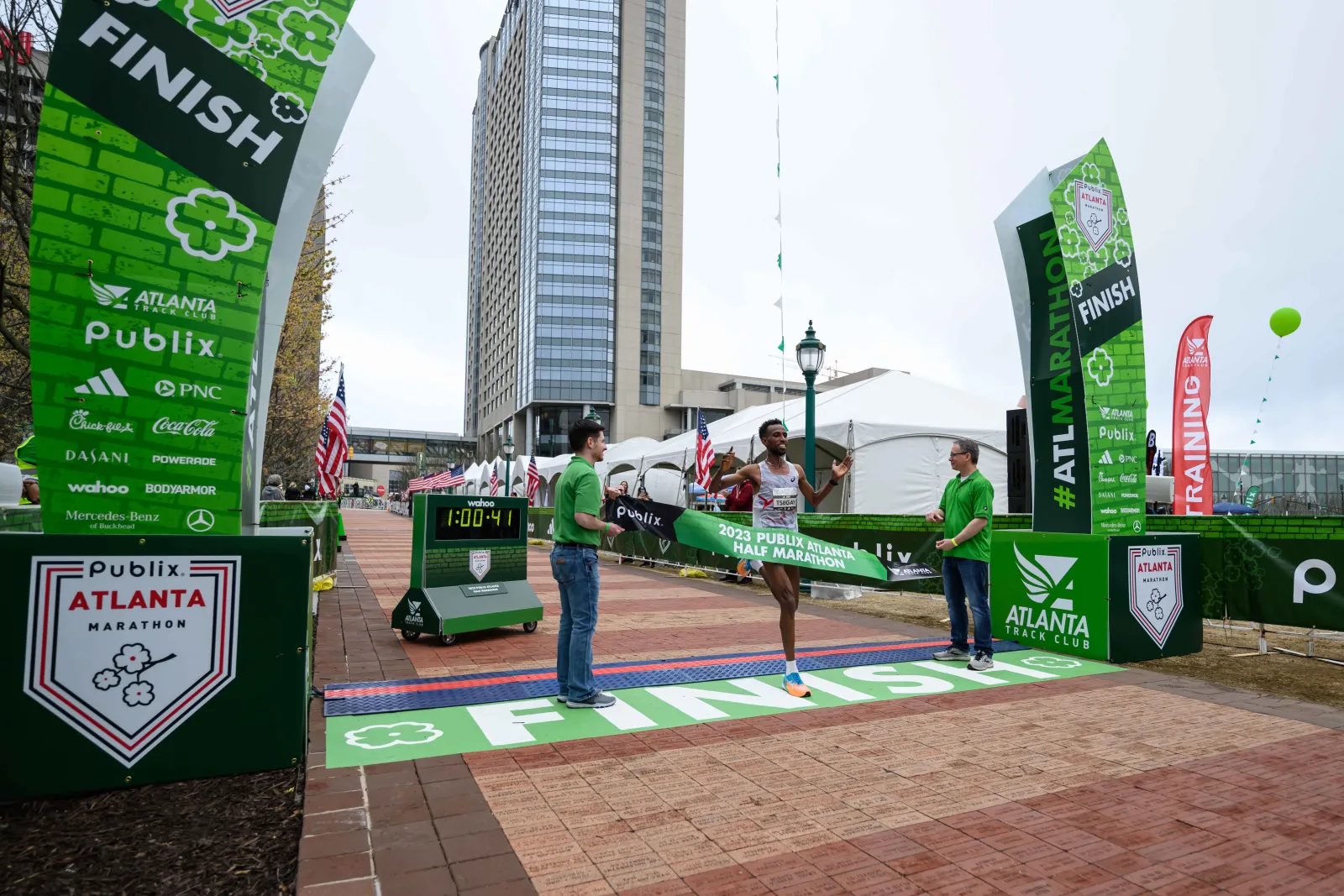 In the half marathon, a top-notch professional field in both the men's and women's races were chasing course records, and although they didn't get exactly what they wanted both came tantalizingly close in what proved to be brave solo runs in the final miles.
For the men, defending champion Nicholas Kosimbei had a six-second lead by 5 miles, which grew to 17 three miles later. The 27-year-old Kenyan was en route to lowering the course record of 1:00:36 he set in his win last year before he was slowed by a side stitch just before the hill on 10th Street after the leaders exited Piedmont Park.
That was all Tsegay Kidanu needed: 12 seconds back at 15K, the 20-year-old Ethiopian quickly closed the gap as Kosimbei struggled up the hill and caught him just after the 10-mile mark. The two briefly ran shoulder-to-shoulder, but Kidanu soon pulled away, taking the lead for good at Mile 11.
By the end, he would finish in 1:00:39, just 3 seconds off the course record but well clear of Kosimbei, the runner-up in a time of 1:01:31. Kenya's Geoffrey Koech would finish third in 1:02:09.
Some of the biggest cheers of the day went to a couple of runners further back in the pack but at least equal to the winners in achievement.
Ronnel Blackmon, a frequent announcer for Atlanta Track Club events. The exuberant Blackmon, 40, spent the pre-dawn hours on the mic at the start line before joining the pack, completing his first half marathon in 2:17:10 after learning the ropes in the Club's In-Training program.
Finishing in 3:00:33 was Chris Nikic, competing as Runner 321 in a new initiative powered by adidas and Nikic's team aiming to improve inclusion in fitness for athletes with physical and intellectual disabilities. The initiative calls for major marathons to hold race number 321 aside for an athlete with a disability. Nikic, 23, was the first person with Down syndrome to complete an IRONMAN triathlon.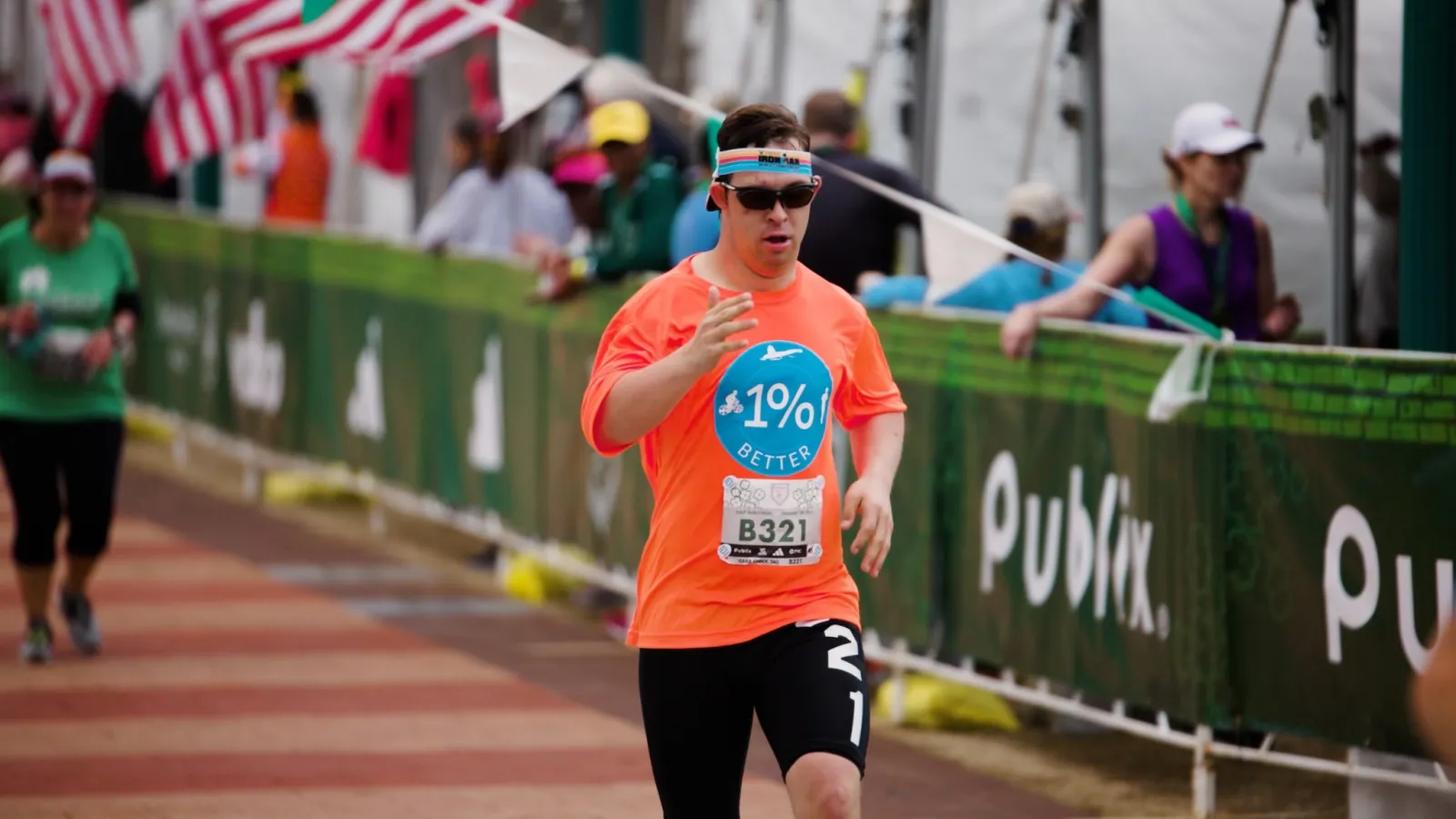 In the women's race, Vibian Chepkirui of Kenya - who has a marathon personal best of 2:20:59 in winning last year's Vienna Marathon - was still in a pack of about a half dozen at 5K, but soon pulled away. At 10K, she was one second under the course record of 1:08:22 but had 12 seconds on her closest rival, countrywoman Helah Kiprop. Chepkirui, 28, would slow a bit in the late miles, breaking the tape in 1:08.45.
"I had to push myself," she said of running alone for much of the hilly course. "It was not easy."
Kiprop would be the next across the line, in 1:10:29, followed by Selam Fente of Ethiopia in 1:11:12.
The winning athletes each earned $4,000.
The elite race was broadcast live on Atlanta Track Club's YouTube and Facebook pages and can be watched here.
In the marathon, 46-year-old Beth Dollas took the lead at about 22 miles to win 3:02:27. Dollas, of Amesbury, Massachusetts, is on a quest along with her older brother ("I beat him every time") to finish a marathon in all 50 states; this was her 30th. She estimates that she has won about 10 of them.
"I feel like I've gotten faster as I've gotten older," she said. "My last two marathons I actually did in under 3 hours. This was a tough course, though." The siblings had planned to run a marathon in Savannah a few years ago, but that didn't work out, so it was to Atlanta they came this weekend.
"This has been awesome," she said. "I'm glad we missed out on Savannah."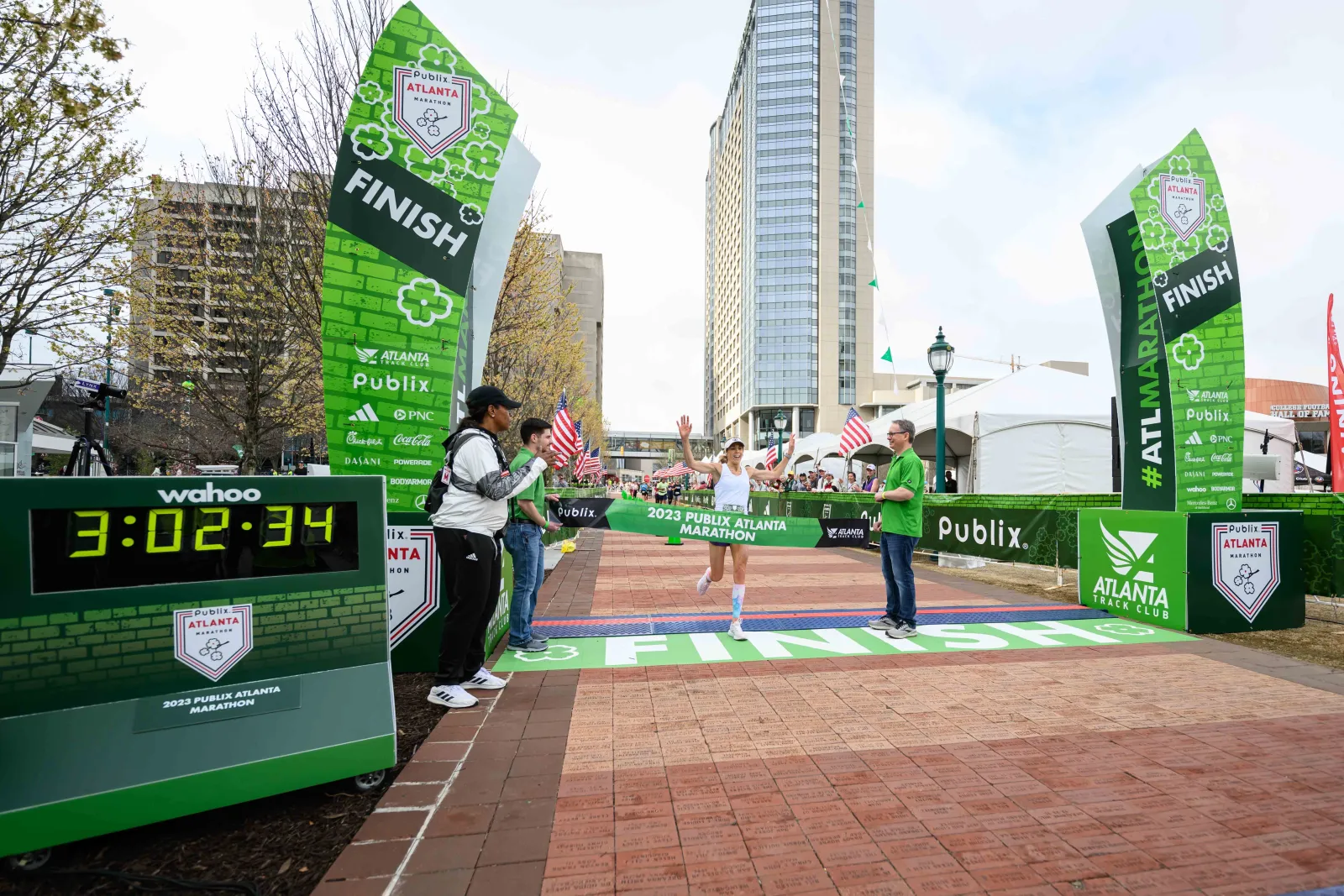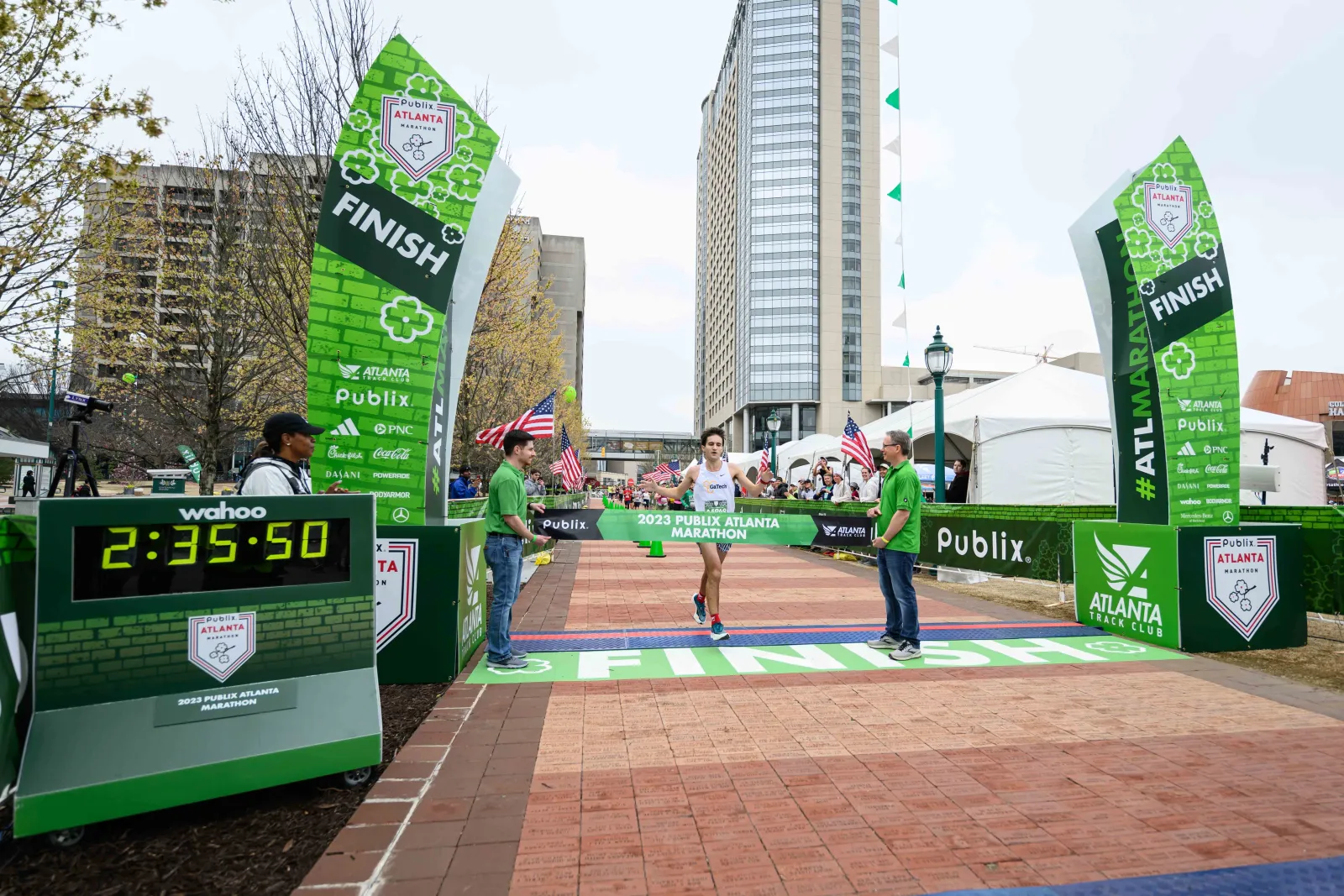 If the champion of the men's half marathon came from afar, the winner of the men's marathon came from basically down the street. Hayden Marshall, a 20-year-old member of the Georgia Tech Running Club, broke the tape in 2:35:48. He immediately collapsed and was wheeled to the medical tent, but soon recovered to address a crown happy to cheer the 2021 graduate of Milton High School and a 2020 Atlanta Track Club Powerade All-Metro selection in cross country.
"It was definitely a pretty ambitious start," he acknowledged, going through the half in 1:13:12. "I did kind of end up hitting the wall in the last six miles, which I didn't really expect. Just getting the win is pretty amazing."