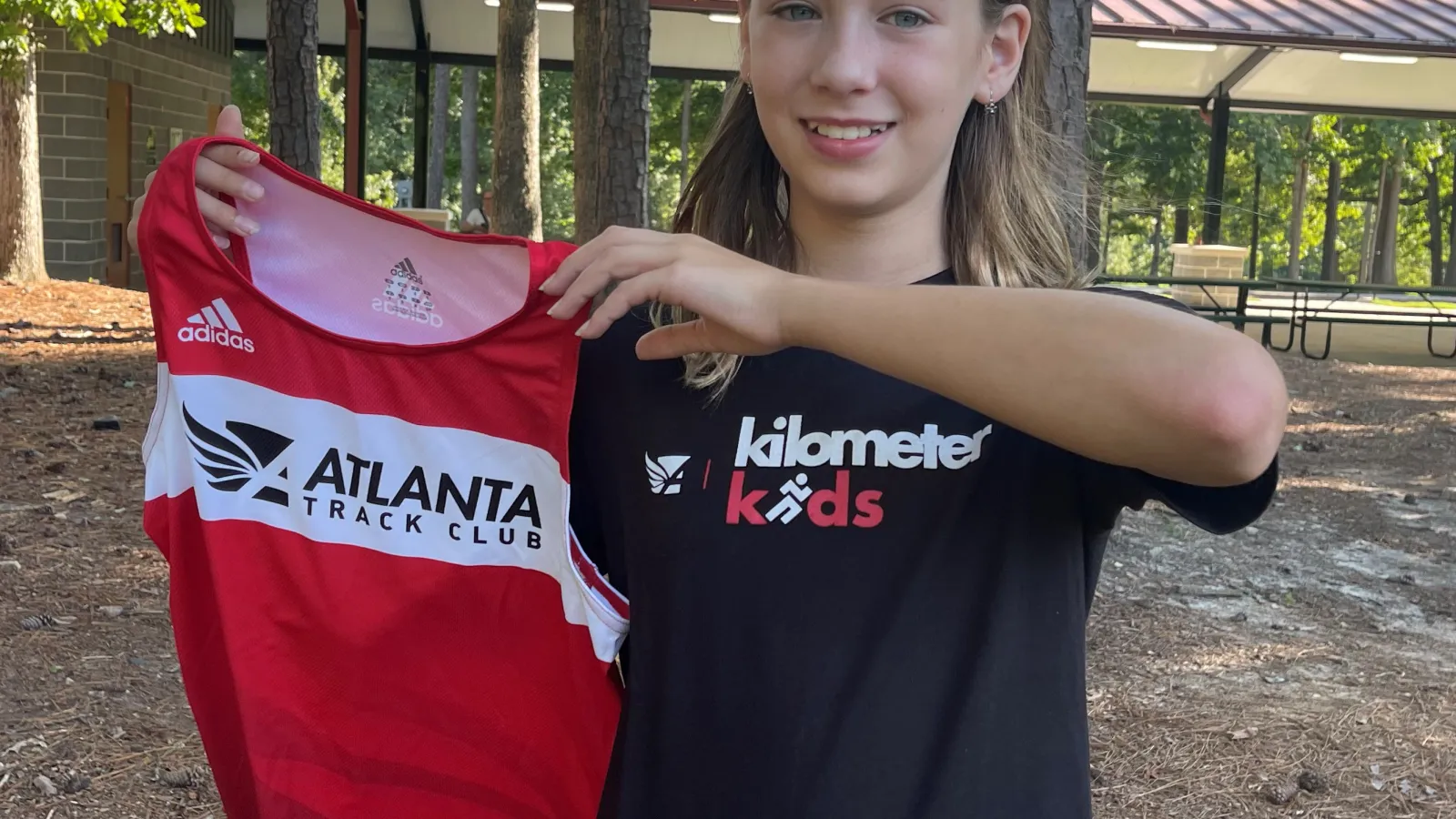 "Grads" of Kilometer Kids Find Added Challenge in Youth Team
In Atlanta Track Club's Kilometer Kids program, it's all about play. For the kids who move on to the Club's Youth Team, a taste of competition is added to the fun.

Before she joined Kilometer Kids, Elishka Wilson had never participated in a running-specific program. She'd played soccer as well as participating in gymnastics and swimming but decided to give running a try because it's something her mom enjoys. This fall, she competed on the Youth Team.

"Joining the Youth Team has been a different experience for me," said Elishka, now 11 and in the sixth grade. "With Kilometer Kids, everything was a little easier because [the coaches] set our goal [of running 26.2 miles over the course of the season] for us. For the Youth Team, the coaches teach us more about running form and how to not injure ourselves. I enjoyed Kilometer Kids because playing the games was always really fun, but with Youth Team I like how [I feel] challenged and the coaches push me."
William Hoffer agrees. "I am really enjoying the Youth Team, more than I enjoyed Kilometer Kids, because it is a bigger challenge for me," said the 13-year-old eighth grader, who also plays basketball. "My focus is just trying to get more fit."

His mother, Karen, has been pleased with Will's progress, saying: "He will run even when he's not doing practice … he pushes himself. I guess it is fun to see your kid rise to the challenge."

Founded in 2017, the Youth Team is open to kids in grades 4-8 of all ability and experience levels, with a focus on long-term development and incremental growth while creating an environment that encourages athletes to display sportsmanship, set goals, develop an enthusiasm for the sport, and gain health and wellness knowledge.

"Just like with Kilometer Kids, we want them to fall in love with the sport," said Rochelle Kanuho, a member of Atlanta Track Club Elite, who coaches the Youth Team. "We're getting them ready for the next step, whatever that may be. If not running, we hope they'll continue with some outdoor activity, to stay active."

With the introduction this season of Kilometer Kids community sites at Brook Run Park in Dunwoody and Piedmont Park in Midtown, youngsters participating in those programs can get an "up close" look at what the Youth Team is like, because it practices at the same locations. The Youth Team post-season, which runs from October 10-December 10 - it is not too late sign up - will include competing at USATF club meets and championship meets near and outside the Atlanta area, including USATF Youth Championships.
USATF club meets and championship meets near and outside the Atlanta area, including USATF Youth Championships

Beginning November 29, the Youth Team's focus shifts for two months to the Speed Academy, in which members develop a base of power and speed during the winter that will prepare them for the upcoming track and field season as well as for many other sports.
For more information or to register your child for a youth program, click here.


Photos: Madison Hafitz