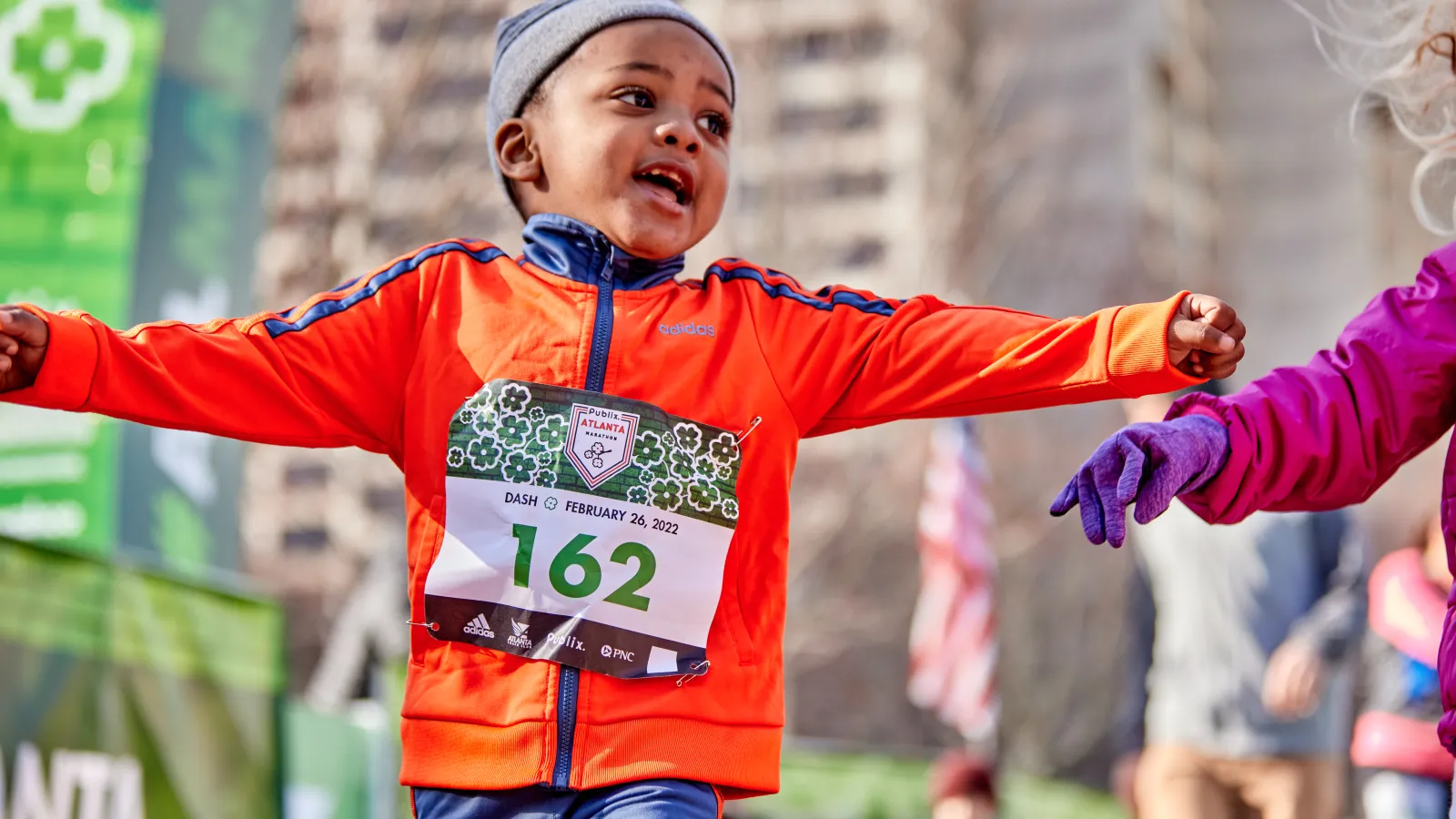 5 Ways To Help Your Kid Love Running
Did you know it's recommended that youth between the ages of 6 and 17 participate in 60 minutes or more of physical activity every day? Unfortunately, only one in three kids do. Atlanta Track Club is committed to building a more-active and healthy Atlanta and to developing a foundation for the future of runners and walkers by offering opportunities for youth to engage in regular physical activity through our events and programs. Check out some tips below for getting your kid to the starting line
1. Make It Fun
For many people, young and old, running gets a bad rap because their only exposure to the sport has been negative (think PE fitness tests). So, for your child, don't force running but instead make it fun! The key can be to distract kids from the fact that they are actually running by introducing the activity in the form of a game. "Sharks & Minnows," any form of tag, "Red Light, Green Light," you name it - your kids will be having so much fun they won't even realize how much they are running!
2.

Do It With Friends
It can be challenging to play a game by yourself, right? While running is an activity you can do on your own, it is far more fun with friends. Introducing your child to any form of physical activity in a team-oriented environment can be a great opportunity for them to learn, grow and bond with others through movement and exercise. This can be an afterschool sports activity, a fitness group at your local community center, or through a program like Atlanta Track Club's Youth Team.
3. Set A Goal
Another way to make running feel more rewarding and exciting is to be working toward a goal every time you go out and exercise. While goal setting is something we often do as adults, it applies to kids, too. The goal can be big or small, based on time, distance or frequency - but whatever it is, a goal gives kids something to focus on. In our Kilometer Kids program, we teach kids about S.A.M. goals (think S.M.A.R.T. goals but simplified). The Specific, Achievable, Measurable goal for every Kilometer Kid is to run 13.1 or 26.2 miles over the course of the 10-week season, depending on how many times their team practices each week. Coaches help to track mileage every practice and hand out incentive prizes at important mileage markers along the way to help kids stay on track. Setting tangible goals that they can measure and aspire to makes running a more enjoyable activity and teaches kids great skills they can use in all aspects of their lives.
4. Run A Race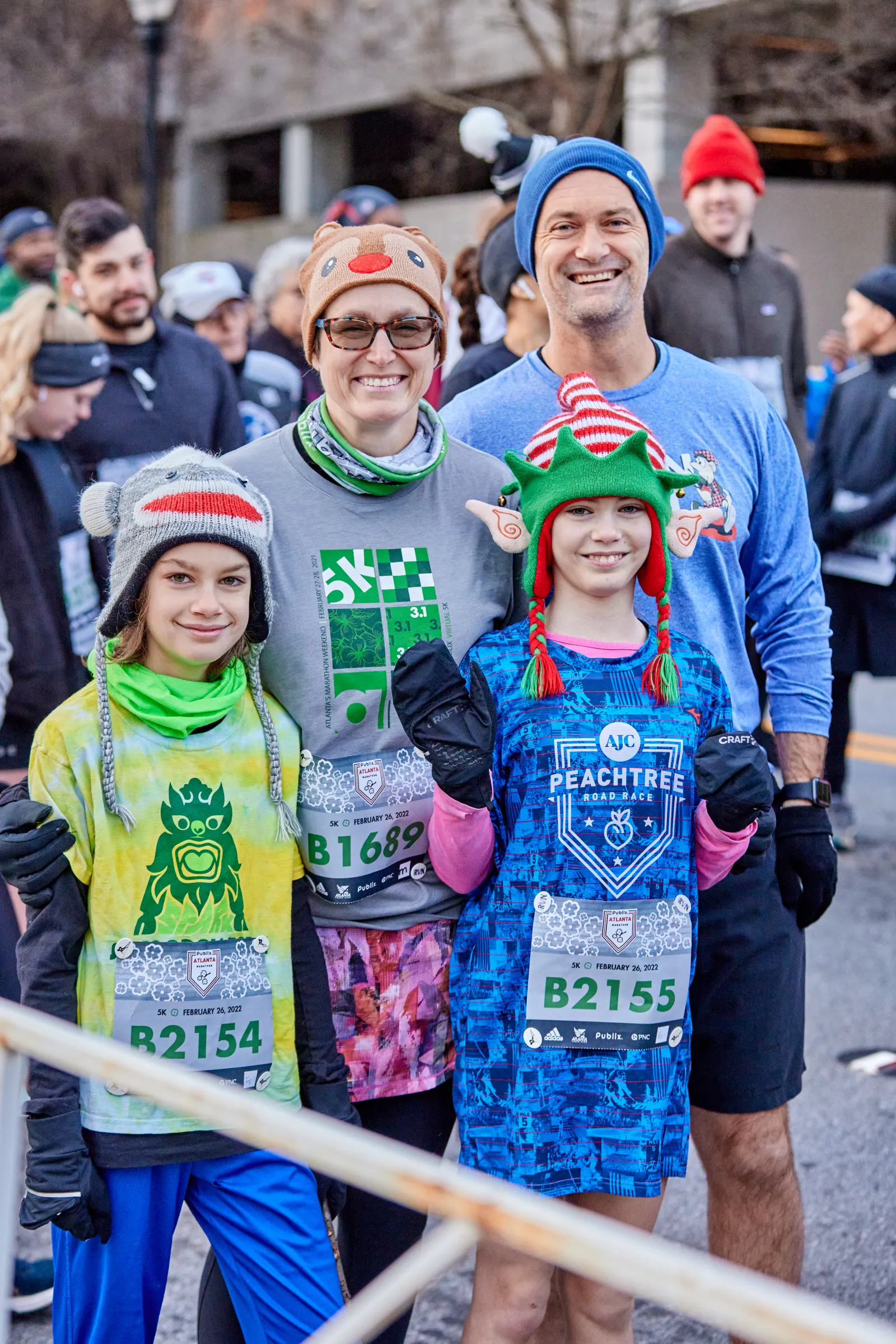 Goal setting can be great practice to get you to race day! If you've ever participated in a running race, you know there is something different about that race-day energy. That feeling of adrenaline as you approach the start line, the high you feel when people are cheering your name as you run by - this is something your child can experience, too. Participating in a race versus just going out for a run carries a very different vibe. Share the experience of running a race with your child so they can see and feel the community, camaraderie and competition the sport has to offer.

5.

Go Somewhere New

Part of the fun of running a race is that they often occur in some pretty iconic spots - here at Atlanta Track Club, we host races at Centennial Olympic Park, at many of the city's major sports stadiums and arenas and, of course, shut down Peachtree Street on July 4th. But running in cool places doesn't have to be reserved for races. Here in Atlanta, we're incredibly lucky to have so many beautiful places to run. Sometimes, getting outdoors beyond your own front yard can make exercise a little more exciting. From the miles of trails on the Atlanta Beltline to Piedmont Park to Stone Mountain and beyond, Atlanta has a lot of options for you and your family to get out and explore exercise with a new view.

BONUS TIP: Participating in an Atlanta Track Club youth event or program is a great way for your child to have fun, make friends, set goals, run races and explore the city.

Atlanta Track Club has tons of youth events and programs that your child can participate in. Check out our website for the full youth event and program calendar. Our next event will be the 2023 Publix Atlanta Kids Marathon on February 25.The event will feature a 5K, 3K and 50-meter dash, as well as a Track & Field Zone that includes an obstacle course. Held in conjunction with the 2023 Atlanta Marathon Weekend, this festival of races gives kids the chance to get out, get active and become part of Running City USA. and an activity could become a key part of the rest of their lives.