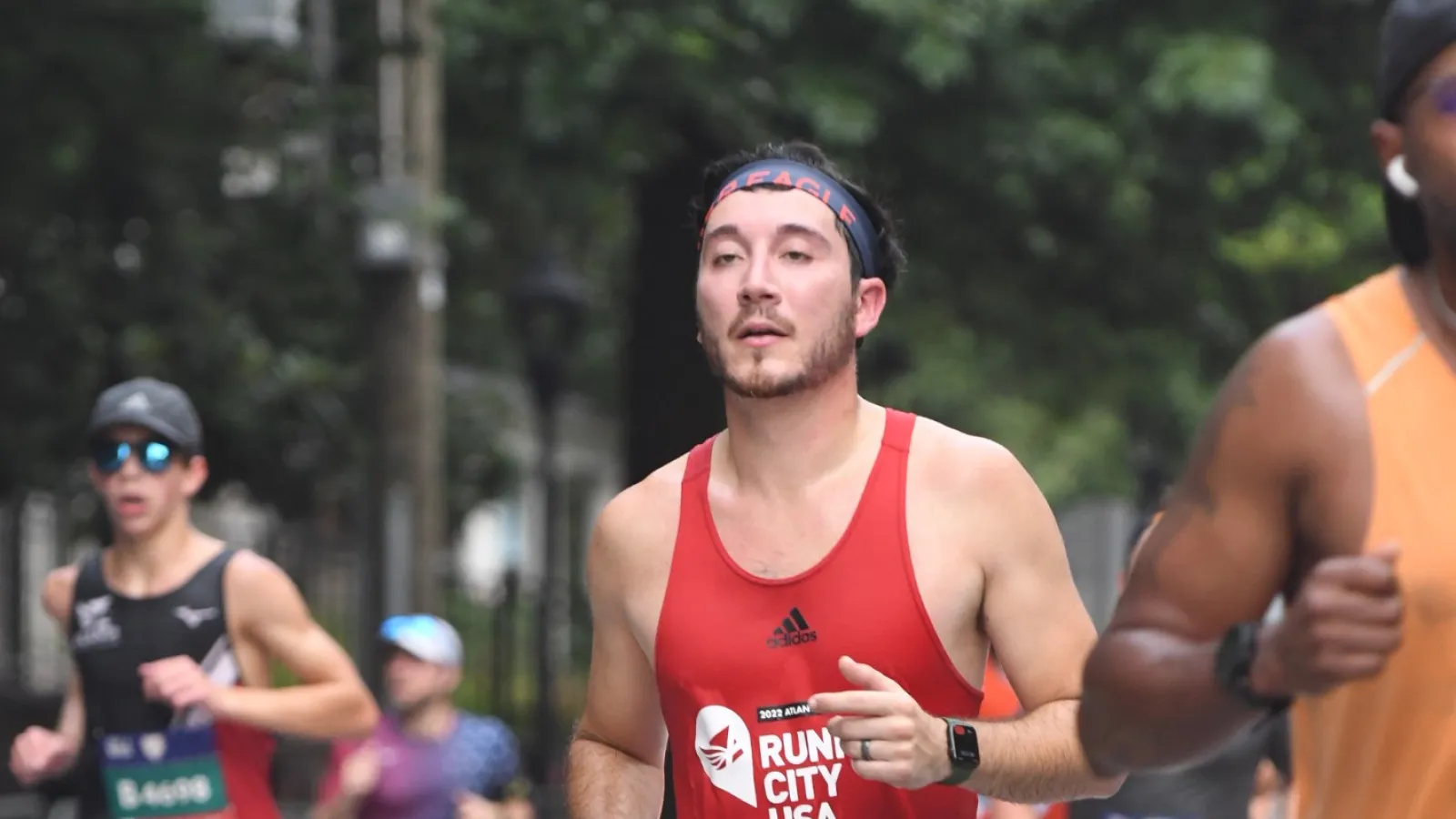 What it Means to Be a New Atlanta Track Club Member
By Rachel Bales
A runner since he was a child in Florida, Alex Lewis grew up spending summers at a cabin in North Carolina. From there, the family would head to Atlanta for the Atlanta Journal - Constitution Peachtree Road Race, which Alex ran with his father while his mom and sister cheered them on. That was his introduction to Atlanta Track Club, but it wouldn't end there. In 2018, Lewis moved here to join the woman he would marry, a law student at Emory University, and last year joined the Club. Now living in Grant Park with wife Sydney and their son, Wren, Lewis talked about his first year as a member.
What prompted you to join Atlanta Track Club? I was motivated to become a member from talking with Atlanta Track Club staff at BeltLine runs. I was able to see the benefits of the Peachtree Road Race guaranteed registration and saw the discounts for the other Atlanta Track Club races. My friends at Beltline Run Club that were already members also helped convince me.
What was the best moment in your first year as a member? Finishing the Decatur DeKalb 4 Miler in August in a surprisingly good time; I had been recovering from plantar fasciitis . It's been my favorite event so far, as downtown Decatur is really pretty. It 's a challenging course with lots of hills, the weather in August is a little better than in July for Peachtree and it is a relatively large race.
What has surprised you most about being a member? The number of people that are part of the Club. I've always seen a lot of Peachtree Road Race shirts around Atlanta, but I now notice tons of people wearing their Atlanta Track Club membership gear of all different years, designs and age groups who are all interested in staying healthy and making running and walking part of their life. As a new parent, you are very busy.
What keeps BeltLine Run Club a priority for you and your family? We came back to Beltline Run Club when our son was a month old. We both work full time , but a lot of that work is virtual and it's nice to get out as a family - with the dog , too - and go out there and say hi to people. You can sometimes get cabin fever with an infant and the fresh air, exercise and socialization of the Run Club keeps us coming back. I see you in your 2022 Atlanta Track Club member singlet all the time.
What does representing Atlanta Track Club mean to you? It's huge to be a part of the country's second - largest track club. It also means being a person who is active and social, a person that makes running part of their social activities, and it represents a large group who are healthy, exercise - focused and outdoorsy.
Any advice for new members or people thinking of becoming members? Go to the Beltline Run Club on Thursdays. They are super casual and have people who are beginners, runners or walkers, and you have people that are elite and keep a high pace and want to do a good workout. You also have the people in between. It is a good social thing to do, it is 100 percent free and keeps you in contact with people that share interests with you. You also find out about Atlanta Track Club events and other social events. I've found a great group of friends to run and hang out with.
This article originally appeared in the November 2022 issue of Wingfoot Magazine.