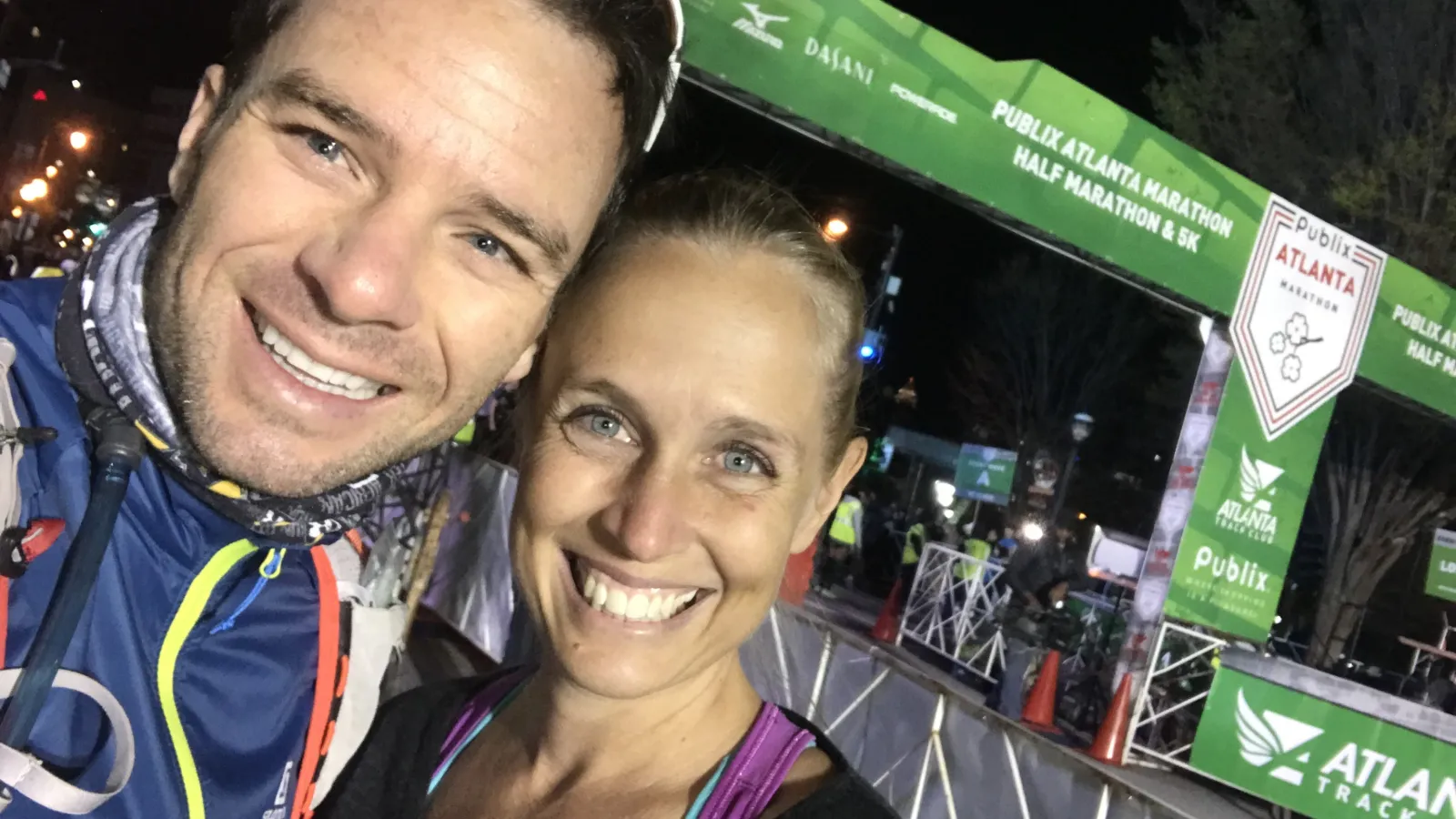 CNN's VanDam Knows How to Weather a Run
It's an unseasonably warm November day as CNN meteorologist Derek Van Dam chats on a bench in Centennial Olympic Park during a break from his early morning shift. His eyes light up as he recalls his childhood in Grand Rapids, Michigan.
Van Dam's fascination with weather and the natural world began to take root when he was just 5 or 6 and watched out the window as a thunderstorm's powerful gust knocked down the tree in which he'd built a fort.
As he pondered the intricate workings of the elements, a profound question echoed within him: "It was the perfect climbing tree," said Van Dam. "Why did this happen? How did it knock down my favorite tree?"

Grand Rapids, with its four distinct seasons, played a pivotal role in shaping Van Dam's love for nature and the outdoors. The winters, with Michigan's fierce lake-effect snow, set the stage for his cherished adventures in snowboarding and skiing and Van Dam vividly recalls tiny Cannonsburg, which the locals referred to as "Ice-burg" and where his parents would drop him off to ski.
He's also a runner, wrapping up his training for the Invesco QQQ Thanksgiving Day Half Marathon next week.
Having played soccer as a kid, Van Dam believes that "running was always in my DNA," although it wasn't until 2005 that he began participating in road races. Then a few years later, in Cape Town, South Africa, his running took a new route. On the breathtaking trails, in the majestic mountains and along the enchanting coastline, his love for running blossomed as he found peace and adventure, with each run becoming a spiritual connection to the world around him.
In 2008, Van Dam was the meteorologist for WEYI in Flint, Michigan, when he realized he had a deep-seated desire "to help others who aren't necessarily able to help themselves" and began working with the Compassionate Life Foundation, an NGO that supports widows and orphans affected by the HIV and AIDS pandemic. He found himself drawn to South Africa.
While there, a serendipitous encounter propelled Van Dam into international weather reporting. Joining the launch team for South Africa's pioneering 24-hour news channel in 2008, he became enamored with the vibrant city of Cape Town. (South Africa became enamored with him, too: "You" Magazine named him the country's "Newcomer of the Year"). He soon met the woman who would become his wife, a radio producer named Tara Hossack who shared his passion for media, the power of storytelling and exercise. On their first date, they ran a 10K.
Their relationship, nurtured by a mutual love for running, was formalized with a memorable proposal at the finish line after they both ran the famed ultra-distance (approximately 55 miles) Comrades Marathon. Van Dam was ready to hide the ring and bouquet of flowers if Hossack didn't make the cutoff time of 12 hours. She finished with just seconds to spare.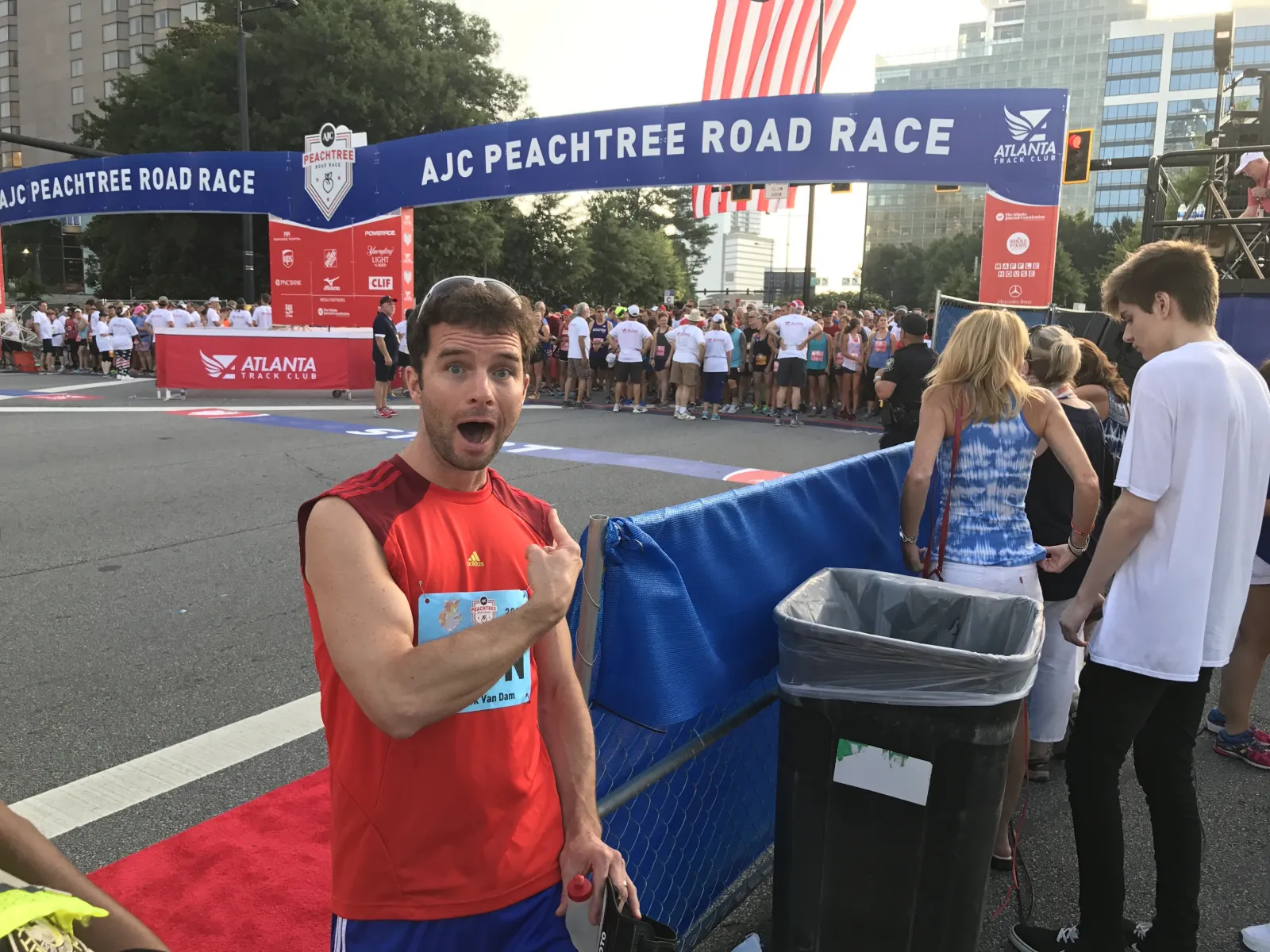 Just five days after their wedding, Van Dam headed to his new job as a meteorologist with CNN's morning news team in Atlanta. Here, settled with his wife and two children, now 8 and 6, he found a new home with the city's running community after soon being introduced to Atlanta Track Club via the Atlanta Journal-Constitution Peachtree Road Race - with hills that were undaunting compared to those in South Africa, but with humidity he called "brutal." He's also twice run the Publix Atlanta Marathon but will be tackling the Thanksgiving half for the first time.
By continuing to sign up for Atlanta Track Club events, he said, "it gives you that objective to work toward."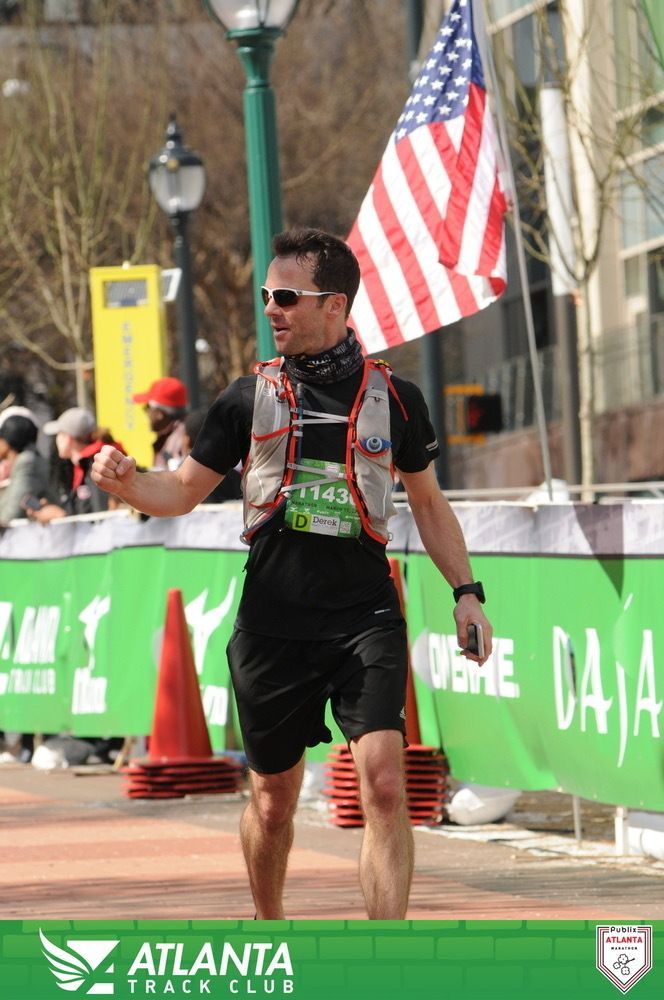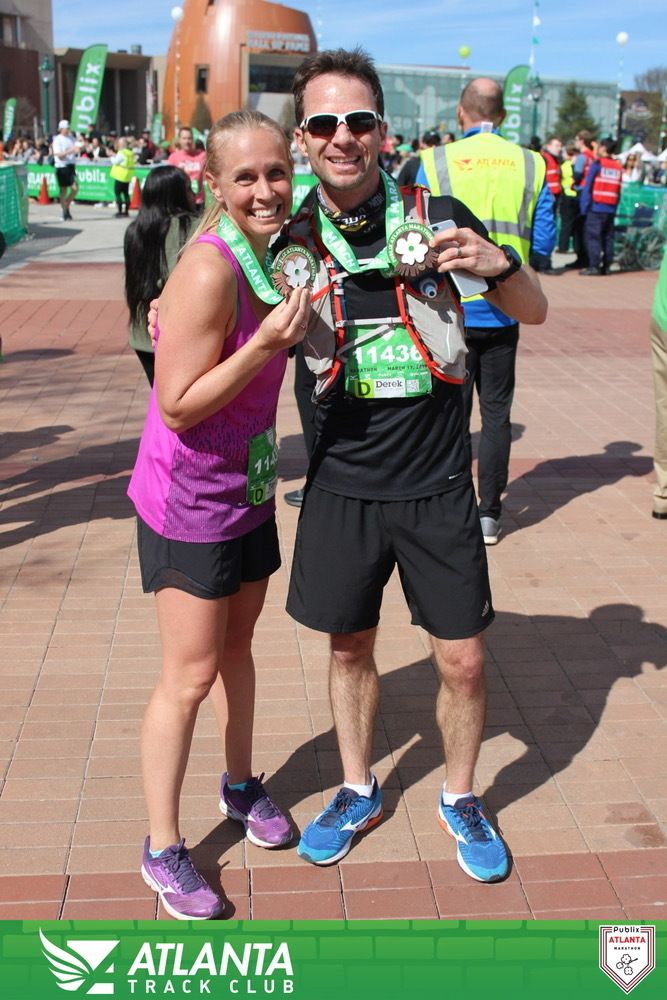 Training can be a bit unconventional given that Van Dam is on call at a moment's notice - he's been on site at every hurricane that has made U.S. landfall since 2014.
At the scene, Van Dam will often go on strategic runs to survey the terrain and scout safe locations for the team's coverage. Sometimes, he gets even more involved. In September 2015, Van Dam was on a crew that flew into the eye of Hurricane Joaquin in the Bahamas. While in flight, they received an S.O.S. message from the capsized cargo ship El Faro and headed to help with the rescue. They got so close to the water that Van Dam could count the whitecaps, but they never found the ship. Van Dam later learned that it sank, and that all 33 crewmembers had been lost.
Closer to home, balancing the rigors of early-morning broadcasts with the demands of parenting, Van Dam has remained steadfast in his commitment to health and well-being. His daily routine begins with a 3 a.m. alarm and he's at the CNN studios by 4:30 a.m. "I'm not running at that time, but I give a lot of props to the people who do. But no, my running happens after work." Favorite spots include the paved trails around Georgia Tech, Stone Mountain and Piedmont Park.
"Having green spaces to train around are important to me," he said.
Back in 2015, Van Dam did an investigative report on urban climate change showing that neighborhoods lacking trees - and thus shade for running - were up to 20 degrees warmer than adjacent areas boasting ample tree cover and green landscapes. As Atlanta's urban landscape continues to expand, that's a growing concern. However, said Van Dam, "There is hope: Plant more trees, especially at crosswalks," where pedestrians otherwise wait in the hot sun.
To feel the benefits of urban trees and green spaces, all he had to do was look around as he spoke. "Places like Centennial Olympic Park," Van Dam explained, "have a net cooling effect on the city itself."