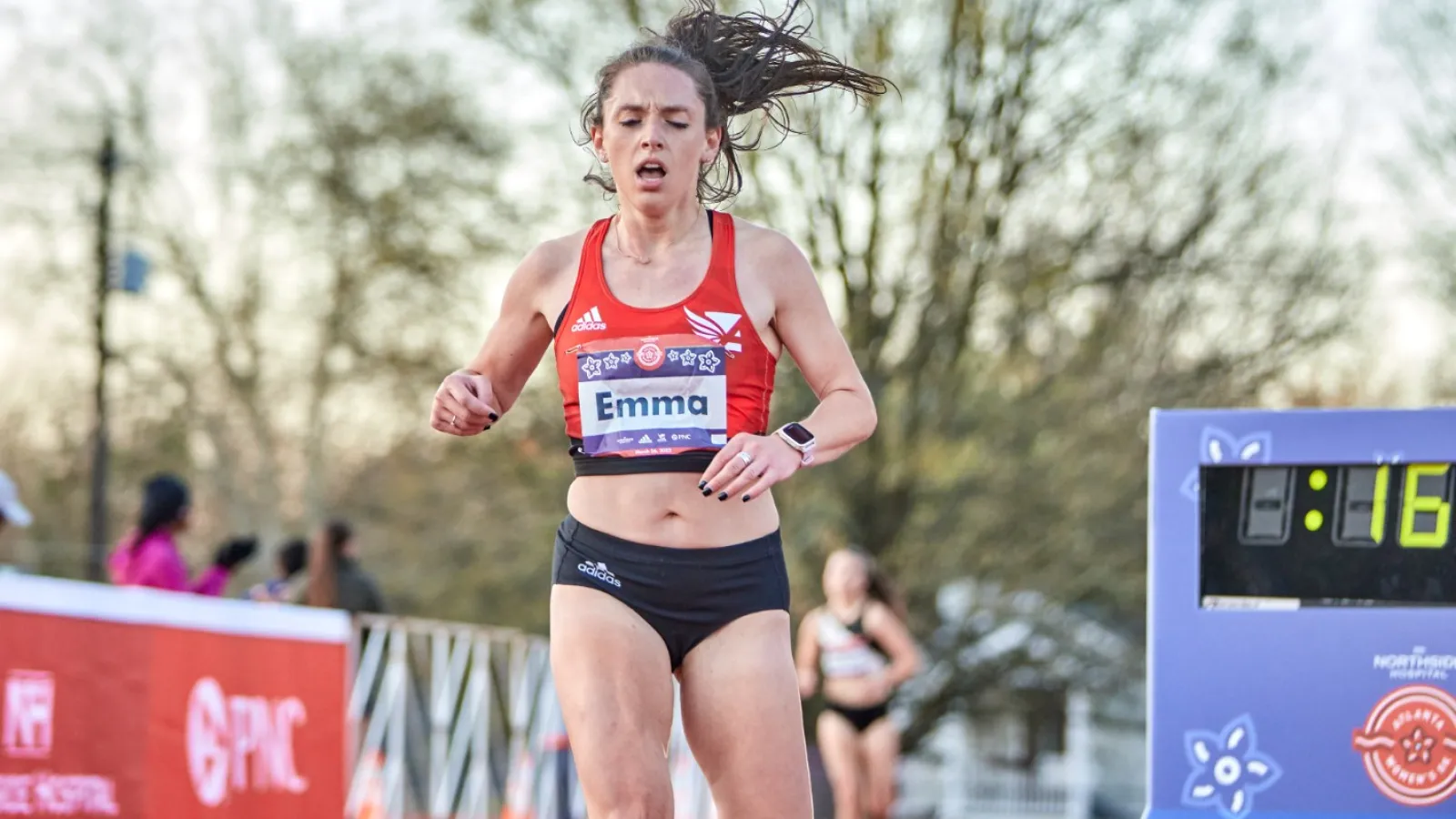 Greetings from Running City USA: Emma Grace Hurley
Earlier this month, Emma Grace Hurley of Atlanta Track Club Elite finished as runner-up at the USATF 15km Championships in Jacksonville, Florida. The only runner ahead of her? Emily Sisson, the American record-holder in the marathon and half marathon.
It was the latest success for a runner who has been a familiar face around Atlanta since her high school days at Fellowship Christian, where she was a three-time GHSA state champion and a Powerade All-Metro honoree. On Saturday, she will be part of the pro field that lines up for the Northside Hospital Atlanta Women's 5K. Registration is still open for the race, which finishes in Cheney Stadium - the warm-up track for the 1996 Olympic Games.
Hurley, 24, talked to Wingfoot Magazine about her season so far, why she started running and why she came back to it after taking a break after college.
What were your expectations going into the 15K championships?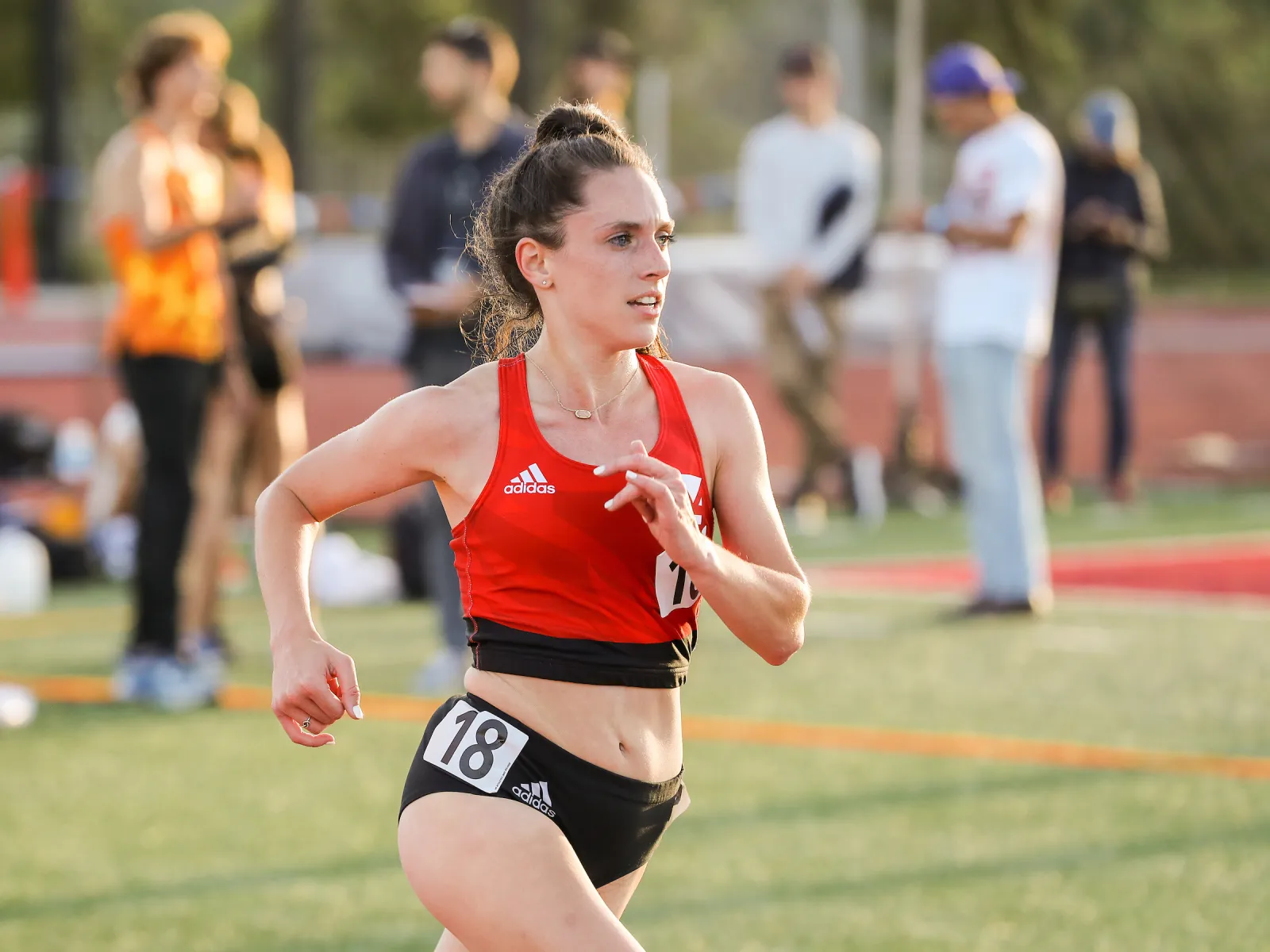 My only expectation was to try as hard as I could to hang on to whoever was in second for the first 10K and then race. So, the way it worked out (she found herself alone in second by 5K) was not really what I planned. But I felt so good that I almost couldn't help it. I was very surprised with myself.

Was everyone else surprised, too?


I think one of the great things about my coaches (Amy and Andrew Begley) is that they never really get too high or too low. They were kind of just like "OK, we told you we could do this. Good job." Don't get me wrong. They were excited. But the fact that they were so even-keeled about it assures me that it wasn't a fluke. It gives me the confidence that I can do it again.


Let's go to the very beginning. How did you get into running?


The P.E. teacher went up to my mom when I was playing intramural basketball in fourth grade and was like, "Hey, I'm the track coach. She should give this a try." I ran the 400 in fifth grade middle school track for her. She stopped coaching after my sixth-grade year and I kept running. But it wasn't until the end of volleyball season my freshman year, when I helped the cross country team out at a couple of meets, that I realized I really liked it. I didn't even consider myself a runner until then.


In addition to your other achievements at Fellowship Christian, you also hold the second-fastest 1600-meter and fourth-fastest 3200-meter times by a high schooler in state history. even though your high school wasn't a distance running powerhouse like some of the other big schools in the area. How did you stay motivated to perform at such a high level?

The summer after my freshman year, I went to running camp and roomed with three other girls from Class 1A Private schools. We got to be really good friends. A lot of the top runners in Georgia are really good friends as well as competitors. That was just the culture of high school running in Atlanta when I was there. I think it still is.

After Fellowship Christian, you went to Furman and through four years of college stayed relatively injury-free. That seems to still be the case. What's the key?

In high school, I think a lot of people overtrain − especially now, because they can see what the pros and college kids are doing, and they are going to try to go do it, too. But I started running at a time where we didn't really have that same level of visibility. I thought I was training really hard, but, in reality, I was maybe running 15 miles a week for most of my high school career. I just had such a gentle introduction to running. At Furman, we weren't a super high-mileage program, so I think I have always had really slow development. It's nice to kind of save the fun, really hard workouts for this stage of my career.


Why did you decide to stop competing after college?

My senior year, my big goal was to make NCAAs outdoors, but COVID canceled that season. So, I accepted doing invoicing for Insight Global (an IT staffing firm) because it was the most secure option. I didn't pursue the eligibility. Obviously, I was sad about not having that last outdoor season, but we didn't know what was going to happen.


Were you running at all?

For about 16 months I went on one run a week … maybe. I think it was really healthy for me. I think that I needed a good reset. It's definitely unconventional, but it worked for me personally.

What brought you back?

I started coaching at a high school (Marist School). I went to a bunch of early morning summer practices and would run with the girls and the head coach, Matt McMurray. He thought I had more to give. It ended up working out really well and I think 90 percent of my initial success is that he figured out whatever code needed to be cracked. All I really had to do was show up and not think too hard about what we were doing.


How did you end up on Atlanta Track Club Elite?

Eric Heintz (the Club's director of high performance), who had helped me out in high school a little bit, suggested we have a phone call. We talked about the elite team and jumping into some of their workouts. I fell in love with the team aspect, just having teammates around me again. My first pro race for the Club was the 2021 USATF Club XC Championships. It just went from there.

Among Atlanta Track Club Elite, you're the "hometown athlete." What does that mean to you?

When you're a high schooler, Atlanta Track Club gives you so many opportunities to meet each other and elite athletes. It's just really an honor to get to represent the Club in this phase of my career.

You've had a lot of success on the roads in the last year. Will you stay on the roads or go back to the track?

The plan right now is to have a road season for the next couple of months and then run some track races starting in May through USAs.

Where do you see yourself a year from now? Where do you see yourself four years from now?


I would love to stay focused on that 5K to half marathon distance over the next year and then move up. I am hoping to have my best days in the marathon in maybe the next five years. But right now, I'm just really enjoying those 5K, 10K and 15K distances right now.


What people have influenced you in your running journey?


Oh my gosh, this could take an hour! First, we have to talk about Janet Milton, the track coach when I was in elementary school at Fellowship Christian. Then, I had one track coach in high school who was there one spring who helped me to think big. He snuck me out of school to go to a meet in Disney World. We got in a little bit of trouble, but that's OK. Obviously, Rita and Robert Gary at Furman. I probably didn't do as well individually there as I wanted to, but it was everything I could have hoped for in a team experience. I also have to say all of my teammates there − Savannah Carnahan, Gabbi Jennings, Jen Stephenson, Grace Dwyer − those are some of my best friends. And Matt McMurray, who helped me get back into running. That was a real pivotal moment for me in my adult life. And of course, Andrew and Amy!

You work a full-time job at Banyan Hills Technologies and balance training as a professional athlete. What does your day look like?

On workout mornings, I wake up early, have my breakfast, go work for a few hours and then I'll go run and then I'll come and work pretty much a full day. I really like to have something that keeps my mind busy. I know it's unconventional to work a full-time job, but I wouldn't really have it another way. They give me so much flexibility.

Before we go, I need to know more about being snuck out of school to run a track meet at Disney World …

Our athletic department had a policy that you couldn't compete out of state. But the coach's daughter was a really good thrower from another school, and he was going to take her. So, he convinced my dad to meet him at the school on Friday and drive to Orlando. We got there at like midnight. My race was at 9 a.m. And then we went to Universal and then drove home all within 36 hours. The school was not super-thrilled.

But did you win the race?

Yes.




Stay connected and follow Atlanta Track Club's Elite team here.