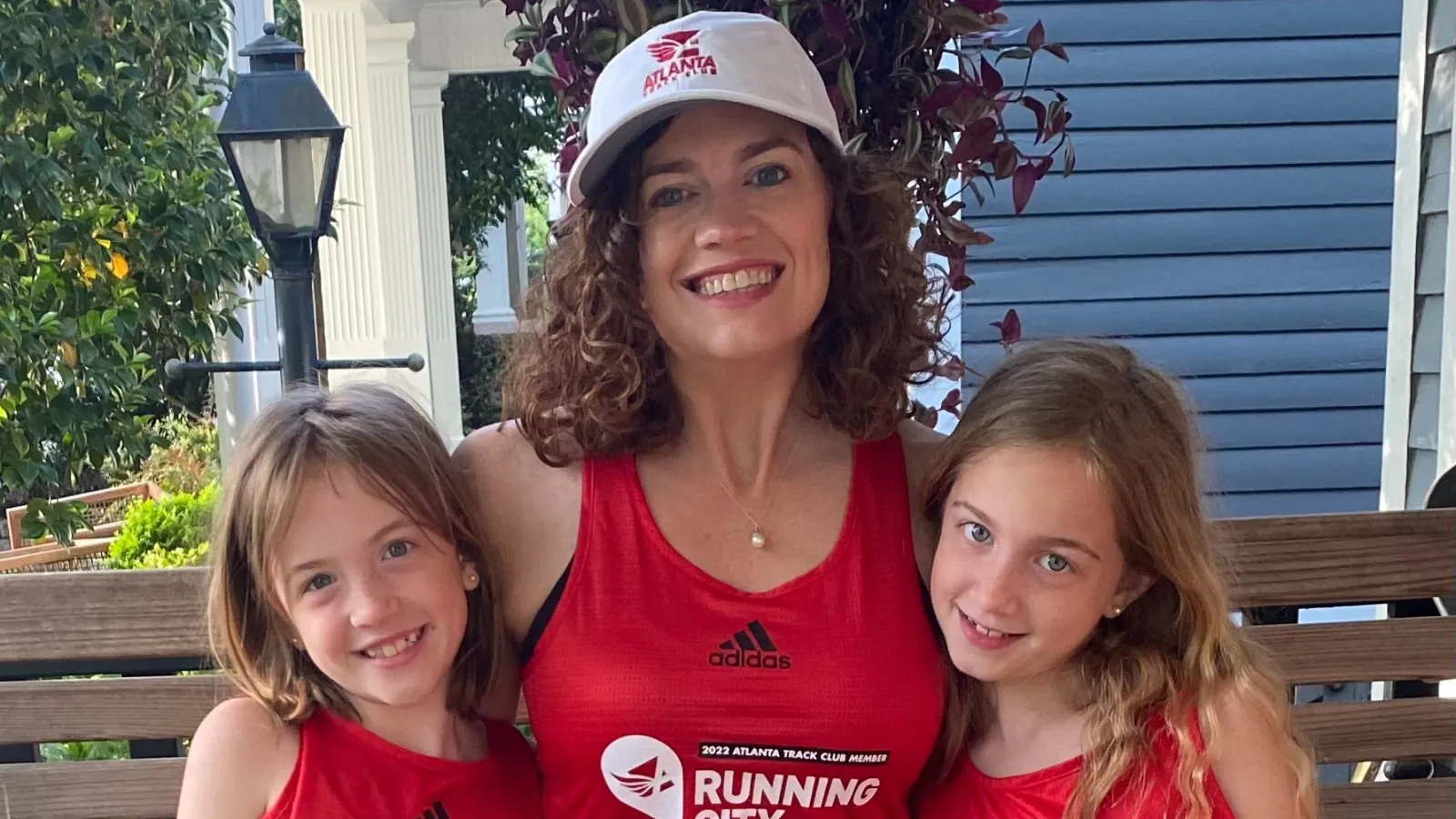 Immersed in the World of Running
By Denali Lerch
Sara Dewitt, a 40 - year - old financial adviser from Atlanta, has long included a few miles a week in her exercise schedule, but this year she threw herself into the world of running to take control of her life, health and mindset about getting older. Dewitt has also turned her running into a family lifestyle by enrolling her twin 8 - year - old daughters, Audrey and Eva, in Kilometer Kids. Dewitt's new favorite pastime stems from one race: the Peachtree. When a friend influenced her to register for the world's largest 10K, it led her down a rabbit hole of signing up for one race after the other, starting with the Publix Half Marathon - her first race ever. Now, her whole family will be participating in the Peachtree . As if Sara couldn't get luckier by be coming part of this community, she is also the recipient of the Club's giveaway from the Publix Marathon Weekend, winning $2,000 worth of gifts, tickets and more.
What inspired you to immerse yourself in the world of running? We've been here almost five years, and I see people running all the time so it's not like I didn't know there were a lot of runners. I didn't understand how many events and races there were, and how you can get involved in so many different aspects of the culture and it doesn't just have to be the races. My girls are loving Kilometer Kids at Piedmont Park, and this led us to doing other races as a family as well.
Why did you choose the Publix Half Marathon to be your first race? The months leading up to me turning 40 years old had me feeling like there was a lot in my life that I couldn't control, so when I went to Atlanta Track Club's website, it was to find information about the Peachtree because my friend told me how great it was. When I got to the web site, that's when I decided to become a member and registered for the Publix Half - even a month and a half out . Part of it was just wanting to go for it and do something so challenging and hard to see if I can do it. The weather wasn't great, but I still did it and I was so proud of myself.
What did you like about Publix Marathon Weekend, besides winning a massive giveaway? The Expo was so much fun. As a family, we had so much fun going to all of the stuff surrounding all of the events. I think that's what Atlanta Track Club does well - you make it about more than just the race, it's an entire experience. Peachtree is still five or six weeks away, but how are you feeling about it so far? I'm trying to do workouts when I can get them in. I don't really approach any of these races with a goal in mind except for simply finishing, not getting hurt and enjoying myself. So , I don't have anything in mind that I'm striving for - I just want to stay healthy and I want it to feel good.
What are you most excited for when it comes to Peachtree? Probably the people. It seems like that's the most fun part of it - Everyone's dressed up and having fun, so I want to experience that the most.
Why do you enjoy running? I like that it makes me feel strong and capable, like I can do anything. This article originally appeared in the May/June 2022 issue of Wingfoot Magazine.
Photo: Courtesy of Sara Dewitt