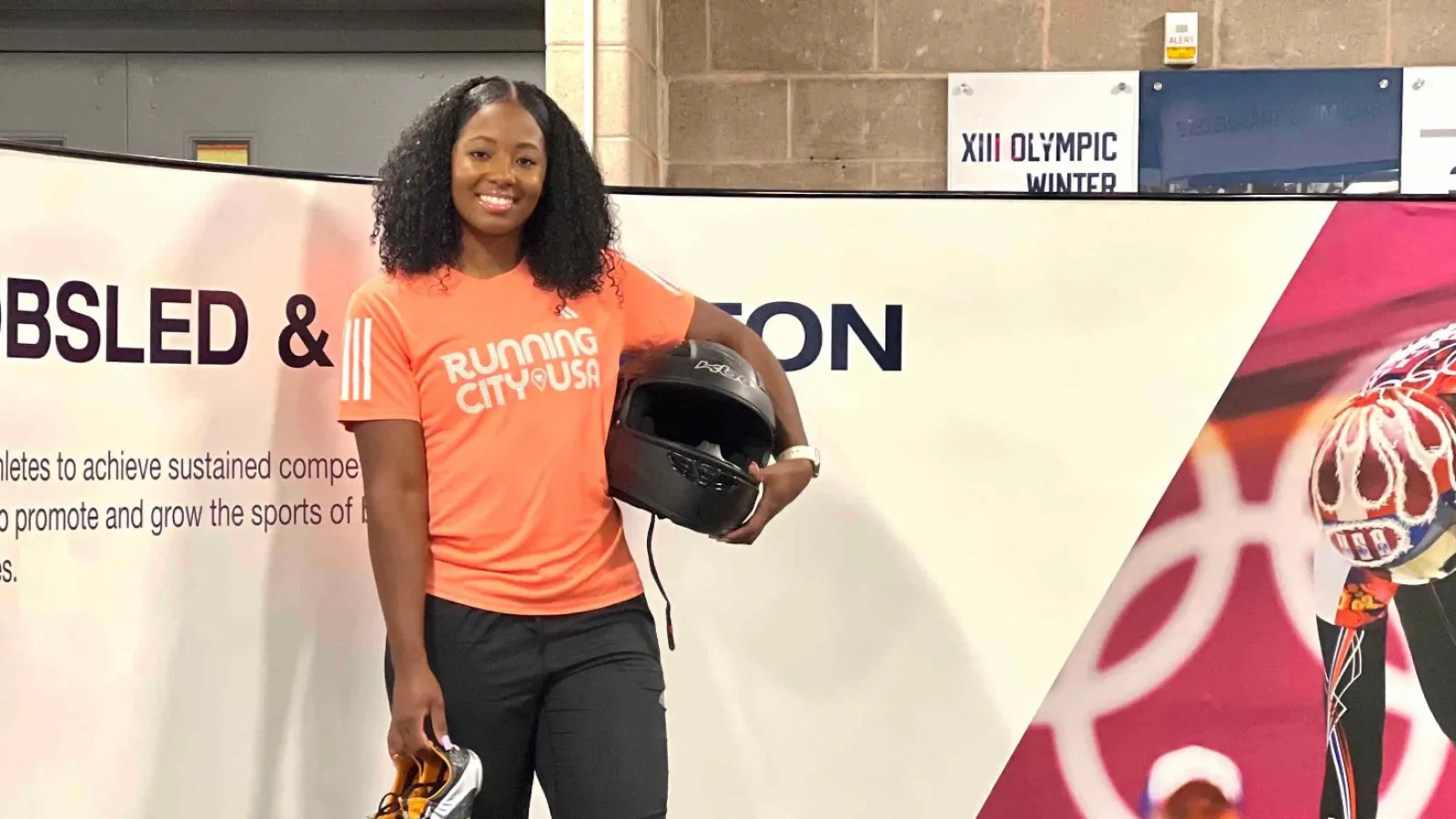 Greetings from RCUSA: Staffer and Bobsledder DeAndra Greer
A frequent podium finisher in USATF and AAU youth track events, including the Junior Olympics, Atlanta native DeAndra Greer was also a standout sprinter at Woodland High School in Stockbridge, Class of 2015, before going on to compete for the University of Tennessee-Knoxville, Indiana State and the University of Las Vegas-Nevada. Along the way, Greer earned an undergrad degree in sports management and a master's in higher education. She returned to Atlanta after college and in February became Coordinator of Volunteer Services for Atlanta Track Club - where she began running All Comers as a middle schooler. So how did this 26-year-old end up at a USA Bobsled/Skeleton camp this week?
First, what made you want to work for Atlanta Track Club?
The brand is very popular in Atlanta, and even outside of the city. People know the Peachtree on July 4, and they know what Atlanta Track Club stands for. I'd heard only good things about them.
What in particular interested you about joining the Volunteer Services department?
I enjoy working with groups of diverse individuals, meeting new people and learning about their different backgrounds. Plus, I wanted to help increase the visibility of the Club through volunteerism. Natalie (Cabañas, Director of Operations and Administration) and Kristin (Lide, Manager of Volunteer Services) were amazing when I came to interview and the company culture was one I wanted to buy into.
So how does bobsled fit into this?
It's actually a funny story. I was working at the adidas Atlanta City Games, fresh out of a back brace I'd been wearing for two months after a car accident. As I was walking across Centennial Olympic Park to meet a driver delivering food for the volunteers, a man stopped me to ask what was going on. After I explained about the City Games, he asked whether I ran track. I said yes, in college. It turned out he was Lenny Kasten, general manager of USA Bobsled/Skeleton, who just happened to be in Atlanta that weekend. "Well, we're recruiting," he said. "Are you interested?"
Just like that?
Yes. He took my contact information and after a back-and-forth they invited me to a rookie camp for brakemen in Lake Placid. It happened to fall during the week off we get after Peachtree, so I said "Yeah, I'll come up." I went, and got invited back to a development camp, where I am now, and a performance camp next week before the push championships at the end of the month to determine whether I'll be on the national team or the development team. The national team will compete in the World Championships in 2024, and we're all considered Olympic hopefuls for 2026.
Wow. What's the hardest part about learning the sport?
I probably haven't even gotten to the hardest part yet! But so far, it's running downhill on the ice. That's not something you do as a sprinter on the track. As far as the mechanics, though, I'm surprised at how similar pushing is to sprinting. It's exciting to be learning something new, but it's also kind of familiar.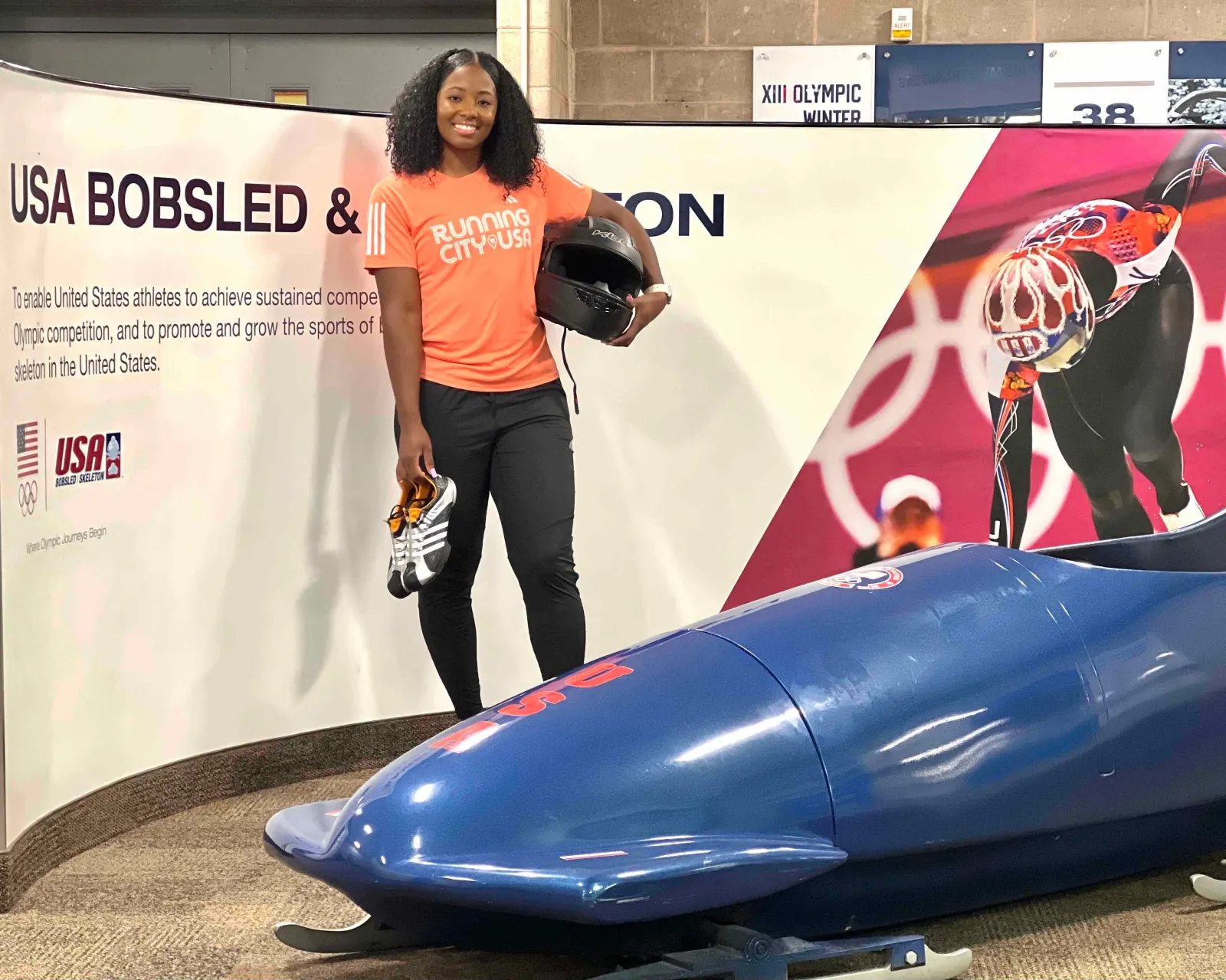 Did you know anything about bobsled before you started this journey?
Very little. One of my close friends and former track teammates at UNLV, Kaysha Love, made the 2022 Olympic team in the two-man bobsled, but even so I didn't know how it worked. She's been giving me pointers and helping me navigate the sport.
Have you done a complete run yet down the bobsled course?
At rookie camp, we did a run called the "bobsled experience," on wheels. Even that was an adrenaline rush.
Are you able to keep working for the Club while you're in Lake Placid?
I'm working remotely three days a week and taking personal time the other two. Everyone here is juggling work and whatever else they have going on with training. The Club has been so supportive. Everyone is like, "I'm your biggest fan!"
What's it like living at the Olympic Training Center?
You're surrounded by all these top athletes: World Champions, Olympic medalists, all driven and focused on their craft. It's a good place with good energy.
Do you ever stop and shake your head about how you got there?
Oh, absolutely. I mean, I was just going to pick up pizza for our volunteers. This is so random. But I like it!