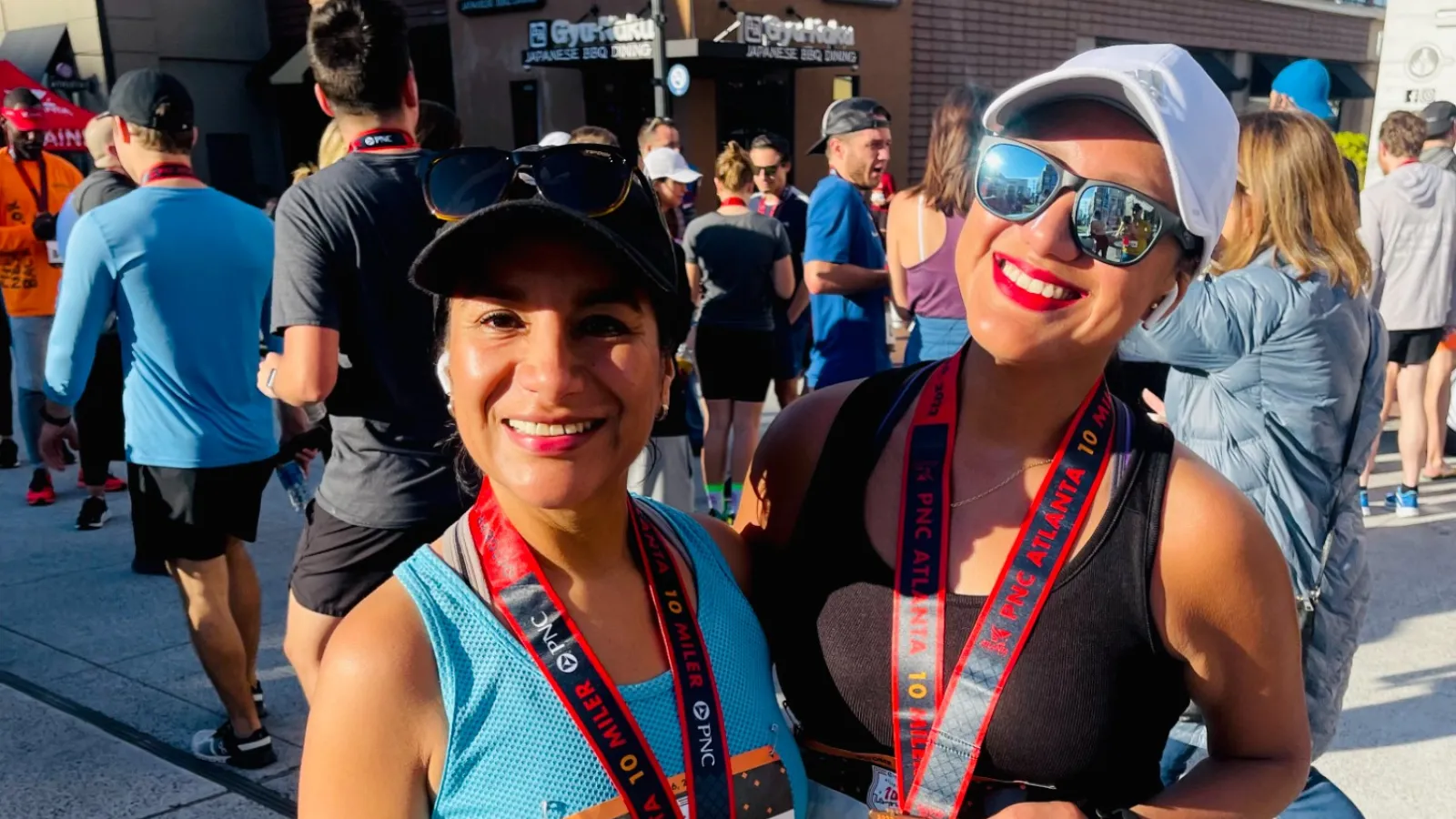 Greetings From Running City USA Marjorie Flores
In 2010, when she was 21, Marjorie Flores made a life-altering decision, leaving her homeland of Ecuador to join her mother and brother in Atlanta. Her journey was fueled by the desire to be close to her family and pursue educational opportunities. Little did she know that a chance email would set her on a path that would transform her life and inspire others. That email would also be the catalyst that pushed her to go beyond her boundaries in other ways. Fast forward to today, when Flores is not only a project manager for PLZ Corp but enjoys participating in endurance activities.
When did you first start running?
In 2014, Crystal Springs [which provided water for that year] was doing Peachtree Road Race bib giveaways through random email drawings, and I actually won a free entry. I'd never run before, but I looked up running programs online to start my training.
After you ran your first Peachtree, how did you become more involved with Atlanta Track Club?
I became a member in 2014 and I started participating in various races, such as the Decatur Dekalb 4 Miler, and I just never stopped. As of today, I've completed over 65 events with Atlanta Track Club.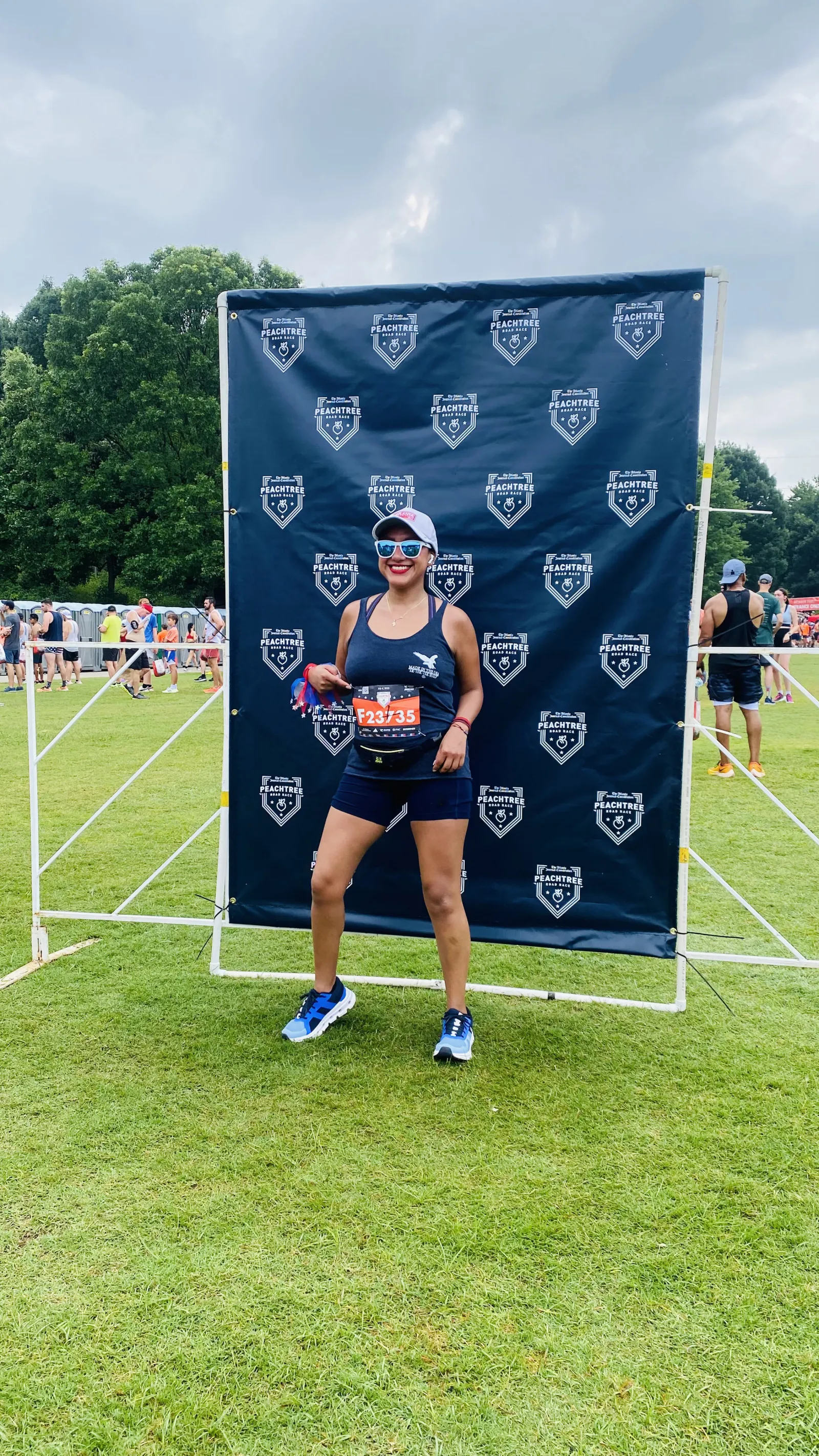 Have you faced any significant challenges in your running journey and, if so, how did you overcome them?
When I first came to this country, I didn't know how to speak the language and that was tough. I started working full-time, went to school part-time, and I also trained for races.
What's your current typical training schedule?
My training includes running three times a week, kickboxing and strength training. Listening to my body and proper fuel and nutrition go a long way. After running for eight years, in 2021 I wanted to challenge myself and participate in a sprint triathlon. I signed up for the Five Star Triathlon Championships, and that type of training was extremely different despite being a runner.
How did you train yourself for your first triathlon?
It was tough. I started incorporating bike rides and swimming into my weekly schedule. During the weekends I attempted duathlons, combining bike rides with running or swimming with bike rides to become accustomed to the sports and transitions. I had to work on improving my breathing and my legs often felt weak after training. It paid off once I saw my family at the finish line. I felt a sense of accomplishment.
Do you have any specific running goals?
One of my dreams is to run a half marathon in all 50 states. I've completed one in Florida, Texas, and Tennessee, and ran the Publix Atlanta Half Marathon.
How does your Latino heritage influence your approach to running and fitness?
Most of my determination comes from my grandmother, whom I like to call "Mamita." She taught me the importance of resilience, staying true to myself and fighting for my dreams. The connection that I have with my family is so important, so I try to spend time with them every weekend. They push me to be better.
How do you see your involvement with Atlanta Track Club positively impacting your community or others?
I didn't know that my mother was watching me as I trained for races. She decided that she too should start running, so now she participates in some of Atlanta Track Club races as well. I also have cousins in Argentina who decided to sign up for a community 5K in their city. I joined Atlanta Track Club because of its diverse community. When I'm running a race, I always see so many different faces and we all encourage each other, even once we pass the finish line.
Do you have any advice for new runners?
I tell people all the time to step out of their comfort zone and try something new. It's your race, it's your life, it's your time!