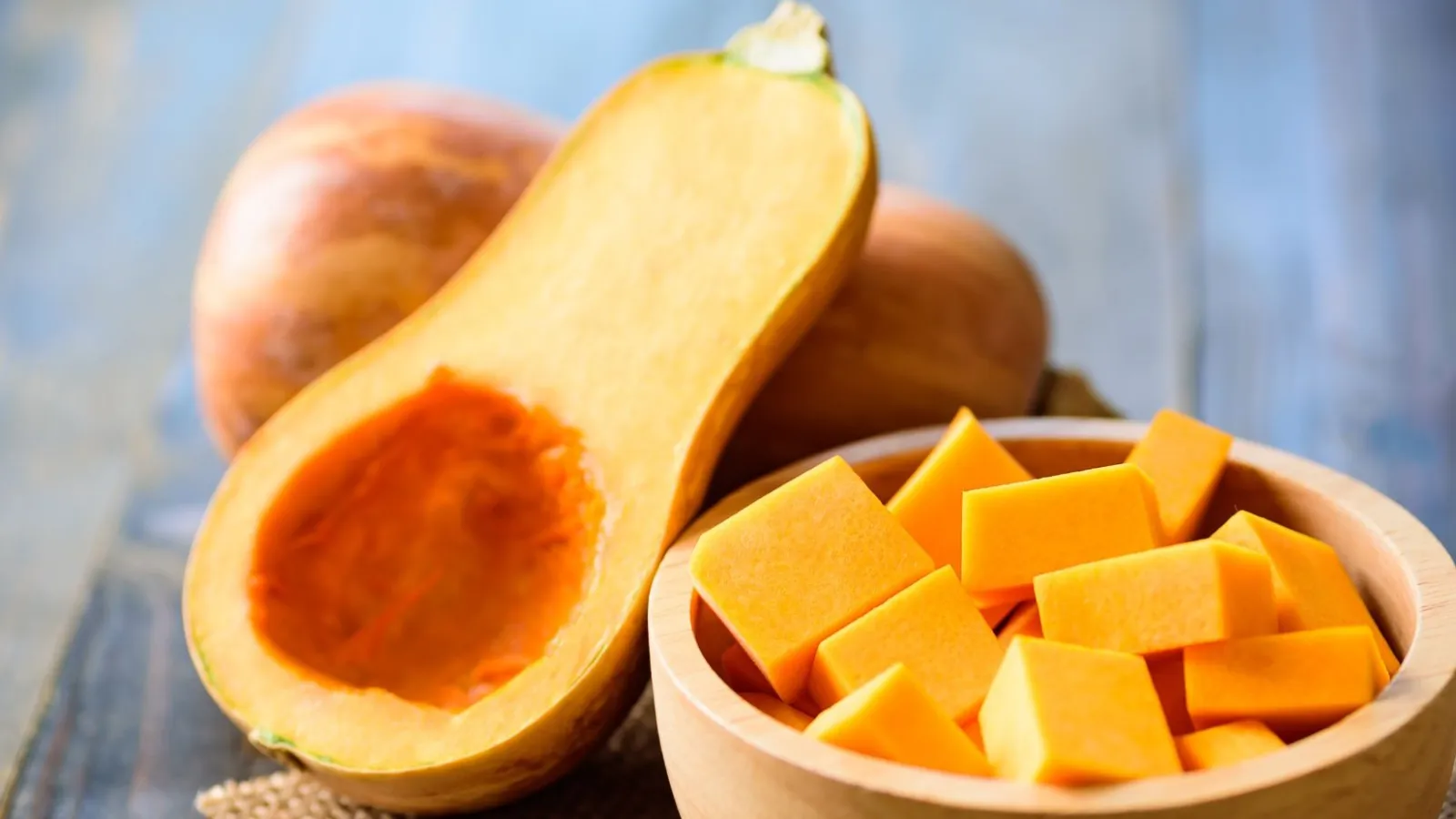 Ask A Dietitian - Squash: Healthy, Versatile & In Season Now
By Alissa Palladino MS, RDN, LD, CPT
Eating seasonal produce means better flavor, more nutrition, less environmental impact and an opportunity to try new foods. In addition to fall favorites like apples and pumpkins, several varieties of squash are in season now, and each has its own taste, texture, health benefits and ways to prepare.
Butternut Squash
Butternut squash is a favorite with good reason! This medium-sized, beige gourd is easy to spot at the farmers market and grocery stores due to its unique shape, thicker and rounded on one end. Like other orange-pigmented produce, butternut squash is rich in beta-carotene, a powerful plant compound that plays key roles in the body from eyesight and bone health to immunity and cancer prevention. It also contains the runner-friendly minerals potassium and magnesium, and electrolytes.
Naturally sweet with a mildly nutty flavor, butternut squash is easy to prepare in the oven with a bit of olive oil, salt and pepper. Cubed, roasted butternut squash makes a simple, tasty side dish on its own or along with other vegetables such as cauliflower, carrots, sweet potatoes, turnips or onions. This recipe turns the squash into a satisfying, savory soup.
Roasted Butternut Squash Soup
Ingredients:
• 1 butternut squash (about 3 lbs.)
• 2 Tbsp. olive oil
• 1 large yellow onion, chopped
• 4 garlic cloves, chopped
• 3 to 4 cups vegetable or chicken broth
• 1 tsp. brown sugar
• 1 tsp. cinnamon
• Salt and pepper, to taste
• 2 Tbsp. chopped fresh sage and/or rosemary
Instructions:
Preheat oven to 425 degrees. Line a sheet pan with parchment paper. Cut squash in half lengthwise and remove seeds. Coat flesh with 1 Tbsp of olive oil, plus salt and pepper. Lay on the sheet pan, flesh facing down. Roast for 30-40 minutes. Meanwhile, heat the other 1 Tbsp. olive oil in a large soup pot over medium heat. Add the onions, stirring about 3 minutes until softening and browning occurs. Add the garlic and cook until fragrant, about 1 minute, stirring frequently. Remove squash from oven and scoop out the flesh. Remove and discard the skin. Allow to cool slightly, then add to a blender along with the onion/garlic mixture, brown sugar, cinnamon, and 3 cups of broth. Blend ingredients. If using a smaller blender, work in batches. Add up to 1 cup of additional broth to achieve desired thickness. Remove from blender. Reheat in the soup pot on the stove before serving. Divide among 4 bowls. Garnish with fresh sage and/or rosemary.
Spaghetti Squash
If you've ever seen the inside of a spaghetti squash, you understand how this nutrient-rich, versatile fall squash got its name. On the outside, it's a large, oval shape with a hard, yellow shell. It has a mild, neutral flavor that lends itself to a variety of preparation methods and boasts an impressive nutrition profile.
Spaghetti squash is high in vitamin C, an antioxidant that prevents free radical damage, supports the immune system and promotes collagen production for healthy hair, skin, tendons and bones. It also contains B vitamins, involved in metabolism and energy production, and is a good source of dietary fiber, which helps reduce risk for diabetes, cardiovascular disease and certain types of cancer.
There are many easy ways to prepare spaghetti squash, including baking, steaming, prepping in a slow cooker or even nuking in the microwave. Most recipes call for first cutting it in half lengthwise, removing the seeds and, once cooked, using a fork to shred the flesh. Given its similarity to the pasta for which it is named, spaghetti squash can be subbed into traditional Italian-inspired dishes. (But not the night before a long race, because spaghetti squash is relatively low in carbs!)
Spaghetti Squash Lasagna
Ingredients:
• 1 spaghetti squash (about 3 lbs.)
• 1 Tbsp. olive oil
• 1 small (or ½ large) yellow onion, chopped
• 2 cloves garlic, minced
• ½ lb. lean ground turkey, beef or plant-based crumbles
• 2 cups marinara sauce
• ½ cup ricotta cheese
• ¼ cup shredded mozzarella cheese
• ¼ cup parmesan cheese

Instructions:
Pre-heat oven to 400 degrees. Slice squash in half lengthwise and use a spoon to remove seeds. Brush flesh sides of squash with oil. Place squash flesh side down on a parchment-lined baking sheet and bake for about 30 minutes, or until tender. Meanwhile, cook the ground meat or plant-based alternative along with onions and garlic in a large skillet over medium heat. Stir frequently for about 10 minutes or until meat is thoroughly cooked. Add the marinara sauce and simmer for an additional 10 minutes, stirring occasionally. Remove from heat. In a separate bowl, combine the ricotta, mozzarella and parmesan cheeses. Remove baking sheet from oven, flip over the squash halves, and use a fork to shred the flesh. Top each half with a layer of the cheese mixture, a layer of the meat/marinara sauce, followed by another layer of the cheese mixture. Bake for 15-20 minutes or until cooked through. \

Acorn Squash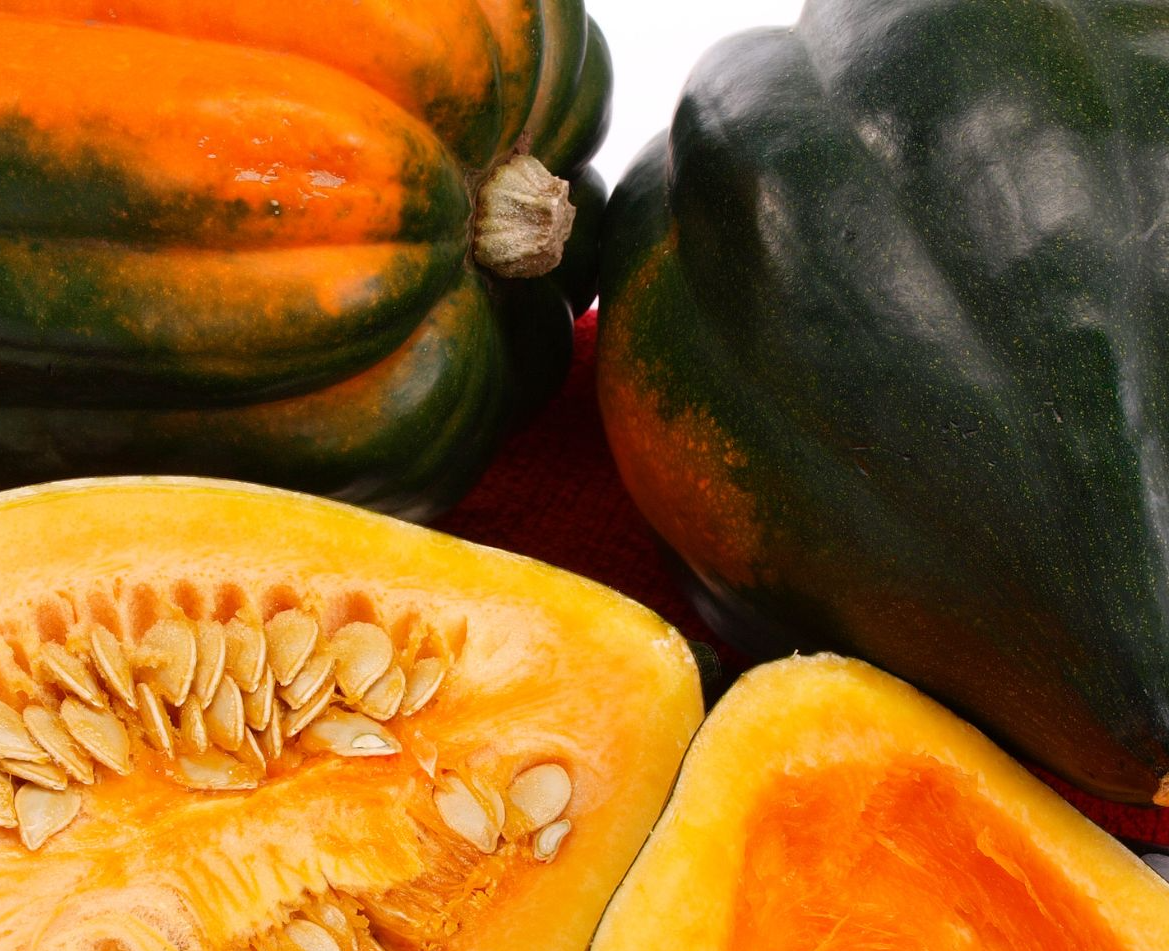 Acorn squash has a slightly sweet, nutty taste and a hearty texture similar to pumpkin. It owes its name to its outside appearance - a hard, round, dark green shell with curvy edges that resembles an acorn. Due to its tough exterior, the hardest part is cutting into it. A sharp knife, a stable cutting surface and softening it in the microwave for a few minutes can help. Remove the seeds before cooking and eating but save them if you'd like and roast them separately for a crunchy, nutrient-packed snack.

Like other varieties, acorn squash is high in vitamin C (a powerful antioxidant), B vitamins (especially riboflavin), beta-carotene (the plant form of vitamin A) and dietary fiber (which helps regulate blood sugar and cholesterol levels.) It also contains iron, an important mineral for runners that assists with red blood cell production and oxygen delivery to muscles during exercise.

While acorn squash can be prepared in a variety of ways, the simplest and arguably most delicious is to roast it in the oven, a process that brings out its natural sweetness and softens the skin, making it edible or easy to remove if you prefer.
Maple Roasted Acorn Squash

Ingredients:
• 1 acorn squash
• 2 Tbsp. olive oil
• 2 Tbsp. pure maple syrup
• Coarse sea salt, to taste
• Fresh sage (optional)

Instructions:
Preheat oven to 425 degrees. Line a sheet pan with parchment paper. Cut acorn squash in half from top to bottom. Scoop out the seeds and remove the stringy part of the flesh from each half using a spoon. Place squash halves, flesh side up, on the sheet pan. Drizzle with olive oil and maple syrup, using hands or a brush to coat. Sprinkle with sea salt. Roast for 20-40 minutes, until desire softness and browning. If you like, top with fresh sage before serving.

Alissa is an Atlanta-based registered dietitian nutritionist and certified personal trainer dedicated to helping people optimize health and athletic performance by harnessing the power of nutrition. Alissa currently offers virtual and in-person nutrition consultations, meal planning services and metabolic testing. Learn more at alissapalladinonutrition.squarespace.com or contact her at apalladinordn@gmail.com.
This article originally appeared in the November 2022 issue of Wingfoot Magazine.