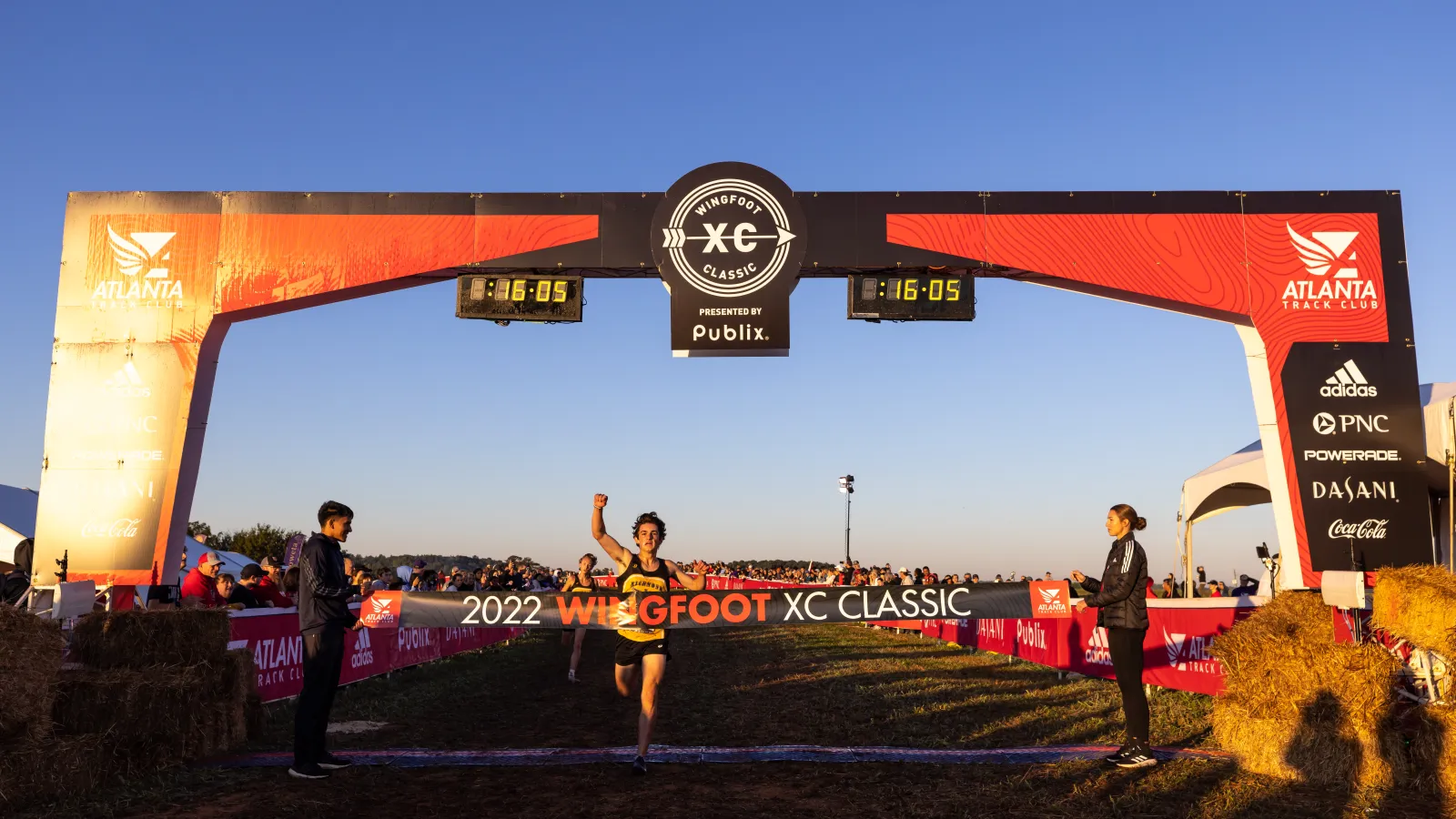 Wingfoot XC Classic presented by Publix: Varsity Race Preview
Two days of racing at the Wingfoot XC Classic Presented by Publix kicks off at dusk on Friday before resuming at dawn on Saturday, when the Varsity A teams will be looking to soak up some of the energy still in the air from the previous night's Championship finale.
In the boys race, neither of last year's top two teams, Dalton and Cambridge, is returning, leaving the door open for a new team to claim the title - McIntosh and Richmond Hill, third and fourth last year, are the top teams coming back. Also, with some of the top teams such as Cartersville and Pope racing their top runners in Friday night's Championship race, the Varsity battle becomes even more interesting.

McIntosh has not shown it will be a factor for the top team spot, but Richmond Hills could be in the mix. Its top two runners, Memphis Rich and Noah Sybert, finished first and second last year. Both are now seniors and will likely once again be up front. Richmond and Sybert each raced only twice this year, but were competitive in both events and clocked times well under 16:30. Richmond Hill's third runner, Carter Dieterich, is about a minute behind the top two, but they will need a strong finish from their fourth and fifth runners to hang on for the win.

That's where Lowndes High School out of Valdosta has the advantage. Their top two boys, senior Toshiya Bass and sophomore Jack Sorensen are as good as Rich and Sybert, and their next three might not be as far behind as the Richmond Hills trio. At last weekend's Deerfield-Windsor Invitational in Albany, Lowndes put four runners in the top 10 and scored just 44 points to win the meet.

Newnan High School could also sneak onto the podium. The team lacks a runner who will contend for a top position, but their spread is tight. While they were beaten by Richmond Hill at the OrthoWest Invitational, they performed well at Bob Blastow with just 1:06 between their first and fifth runners. Then, at last week's Coweta County Championship, they put all five runners in the top 10.

Evans High School is in nearly the same boat, but the gap between four and five has been massive the last two meets. At the OrthoWest Invitational in Carrollton, it cost them 125 points. That kind of spread in Cartersville will keep Evans out of the picture.

Adam Lippe, a senior at Westminster Schools of Augusta, is the clear favorite to win the individual race, and a strong performance from the four runners behind him could put his team in the hunt as well. Lippe finished second in the Varsity B race at Wingfoot last year, but he has improved dramatically in 2023. He's won four of his five races, clocking 15:29 at the Heathwood Hall Highlander Invitational in Columbia, South Carolina, earlier this month. Westminster's second runner, sophomore Lucas Johnson, will also be near the front, having run 16:01 at Heathwood Hall to take fourth. Based on this year's results, Johnson and Lippe will have to wait at least a minute before their third runner joins them at the finish. At Wingfoot, that might be too much time, with too many runners ahead of them.

Lippe and Johnson will have company in seeking the top spots. While those two have had statistically much better seasons, Forsyth Central senior Noah Anderson beat both of them at the Jekyll Island Invitational earlier this month. Anderson is coming off a 16:06 personal best last week at the Fleet Feet Warpath Invitational.

The podium picture is much clearer in the girls Varsity A race: It's likely to be a battle between McIntosh and Wesleyan High Schools for the win. Third place, on the other hand, is wide open.

Like some of the boys schools, McIntosh lacks a significant standout. What makes them dangerous is their pack. At the Southern Showcase in Huntsville last weekend, only 36 seconds separated their top five. At the Starr's Mill Panther Invite, it was just 43 seconds. If they can stick together that well in Cartersville, they will be tough to beat.

Wesleyan has the best chance and it's because they follow the same model. They were just seven points behind McIntosh at last week's Southern Showcase with an incredible 22-second spread. Earlier in the month, Wesleyan won the Big Peach Mustang Stampede in Acworth by placing all five runners between 6th and 14th place.
Etowah, Richmond Hill, and East Coweta will all be vying for third. Etowah has a strong #1 in Abbie Kallbreier, but the gap between first and second is steep. Etowah was 75 points behind Wesleyan at the Mustang Stampede. They probably can't overcome that, but they can find their way to the podium if at least one other runner in their pack steps up.
Richmond Hill is the defending team champion of the Varsity A race. Their top runner, freshman Julia Anastasio, is among the favorites to win the individual race, having run 19:12 for second place in the OrthoWest Invitational on the State Meet course in Carrollton. It's the only race the varsity girls have run as a team this season, so it's tough to judge how strong their top five will be. They don't have the tight spread of Etowah, but a couple of top 20 finishes could be an equalizer.
Finally, East Coweta is coming off a dominant win, scoring 28 points at the Coweta County Championships. But in large races, they haven't been able to stick close enough together to make an impact. When they last faced Richmond Hill at OrthoWest, East Coweta was bested by 153 points. They'll have to count on momentum from last week to put them on the podium.
While Anastasio is a top contender for the individual race, she'll have competition from several other girls who have run in the low 19s this season. At the top of that list is Armuchee senior Marissa Kimple, who was just two spots behind Anastasio at OrthoWest. Her season is just getting started but last year she broke 19 minutes six times, including a 17:52 personal best at the notoriously fast Coach Wood Invitational. She was runner-up in the 1A race at the state meet. Lowndes junior Kendall Johnson comes to Cartersville after a breakthrough race at the Deerfield-Windsor Invitational, where she finished second and lowered her by 1:16 running 19:11.

You can track live results of the Championship races on Friday, September 22 by clicking here. Follow along on our social media channels for live coverage of the meet both days.