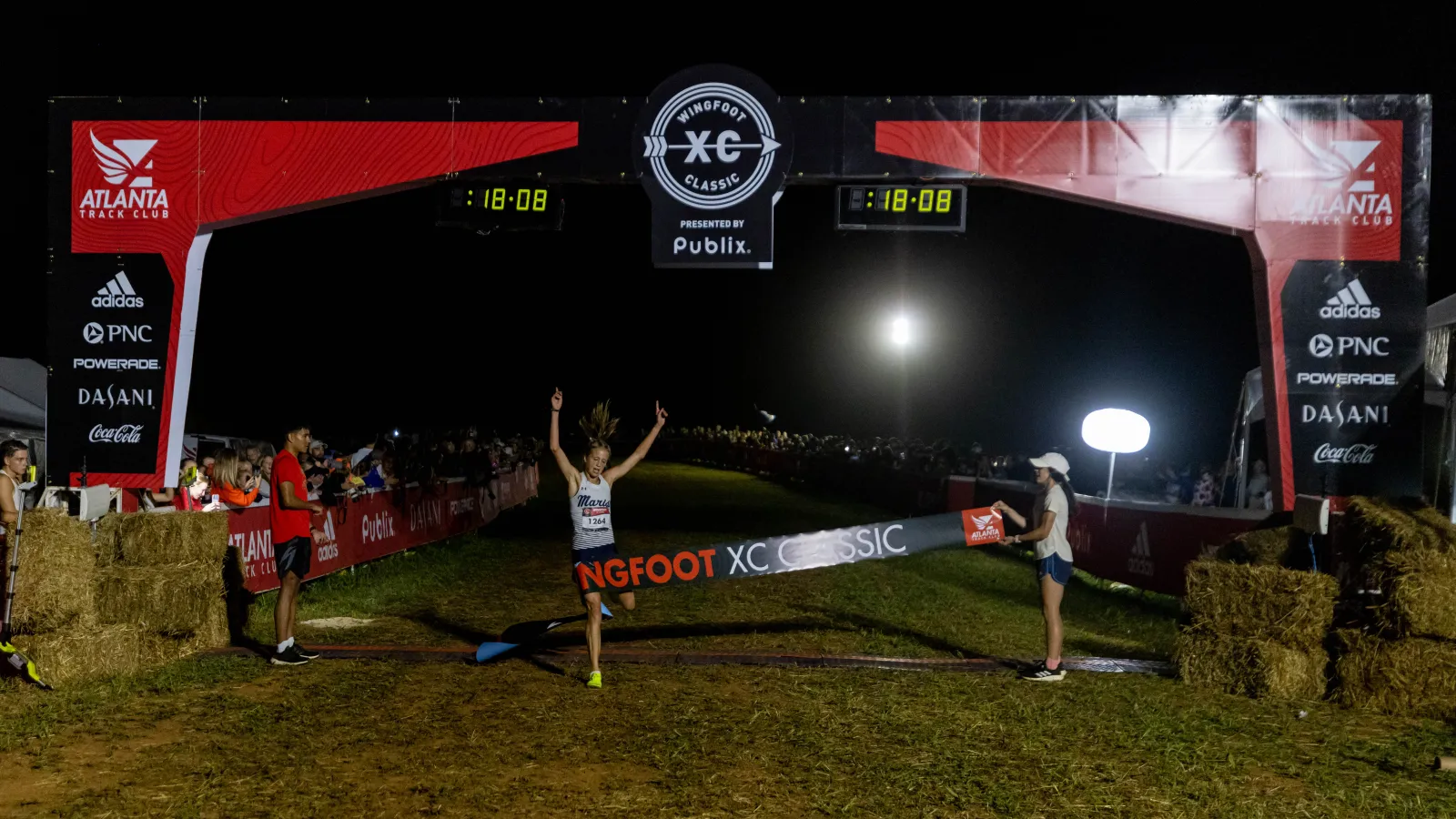 Wingfoot XC Classic: Championship Varsity Preview
The Wingfoot Cup left Georgia last year for the first time, and Georgia's top cross country teams want it back.
Marist School, winners of the 2021 Wingfoot Cup at the Wingfoot XC Classic Presented by Publix, come in as the odds-on favorite to reclaim the Cup, which is awarded to the team that has the best combined score in the girls and boys Championship Varsity races. But as is always the case at the Southeast's most competitive and exciting cross country meet, now in its eighth year, the War Eagles won't have it easy.
In the girls race, Marist boasts two-time defending Wingfoot XC Champion Ruby Little. Little, who has committed to compete for the University of Arkansas next year, ran 17:52 for the victory at the Starr's Mill Panther XC Meet on September 2. Little knows the Wingfoot course and she and her teammates are well-rested, with Starr's Mill the varsity squad's only race of the year. The Marist girls took third at Wingfoot last year coming in behind Auburn (AL) and Brentwood High School (TN), neither of which returns. Still, to take the top team spot Marist will need strong performances from two freshmen: #2 runner, Caroline Rogers and #5 runner Megan Latham.
When Little won her first Wingfoot title in 2021, it was with a sprint finish against Pace Academy's Caroline Hood. Hood missed the race in 2022 with an injury, but she's back to form in 2023 and coming to Cartersville after posting a state-leading time of 17:42 at the Southern Showcase in Huntsville, Alabama, last weekend. Hood could also lead her team to its first Wingfoot title. Pace's top five averaged 19:03 at the Southern Showcase, and it was the top Georgia team in the meet. While the Huntsville course is known for being a racetrack, Pace also ran well on the much-tougher Carrollton course. There, they took second at the OrthoWest Invitational. Hood won the individual title, but the team will have to tighten up its spread of nearly three minutes to win Wingfoot.
The unknown in the team competition is Tennessee's Nolensville High School. Nolensville has been a mid-pack team so far this season, but their top runner, junior Claire Stegall, is set to make her season debut at Wingfoot. Stegall was the state's top-ranked runner in 2022, winning the state title and running 17:08, the 12th-fastest time in the United States last year. With a healthy Stegall in the mix, Nolensville will jump into contention for the team title.
While Little, Hood and Stegall lead the list of favorites to break the tape, a strong race from Creekview's Katelynn Dollar or Dunwoody's Claire Shelton could put either one on the podium. Both seniors are running as individuals. Dollar was just two spots behind Hood at the Southern Showcase, and her 17:58 is tied for the fourth-fastest time in the state this year. Shelton also ran 17:58 this last weekend, to win the Warpath Invitational by 37 seconds. This will be Shelton's first appearance in the Championship race. She won the Varsity A race in 2021. And Bleckley County High School sophomore Ella Gibbs should be near the front too. Gibbs ran 18:01 to win the Dolphin Dash Invitational in Florida. She was fourth at OrthoWest and last weekend she won the Southern Georgia XC Championships by 1:43.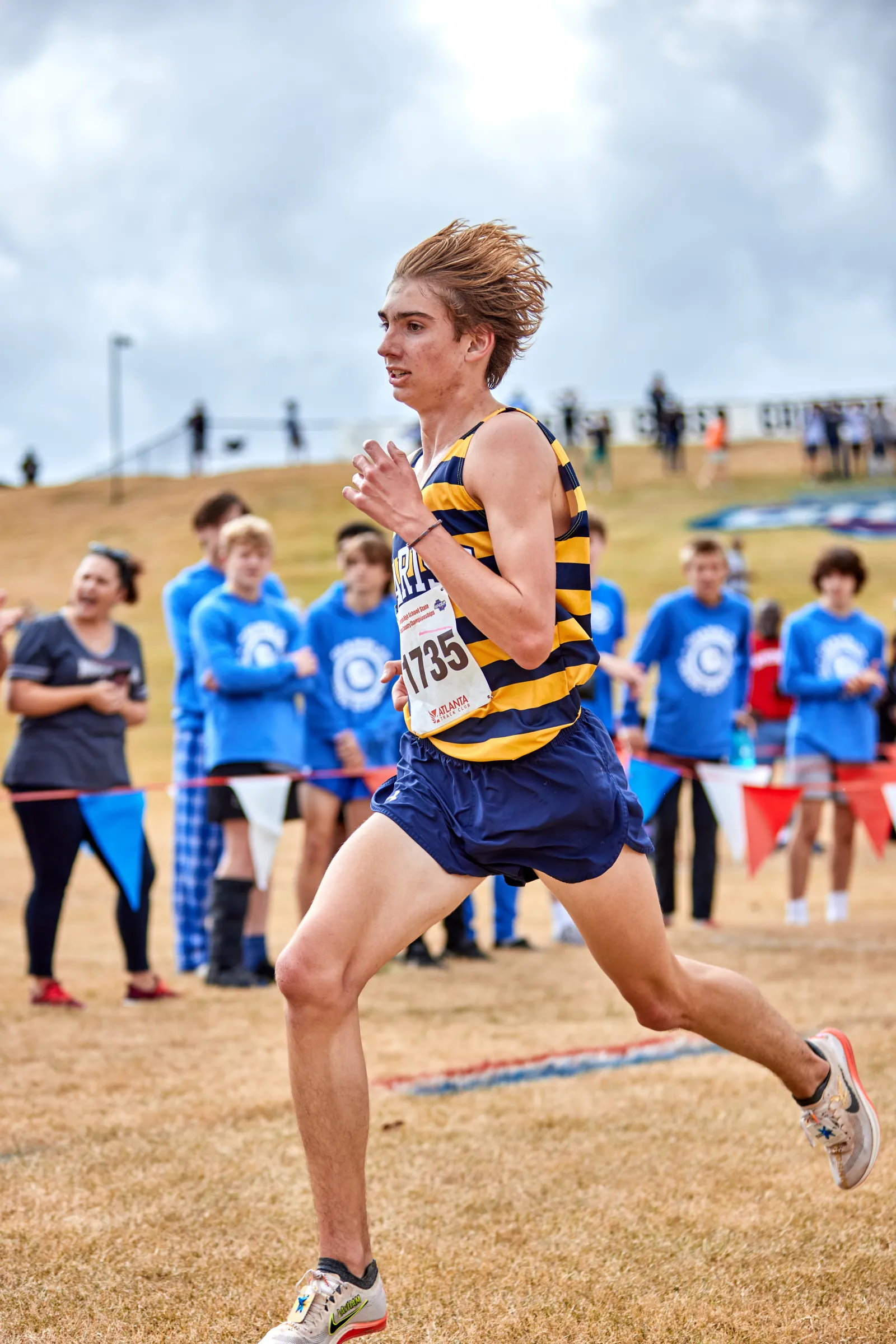 In the Championship boys race, Marist junior Tommy Latham is by far the favorite to take the title, but he'll need a big hand from the War Eagle's next four runners to win the team title. Latham, third at the 2022 Wingfoot Classic Presented by Publix, ran a new personal best of 14:41 at the Southern Showcase last weekend. It's 2023's fastest time in the state by 28 seconds. Latham also ran 14:54 to win Starr's Mill earlier this month. Marist's second runner, Liam Hanemann, will need to bounce back at Wingfoot. He was fourth at Starr's Mill in 15:32 but ran a second slower on the significantly faster Southern Showcase course last weekend. Still, Hanemann is much improved from his 46th place 16:27 at Wingfoot last year. Ian Gaffney, the team's #3 runner, is better as well, so strong races from them could keep Marist in contention.
The team most likely to keep the trophy in Tennessee is Brentwood Academy. Their boys team won the team competition in 2018, the last time they came to Cartersville, and they're off to a start similar to the one they had that season. The Eagles defeated rival Brentwood High School (last year's Wingfoot Cup champions) on the back of senior Luke Thompson's 15:12 second- place finish at the MSCCA Voyle's Classic. Thompson could be Latham's fiercest competitor up front, while Brentwood's top five is just a little bit tighter than Marist's. It could come down to the fitness of Brentwood senior Carter Johnson. Johnson has run only one race this year, a 16:02 at Voyles. But in 2022 he raced six times, with his slowest result coming in at 15:46 and a personal best of 15:08 at the adidas XC Classic at WakeMed Soccer Complex.
In the team competition, watch out for Blessed Trinity Catholic School. While they don't have a runner who will contend for a podium position, their top five is tightly packed. At the OrthoWest Invitational earlier this month, just 45 seconds separated top runner Loden Kohrman and fifth runner Ryan Sewczwicz.
Keep an eye on James Clemens High School of Alabama, which came to Georgia on September 2 for Starr's Mill and finished just one point behind Marist. Their top runner, junior Luke Alverson, was third overall, just two spots behind Latham and one in front of Hanemann.
While Latham's performances this year make him the clear favorite, the battle for the podium is wide open. Besides Thompson, expect Fleming Island's Graham Myers to be near the front. Meyers has run 15:28 this year, but last season he ran 15:17 at the famous Florida State course. This will be his toughest competition of the season. Maynard Jackson's Jacob Pullen ran 15:25 at Bob Blastow early in the season but, perhaps even more impressive, he ran 16:51 at the brutally tough Atlanta Public Schools XC course in Grant Park last week - the second-fastest time in course history. Westminster's Esfan Daya ran 15:28 to take second to Latham at Starr's Mill and comes in rested, having not raced since.
You can track live results of the Championship races on Friday, September 22, by clicking here. Follow along on our social media channels for live coverage of the meet both days.